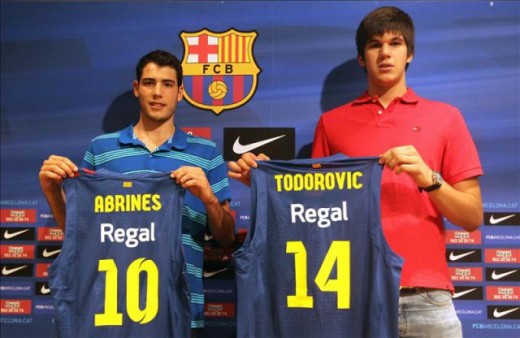 It's draft week!  After months of guessing and waiting, the climax is here!  The next pieces of this Cavalier puzzle are en route.  The possibilities seem endless, with rumors galore.  Finally today, I reach the tier of interesting players for the Cavs with their second round picks.  Let's sort thru, before I make my officially sanctioned recommendations for picks #31 and #33 (non-trade edition).
#40 – Jackie Carmichael, Illinois State, PF, Senior – Another high intensity power forward racking up rebounds, steals and blocks, this senior separates himself from Roberson and Kazemi with his size (6′ – 9″ in shoes, 241 pounds).
#39 – Livio Jean Charles, ASVEL (French ProA), SF / PF, Age 19 – The posts about players #41 to 60 were full of 22, 23, and 24 year olds; players with fairly established track records and relatively close to their primes.  Today, we start delving into the guys that are more unformed projections.  This teenaged native of French Guiana is big (6' – 9" in shoes, 7' – 2.5" wingspan), with a tireless motor.  At the recent Nike Hoop Summit, he blistered the high schoolers on the USA Select team, tallying 27 points and 13 rebounds in a win for the international squad.  Playing 14 minutes per game in France's top league, he averaged about 3 points and 3 rebounds a game (PER = 13.5).  A prospect similar in style to Kazemi and Roberson, LJC is younger, longer, and easier to project development onto; he made 6 of 14 from three this year.  Just signing a contract extension in France through 2015 – 2016, he offers an opportunity to stash until around his 24th birthday.
#38 – Isaiah Canaan, Murray State, PG, Senior – Reports say that Canaan looks strong in workouts; a great jump shooter, according to Synergy Sports (via draftexpress) he fired nearly ten per game this year and scored a tidy 1.10 points per possession.  He is a sub-six footer, but packs 200 pounds of strength onto that frame, while maintaining acceptable athleticism.  Downsides include poor passing for a 6-footer; of point guards that may be drafted, his assist to turnover ratio ranks last.  Also an average finisher at the rim, this is particularly an issue considering he faced off against only the NCAA's 215th and 228th toughest schedules over the last two years.  A sampling of his few games against strong defenses in recent seasons:
In back-to-back games against Colorado and St. Johns this past November, he struggled to 46% true shooting with two-game totals of 5 rebounds, 5 assists and 3 turnovers.
Last season against Memphis, it was 15 points on 45% true shooting.
In his two NCAA tourney games in 2012, he averaged 15.5 points on 42% true shooting, with more turnovers than assists.
A short, shoot-first point guard with poor performance against higher level defenses?  I can't sneak him into the first round.
#37 – Jeff Withey, Kansas, C, Senior – For a few reasons, I am not particularly high on Withey.  He is already 23, and weighs a paltry 222 lbs.  Of 16 centers in the draftexpress top 100, for pace-adjusted rebounding, he ranked third to last.  With agility testing in the bottom ten of the entire draft class, there are questions about his ability to defend away from the basket.  On the bright side, he blocks shots at an obscene rate and anchored a top NCAA defense.  In the NBA though, his lack of bulk, toughness and athleticism seem likely to be exploited.
#36 – Ricky Ledo, Providence (?), SG, Freshman (?) – Ledo turns 21 in September and his track record above high school / AAU is…nothing.  Apparently flourishing in workouts, following top-ten ranking in his high school class, I'll put him here.  I have no idea though.
#35 – Archie Goodwin, Kentucky, SG, Freshman – I paired Ledo with Goodwin for a reason.  They were the 11th and 12th ranked players in the their high school class, but Ledo is 23 months older* than Goodwin.  How does this happen?  First, Ledo is a very old freshman.  Second, like MKG last year, Goodwin sits borderline between which class he should be in.  His efficiency wasn't great this year, but what if someone told you that a high school senior was starting at UK and leading the Wildcats in scoring?  The team drafting Goodwin will need patience, and he's definitely a non-refined question mark, but his size (6' 4", 6' 9" wingspan), athleticism and age / skill level make him worth the risk at this point in the draft.
#34 – Pierre Jackson, Baylor, PG, Senior – Young for a senior, not turning 22 until August, this year Jackson: averaged 20 points with 7 assists; posted a 115 offensive rating with 30 usage against the NCAA's 50th best schedule, one of the more intriguing marks in the class; and guided his team with the fifth-highest Pure Point Rating in the DX top 100.  Performing spectacularly in guiding Baylor to the NIT championship, he averaged 20 points on 63% true shooting, with 11 assists per game versus only 2.6 turnovers; Baylor won those five games by a total of 85 points.  Basically he's fast, possesses an accurate shot and a tight handle; his offensive acumen supercedes his defensive inabilities (5' 9" height, periodic lack of effort) enough to make him a viable NBA point guard.
#33 – Nate Wolters, South Dakota State, PG, Senior – With good size, standing 6′ – 3.5″, and strong point-guarding skills, averaging 22 points with nearly 6 assists and only 2.3 turnovers, this 22-year old looks like a viable NBA player.  And that's all I have to say about that.
#32 – Raul Neto, Lagun Aro Gipuzkoa (Spanish ACB), PG, Age 21 – Turning 21 on the day of his team's final game of the season, Raul Neto lead his Spanish ACB squad in minutes played.  Blending his 6' – 2" height, with solid speed (sprint time and agility similar to Michael Snaer, Phil Pressey, Isaiah Canaan),  the young Brazilian posted respectable 13.6 PER behind 46 / 39 / 79 shooting and 1.6:1 assist to turnover ratio.  Combining that with defense that draftexpress described as, "extremely aggressive…putting excellent pressure on the ball and getting right up in his opponent fearlessly.  He has quick feet and good hands…".  The combination of early reps against high level competition; his commitment to defense; size; and athleticism make for an enticing draft & stash.
#31 – Marko Todorovic, Barcelona (Spanish ACB), C, Age 21 – The more I looked at Todorovic, the harder it was to not like him.  Playing for Barcelona, a finalist in the Spanish ACB and semi-finalist in the Euroleague, he experienced the absolute upper echelon of international competition despite not turning 21 until April.  As a low-minute sub, in both league's he posted PER of 18.  As the season concluded, he appeared to be improving; in 39 minutes in the ACB Finals series, he provided 11 points on 62% true shooting, with 10 rebounds, 5 blocks, 5 fouls and 2 turnovers.  In 22 minutes at the final four of the Euroleague, the line was: 22 minutes, 13 points on near perfect shooting (3 of 3 from field and 7 of 8 from the line), 4 rebounds, 1 assist, 1 block, 1 turnover and 2 fouls.  Pretty solid for a youngster playing in a championship series.  Finally, in 2011 – 2012, playing most of the season as a 19-year old, he received MVP honors in the Spanish third division, averaging 16 points and 8 boards on 55% true shooting in 26 minutes per game.  Lauded as mobile, and able to play inside and out, I think he could show up in the NBA in five years as a great addition to an already solid team.
Wrapping it up: And here we are!  Someone call Chris Grant!  Time for my thoughts on who the Cavs need to look at with #31 and #33!  And the answer is…
Two of the four of Alex Abrines, Livio Jean-Charles, Raul Neto or Marko Todorovic.  I gave Abrines a hard time last week, but ultimately, he's an occasionally stellar youngster playing in the highest levels of international basketball.  Looking a bit deeper, he won MVP of the 2011 U18 Euro Championship, following the path of top-five picks Enes Kanter and Jonas Valanciunas.  In the far fetched scenario where the Cavs use these picks, forming a small battalion of stashed players in Europe could reap serious longterm benefits.  Obviously having no idea what trades have been agreed to, I prefer the double Euro-stash with #31 and #33.
Anyways, the speculation is almost over.  Three more days and we will have big, exciting news to talk about.
*Ledo's birthday is different at draftexpress and espn: September 1992 at DX, January 1993 at ESPN.