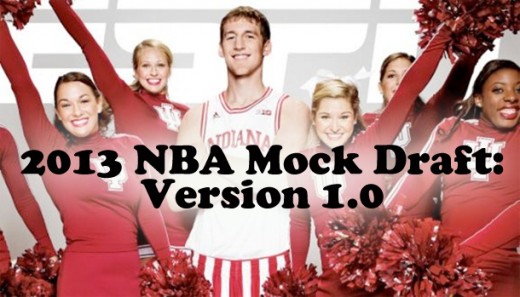 Welcome to the 2013 Cavs: The Blog NBA: The Mock Draft.
A brief run-down of the rules: Members of CtB's staff are chosen at "random" to represent each of the 30 NBA teams. After each selection is made and justified, the process is hot-potatoed over to the next writer until all the picks have been made. Today, we'll be doing picks one through 15. Tomorrow, we'll finish off the first round.
Now, buckle up. This year's draft promises to be the mockiest yet!
1.) Cleveland Cavaliers (Robert Attenweiler): Alex Len, 7'1", Maryland, C. The idea that the Cavs could actually go with Len at the top has been gaining some traction recently. So, while I wouldn't put hearing Len's name with this pick on the level of "everyone in Cleveland lights themselves on fire after," it would still be a shock. Len is not the flashiest number one pick, but he's probably not the Michael Olowokandi-est either. Barring further complications with his ankle (and Cavs fans should know better than to assume anything having to do with tall Eastern Europeans and feet), Len has the potential to be the best player in this draft. He's big, long, already pretty strong, very agile for his size and has a nascent offensive game that, let's face it, Noel just doesn't have. Len doesn't have that one eye-popping skill that gets the imagination humming, but he might just be a very good basketball player — and we all know how Chris Grant feels about basketball players.
2.) Orlando Magic (Tom Pestak): Ben McLemore, 6'5″, Kansas, SG.  While no one has the foggiest idea how to rank the best players available, the Magic have some fairly obvious needs, so I expect them to draft a guard that can shoot.  After J.J. Redick departed, the Magic ranked dead last in TS%.  That leaves McLemore and Trey Burke.  The Magic are rumored to be interested in Eric Bledsoe, but the deals I've seen tossed around are laughable (note: Bledsoe is a stud and we will all realize this in a year or two).  So assuming that doesn't happen, the Magic will have to make a decision here.  Jameer Nelson and Beno Udrih are serviceable but on the wrong side of 30 and Aaron Afflalo is overrated and limited.  The question for the Magic is whether to go for a better version of Afflalo in McLemore, or an exciting point guard prospect in Burke.  McLemore has the more in-demand pro skill set with Wade-like athleticism and very solid catch-and-shoot percentages from deep.
3.) Washington Wizards (Nate Smith): Nerlens Noel, 7'0″, Kentucky, C.  Ernie Grunfeld has a mini panic attack when he realizes the three best players in the draft are still on the board.  He desperately fights the urge to sign or trade for a horrible contract.  The pressure is too much.  Grunfeld needs a fix.  "Call everyone!" he yells to his staff.  "There's got to be a way to turn this pick into a Gilbert AreNene OkafAriza contract!  Don't you realize that after 2014, we'll only have one horrible contract on our books?!"
"Ern," Randy Whitman, says calmly.  "Jan Vesely is eligible for an extension then." Endorphins rush. Anxiety abates. The sweet release of Ted Leonsis' poorly spent money courses through Grunfeld's veins, and it feels good.
"Take the kid from Kentucky," he exhales, "He'll make us a defensive force…  and if worst comes to worst, I can always overpay him after a couple more knee surgeries."
"It's destiny," says Whitman as he picks up the phone.
4).  Charlotte Bobcats (Kevin Hetrick): Anthony Bennett, 6'7″, UNLV, PF – The perfect player to combine with Kemba Walker, Michael Kidd-Gilchrist, and Bismack Biyombo?  Of course, it's a floor spacing four whose defensive deficiencies can hopefully be masked by MKG and their rangy center.  Bennett may make more sense for Charlotte than any other player in the draft.
5.) Phoenix Suns (Mallory Factor): Victor Oladipo, 6'4″, Indiana, SG – The obvious choice would've been Otto Porter, but really Phoenix already has a 3-and-D master in Jared Dudley.  That, coupled with the fact that Phoenix is seriously lacking in star power, makes Oladipo the right move.  While he's pretty raw on the offensive end right now, Oladipo's explosiveness gives him a ceiling few others in the draft have.  And for the time being, he's certain to be a great defender.
6.) New Orleans Pelicans (Colin McGowan): Otto Porter, 6'9″, Georgetown, SG – It's hard to imagine Otto Porter being bad. (Did I really just say that about the sixth pick in the draft? Jeez.) He's rangy and can do a little bit of everything: he's a good passer, a good shooter, a good defender. I just wish he did one thing exceptionally. Calling cards–Noel's shot-blocking ability, McLemore's shooting touch–are reassuring because they give you some idea of what role a prospect will assume when he gets to the NBA. But the Pelicans are thin at nearly every position, and I think they'd be thrilled to get a unique, multi-talented player like Porter at six. Plus he and Anthony Davis can talk about what it's like to be able to touch your toes without bending over, so there's that.
7.) Sacramento Kings (Colin McGowan): Michael Carter-Williams, 6'6″, Syracuse, PG – I just had a back-and-forth with Nate about this pick. We're trying to figure out mid-draft if we're making predictions or the selections we think each team should make. I have no idea who the Kings like, and Trey Burke—probably a safer bet to be good—is still on the board, but Michael Carter-Williams is what Sacramento needs: a big guard who likes to pass. Along with about ten other prospects, there's a possibility he might end up as the best player in this draft. This is the part where I'd normally say "Now watch the Kings take Shabazz" but the new ownership and staff in the River City seem like a progressive bunch. Let's hope, for the sake of a beleaguered and resilient fanbase, that they make the right decision.
8.) Detroit Pistons (Kevin Hetrick): Trey Burke, 5'11", Michigan, PG – You guys keep leaving me no choice but to steal my picks straight from Chad Ford's latest mock draft.  At this point, Burke is definitely the highest rated prospect left on my board.  Brandon Knight is looking like he won't develop into a prototypical point guard.  Burke, Knight, and a big shooting guard to be found later can form a strong three guard rotation, and the backcourt foundation for a scary Central Division rival.
9.) Minnesota Timberwolves (Nate Smith): Kentavious Caldwell-Pope, 6'6″, Georgia, SG – Ugh.  And this is where the second tier starts.  Supposedly, the Wolves love KCP, and the Pistons and Kings may have just done them a favor by taking point guards, but two weeks ago KCP was a mid 20s pick.  That's how nuts this draft is. Is this guy destined to suck or get hurt cause the 'Wolves are taking him, or is the Wrath of Kahn finally over? Actually, I'm falling in love with KCP as we speak: a speedy, agile pickpocket of a shooter, who has the makings of a solid wing who can play two positions…  Can the Cavs trade back to the Wolves?  (And no, not for Uncle Drew's old buddy, Wes, Mallory).
10.) Portland Trail Blazers (Tom Pestak): C.J. McCollum, 6'3″, Lehigh, G – The Canton native can really fill it up and he converted at a blistering 63% TS last season.  The biggest knocks on him are a lack of explosiveness, his age, and poor pure-point skills.I think GMs may have cooled on "elite first step" being a requisite for scoring guards: see Irving and Curry for recent examples.  McCollum is smart, crafty, and for all the talk about his middling athleticism he: 1. Rebounds well, 2. Draws a healthy amount of fouls, and 3. Loves to score in transition.  Why should the Blazers be interested?  They've had pretty good experience with the last "old" prospect from a small school, and McCollum rebounds pretty well for a guy his size so he could be used as a combo guard along with Lilliard.  The other position the Blazers need is C and there will be options here for that as well.
11.) Philadelphia 76ers (Robert Attenweiler): Cody Zeller, 7'0″, Indiana, PF/C – Cavs fans are well versed in the promise and punishment that happens aboard the Zeller Family Bandwagon, but linking any potential frustration at watching Cody too closely to "needs to hit the weight room" Tyler is unfair. Cody projects as a rich man's Troy Murphy or Chris Bosh 0.05 which isn't all that terrible. He should be able to rebound and be a legit pick and pop threat from day one, though his game will likely suffer the closer he plays to the basket. At the combine, his vertical and agility tested through the roof. He'll be what Spencer Hawes has occasionally flashed, but never consistently delivered, for the Sixers. Perfect PF to put beside franchise cornerstone Andrew Bynum. Wait… what's that? Oh… (awkward silence) Hey, Zeller's a fine pick-up, guys.
12.) Oklahoma City Thunder (Robert Attenweiler): Kelly Olynyk, 7'0″, Gonzaga, C – Remember when watching the Thunder's offense, as great as Kevin Durant and Russell Westbrook are, was like watching a game of 5-on-4 (I was going to say 5-on-3.5 but, Serge, you've come along at least that far) whenever Kendrick Perkins was on the floor. As much as the Thunder needed Perk's size, defense and rebounding when they traded for him, they now need to be able to squeeze a little offense out of the five spot every now and again without sacrificing size. Olynyk already has a polished offensive repertoire, which is basically the knock against every other big man in this draft. While he's not going to overpower anyone at this stage of his career (if any), having the versatility to play Olynyk with Nick Collison and/or Ibaka should help the Thunder be less predictable in the half-court. In fact, a more finesse based Collison or less morbidly obese Boris Diaw is probably what we're looking at in projecting Olynyk.
13.) Dallas Mavericks (Tom Pestak): Shabazz Muhammad, 6'6″, UCLA, SF –  The Mavericks ranked 26th in the NBA in free throw rate, 27th in opponent free throw rate, 28th in offensive rebound rate, and 28th in total rebound rate.  Enter Shabazz Muhammad – the second best offensive rebounding wing behind Oladipo.  Muhammad is an enigma – he is described as having a killer instinct yet he almost never scores in isolation.  He prefers scores off the ball, coming around curls, and leaking out in transition.  This all fits well with a Dirk-centric half-court offense in Dallas.  He also draws a healthy number of free throws which the Mavs desperately lack.  Finally, his deficiencies, mainly awful court vision for a wing, might not affect the Mavericks as much as some other teams – they ranked 3rd in assist to turnover ratio and in the better half of the league in assist rate and offensive rating.  The Mavericks want to trade this pick, but if they keep it I think they go for a high risk / high reward guy in Muhammad.
14.) Utah Jazz (Nate Smith) Steven Adams, 7'0″ Pitt, C – What a dilemma!  It's no secret that the Jazz need a point guard, and are loaded at the 4 and 5 spot with Enes Kanter and Derrrick Favors, plus free agents Al Jefferson and Paul Millsap.  The popular choice has been Shane Larkin, but if Steven Adams is there at 14, there's no way the Jazz pass on him.  He's got an NBA body at center, showed high skill level at the combine, and is generally considered one of the more promising big man prospects in the draft.  Additionally,  Adams is a marketing dream for a Salt Lake City based team that has a large Polynesian community.  If Adams falls here, Dennis Lindsey won't be able to get to the phone fast enough.  They'll let big Al and Paul Millsap walk, and find a point guard 7 picks later.
15.) Milwaukee Bucks (Kevin Hetrick) Shane Larkin, 5'11", University of Miami, PG – These are the players that Milwaukee has guaranteed contracts with next year: Ersan Ilyasova, Drew Gooden, Luc Richard Mbah a Moute, Ekpe Udoh, Larry Sanders, John Henson, Gustavo Ayon and Ishmael Smith.  How did they pull that off?  Seven of those guys are PF's, SF / PF, or PF / C.  What are they doing?  Anyways, with Monta Ellis opting out and Brandon Jennings not sounding content for the long term, they need a guard.  And more offense.  Or to find trade partners in need of forwards.  But for now, let's draft a guard.  I'm a big Shane Larkin fan, so let's go with him (and holy crap, all three of my picks match Chad Ford's mock draft 5.0.  Colin will probably replace me with Google soon.)
Come back next week, for selections 16 through 33.