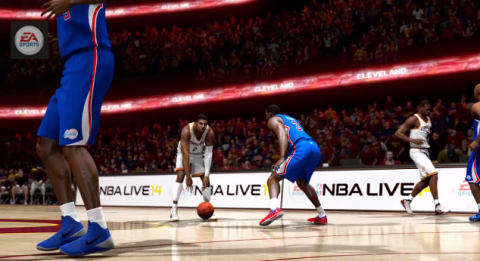 It's Friday!  What better way to kick off the weekend than links?
ESPN recently released their NBA Future Power Ranking and has the Cavaliers at number 8 – a nice jump from number 12 last August.
FSOhio's Sam Amico sent out a teaser of a tweet last night, saying that the Cavs have been, "working on 'something major.'"  He added that, "[they] have talked to one team in particular a couple times about No. 1 pick, but it's exploratory only at this stage." Wonder what that means…
Although he hasn't been linked with the Cavaliers much thus far, UNLV's Anthony Bennett will visit with the Cavaliers this Monday.  As the Plain Dealer's Mary Schmitt Boyer points out, his recent rotator cuff surgery makes it impossible for him to work out for the team.  Perhaps they want to get an idea of how the shoulder is healing?
Finally, Kyrie has been named the cover athlete for NBA Live 2014.  Check out this cool video of video game Kyrie on the PD's website.  Does this mean I should give up my loyalty to the NBA 2k series?
Enjoy the weekend!