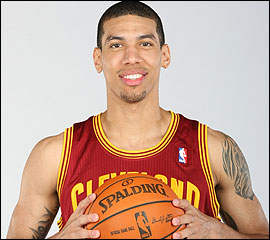 Former Cavaliers' draft pick Danny Green is having himself quite the fine little Finals. Now the starting two guard for the San Antonio Spurs, Green is averaging close to 19 points, while shooting nearly 70% from three – all of which has led Cavs fans to suggest the obvious: shouldn't someone capable of numbers like those, even if only for stretches, still be doing it for the team that drafted him?
Watching who the Spurs pick up off the NBA thrift rack and wind up turning into highly functioning NBA role/rotation players has become a rite of every NBA season. Equally regular, are the complaints from Fan Base X about how Team Y could have been so stupid as to let Player Z go.
For Cavs fans, the easiest thing to say is "Danny Green never would have developed into the player he is now if he had stayed with the Cavs." It's easiest to say this because it is mostly 100% true.
But it's the why that eats at you. When you see players who, once upon a time, you considered investing time and interest in become, instead, the darlings of some other fan base it's no easy pill. Why would Danny Green never have developed the same way in Cleveland? And whose fault is it? Did Green need to fail in Cleveland in order to succeed as a pro elsewhere? Or are the Cavs to blame? Specifically, is GM Chris Grant who chose undrafted Manny Harris over the Danny Ferry selected Green to blame? Or was it the one-two developmentally deadening punch of Mike Brown and Bryon Scott?
The answer, of course, is "Yeah… kinda… all that."
Before we look at the type of player Danny Green has become, let's look at what was being said about him coming out of North Carolina. From Draft Express: "although his average athleticism and ball-handling skills only allowed him to convert on 50% of his field goal attempts in [transition] situations—which ranks amongst the worst in this small forward class. He struggles in isolation situations and running the pick and roll for these same reasons, and only converted on 71 of his 135 shots around the rim, for a dismal 53%. While his shortcomings are pretty obvious, he still brings quite a bit to the table in terms of his role-player potential, being able to make open shots and play lock-down defense, which is what he's most known for."
And what has Green been doing this year — and particularly in these Finals — that has so distinguished him? That's right. He's playing above average defense and hitting 3-point shots (which are coming at a nice little clip when you've got the perennially limping Mike Miller tasked with closing out on you). He brings, as his scouting report suggests, a lot to the table as a role player (even, you might argue, a high level role player) on the NBA version of the talented, well-coached teams that he played for in college.
Still, kudos to Green for finding / landing in the right situation where his potential was able to become his actual.
So, again, why not in Cleveland?
Partly, it was timing. Green was drafted to be, basically, the player he has become for the Spurs. The Cavs were a contending team who, should LeBron have stayed, would have continued to contend. As a rookie in 2009-10, Green was solid for a second round pick, if never spectacular, and the Cavs rang up the best record in the league. When LeBron left, though, much of what made Green potentially valuable to the long term plans of this team fell away.
It's been said that on bad teams, there are no role players. If you've been watching the Cavs the last few years, you know this to be true. Very, very true. When a team is slogging toward finding its identity, every player is asked to do more (or thinks he can do more… or is told he can do more) than what many of them are effective at doing. The Danny Greens of the world get lost in not being stars when, in fact, their most tangible skill is to co-exist with and augment a team that does not rely too much on them.
So, in October of 2010, when Green was, by his own admission, playing inconsistently and with wavering confidence, this player chosen by the team's previous GM to be part of a contending team, this player who still hadn't really proven anything, this player who struggled to create his own shot was passed over in favor of a player in Manny Harris who had also proven nothing, but was viewed as possibly better at creating offense from the shooting guard position for a team who now needed all their players to create more offense in the wake of most of their offense moving south.
Now, did Manny Harris pan out? No. But I'm not sure you can rough up the logic behind that move too much.
So there's no reason to be concerned and we should just be happy for Danny Green?
Aaaaaaaahhhh… not exactly.
Yes, yes, by all means be happy for Green. But, seeing his rise does not come without its questions for the future of the Cavs. Mainly, what will Mike Brown do when he gets the next Danny Green?
Following the draft, you see a lot of statements that say something to the effect of "The Cavs have their new star in Kyrie Irving and some promising pieces in Tristan Thompson and Dion Waiters. With the right addition(s) in this draft, the days of losing will be behind the Cavs for most of the next decade." If only that were so…
What the Spurs have shown us over the last 15 years is that a team's drafts when they are good, the lower picks, are equally important as when they're bad and have the higher, more highly touted picks. You can afford to wait on some of those picks to develop (or, say, come to this country), but most of them still need to help your team. These Spurs were initially built on a core of Tim Duncan, David Robinson and Sean Elliott – and they had good role players in Avery Johnson, Vinny DelNegro and Malik Rose. As Robinson and Elliott neared retirement, Duncan became a top player and was supported with veterans like Danny Ferry and Steve Kerr. They've always had a young castoff – Antonio Daniels in the early 2000s, then Stephen Jackson, now Green – but all along they were drafting Tony Parker, Luis Scola, Manu Ginobli, Tiago Splitter (along with a slew of other players who were or still are rotation players in the league) to fill in the roles left as the established veterans moved on or retired. In some cases, the young replacement just fit better and became a better player than the one he replaced.
Clearly, what has allowed the Spurs to do this is consistency. They've had Tim Duncan and Gregg Popovich together since 1998. And that consistency has allowed for patience that has paid off.
Mike Brown was arguably less effective incorporating young players into key roles during his first stint with the Cavs. He took a core of LeBron James, Larry Hughes and Zydrunas Ilgauskas with role players like Donyell Marshall, Damon Jones, Drew Gooden and Anderson Varejao. He then saw that blown up and replaced with a core of James and Ilgauskas and many, many role players bearing the names of Szczerbiak, Gooden, Gibson, West, Wallace, Varejao and Smith. Then saw that reworked into a "core" of James, Mo Williams and Shaquille O'Neal, with Gibson, West, Anthony Parker, Jamario Moon and J.J. Hickson to support.
Clearly, Brown was at a disadvantage in never working with a consistent roster where he could establish any kind of system. Danny Ferry, for his part, had only limited draft picks in his years as GM, a far cry from Chris Grant's stocked portfolio. But, in that time, both Boobie Gibson and J.J. Hickson were plugged into the rotation with a general degree of success. They played like young role players on good teams play: inconsistent but, for flashes, better than they should. And Green was on his way to possibly playing that role for the Cavs too. The only young player the Cavs could be said to have given up on was Shannon Brown who, if you'll remember was part of the trade that rid Cleveland's roster of Larry Hughes who, if you'll remember some more, you really wanted gone. So, that is what it is. Assets sometimes have to be used to be rid of bad decisions.
None of us really know how much better Brown will be at incorporating young players. The hope is that, even if his new team lacks the transcendent star of LeBron James, the core might be more balanced than before and should be solidly identified within the first two years he's on the job. But this year's Finals has proven one thing: sometimes you're going to need that crazy game by your fifth and seventh best guys. At least, it can't hurt.