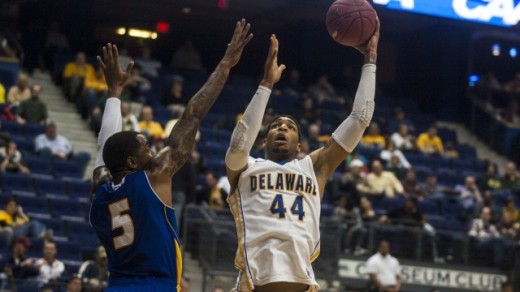 The NBA draft is almost here.  Next Thursday, the Cleveland Cavaliers rule the NBA poker table, playing with the most chips and controlling the action.  And how do I plan on commemorating the event?  A huge Big Board roll out: sixty players deep, with a short blurb about each!  Why, you ask?  Because I'm a nerd.  And a bit of a masochist, as anyone attempting to "draft expert" surely is.  Over the last two years, I have enjoyed publishing a wide range of hits and misses, perpetually being able to look back and say "See, I told you about that guy"…while largely ignoring the "D'oh!" moments (I placed Damian Lilliard pretty low; small school guys have been a downfall for me).
With that as intro, I will prognosticate on the future of ten players per day, on six different days, from now until the draft, providing insights for every player that should be drafted.  Let's start with two players that didn't make the cut, but warrant some discussion.
Deshaun Thomas – Unfortunately, I can't figure out what his role is in the NBA.  "Poor man's Antawn Jamison…but shorter"?  That's not a good look, right?  Only 6' – 5" barefoot, and unlikely to provide serviceable defense, his rebounding numbers are horrid, and he's not a knock-down shooter.  I just don't see it happening for the Ohio State junior.
D.J. Cooper – The Ohio University Senior wins the "Brian Roberts Award", given to the point guard with Ohio ties that could resurface in the NBA after a few years in Europe.  Cooper averaged 14 points, 7 assists and 2 steals this season, with 57% true shooting.
Now, onto The List.  Any player selected that was not included in this list, was clearly a mistake by the team drafting them.
#60 – Adonis Thomas, Memphis – The eighth ranked player in the revered high school class of 2011, college didn't work out for Mr. Thomas.  6' – 6" and 232 lbs, with a 7' – 1" wingspan and outstanding leaping ability (34.5" no-step, 40.5" max), he looks like an NBA wing.  Unfortunately, the skill level doesn't match.  He just turned twenty though, and a team with patience could try to mold him into the prototype wing role player.  Basically ceding their 15th roster spot for two seasons, Thomas could be sent to the D-League, and assigned an individual coach responsible for honing his: shooting from the corner; transition ball handling and decision making; off-ball offensive movement; and defense.  If Thomas can forgo dreams of being a star, and accept his on-the-job "3-and-D" training,  including playing that way in the D-League for two years, this could be a move that reaps dividends for the then 22-year old Thomas and the team exhibiting such patience.
#59 – Tony Snell, New Mexico – Currently ranked 34th at ESPN and 39th at draftexpress, I can't convince myself of Snell's potential.  He's long and athletic, and scouts appear to be raving about his shooting in workouts, but check out some of these "marquee" performances last year:
In a first round upset loss in the NCAA tourney, Snell posted 9 points and 1 rebound against Harvard.
Earlier in the season, in a loss against UConn, it was 11 points, 0 rebounds, 0 steals, and 0 blocks.
Facing the University of Cincinnati, the tally was 10 points, 3 rebounds, 0 steals, and 0 blocks.
Finally, battling USC, he offered 7 points, 1 rebound, 0 steals and 1 block.
A knock on Snell is his inconsistent performance and effort.  How can a big, athletic player in the Mountain West average 2.6 rebounds, 0.8 steals and 0.5 blocks in 31 minutes per game?  I'm not sure and may not want to find out.
#58 – D.J. Stephens, Memphis – What is he?  First, he is probably the most athletic person in the history of the NBA combine.  A 46" maximum vertical leap, plus sprinting three-fourths the length of the court in less than three seconds?  On the downside, he played power forward in college…but weighs 194 pounds.  Bringing nothing to the table on offense besides finishing, his usage rate of 13 is by far the lowest on this list.  Following the pre-draft camp in New Jersey, ESPN said "Stephens flies up and down the floor, is an elite shot-blocker for a player his size and is an unbelievable finisher at the rim. He leaped completely over James Ennis when he gave him a pump fake. He was the one guy in New Jersey that you could never take your eyes off.  He's that special."
Is he a Harlem Globetrotter or the most awesome tenth-man ever?  He definitely deserves to be on this list.
#57 Richard Howell, NC State – A short, wide power forward with strong rebounding numbers?  Those guys tend to find a niche in the League for a little while.
#56 Jack Cooley, Notre Dame – Of draft eligible players in draftexpress's database, Cooley ranks third for rebounds per forty minutes, pace adjusted, behind only Mike Muscala and Trevor Mbakwe.  He made 70% of his free throws, and through February 13th, ten of twenty jumpers for the season (via draftexpress.com).  If he can play physical, rebound, and knock down a fifteen footer, he stands a chance…see Richard Howell for details.
#55 Lorenzo Brown, NC State – He is: old, turning 23 this summer; only marginally efficient, with a 20 PER as a Senior; and only made 26% of his threes.  His speed and agility tested horribly, and summarizing his defense, draftexpress said, "He looks solid statistically, particularly because he grabs a lot of steals, but he has a lot of work to do before he can be considered ready to guard NBA point guards."
Despite all that, according to statsheet.com, NC State finished plus-278 when Brown played and minus-81 when he sat.  Why?  I'll guess.  NC State ranked 215th of the 346 NCAA teams for assist rate, despite Brown leading the ACC in that stat.  Freshman Tyler Lewis, his substitute, only used 16% of Wolfpack possessions while on the court, an extremely low number for the position that's supposed to handle the ball all the time.  Brown used 25%.  The plus-minus disparity may be more reflective of Brown's teammates than himself; basically without him creating looks, and while also needing to find more shots regardless, his teammates were exposed as not very good at basketball things.
The plus / minus thing keeps me up at night, but other than that, I can't get excited about what Brown brings.
#54 Khalif Wyatt, Temple – This won't sound like a ringing endorsement, but I can envision this 22-year old combo guard serving as a reasonable bench gunner on a 30-win team.  With decent size (6' – 2.5" barefoot, 6' – 8.5" wingspan, 215 lbs), and a knack for scoring, he did damage against a contingent of NCAA powerhouses in 2012 – 2013.  Early in the year, his 59 combined points against Kansas and Syracuse served notice of things to come; the 62 combined points against North Carolina State and Indiana nearly lead the Owls to the Sweet Sixteen.  Wyatt finished twelfth in the NCAA for per-game scoring.
#53 James Southerland, Syracuse – Tall small forwards rate as the NBA's best two way players.  Standing 6' – 8", with decent athleticism, and knocking down 40% of his 200+ shots from deep this year, he checks a lot boxes as a "3 and D" guy.  After four years schooled in a zone defense though, can he recalibrate to man-to-man?
#52 Alex Oriakhi, Missouri – Three notes on Oriakhi:
In 2011, he led the NCAA champion UConn Huskies in rebounding and blocked shots.
Last year, while watching Andre Drummond, I frequently thought, "Man, if Drummond only played with the intensity that Oriakhi does…"
This season after transferring to Mizzou, he finished fifth in the NCAA for field goal percentage and sixth for true shooting, along with third in the SEC for offensive rebounding rate.
With good length and weighing 258 lbs, Oriakhi is a solid defensive presence that also appears to understand his limitations on offense.  There must be a spot for him in the NBA.
#51 Jamelle Hagins, Delaware – At 6' – 8" barefoot, with a 7' – 1" wingspan, weighing 230 lbs, and with enticing athleticism, this small school Senior power forward piqued my interest.  In several tilts against more heralded basketball schools, he represented himself well:  10 points and 16 boards in a win over Virginia; 12 points and 15 boards in a close loss to Kansas State; 29 points and 12 rebounds facing Temple; and 12 points, 8 boards, 4 steals and 2 blocks in narrow defeat against Villanova.  At the annual "pre-draft camp for players that will not get drafted" (also known as the Portsmouth Invitational Tournament), Hagins impressed as arguably the best big man in attendance; during one game, he tallied 29 points, 11 rebounds and 3 steals.  The size, athleticism and production are enough for me.
There it is, the first installment in what surely serves as your new "go-to" source for NBA draft knowledge.