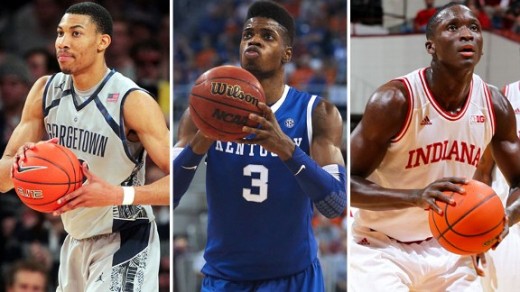 There are just less than three weeks remaining till the 2013 draft. Are we really going to have enough time to talk about all these picks? That's only 14 more posts! We're running out of time to plot wins shares per high top fade hairstyles versus low fades with respect to #1 overall draft picks, adjusting for position and age! What about projected NBA PER for players whose surnames start with J who were born in monsoon season during the year of the rat?  These are questions that need answering!
Screw it. Let's just pick now. Here are the CtB staffers with their votes for the #1, #19, #31, and #33 picks, and a draft day trade they'd like to see.
With the first pick of the NBA Draft, the Cleveland Cavaliers select…
Robert Attenweiler: Nerlens Noel, 6-11, PF/C, Kentucky. At the end of the day, I think Noel both makes the most sense for this pick and is enough of a reach that Chris Grant can keep his "Wacky Uncle Chris" draft day persona going. This pick has got it all: bust potential, defensive anchor potential, great hair potential (already realized!). This is a Chris Grant pick all day long.
Mallory Factor: Otto Porter, 6'7″, SF, Georgetown.  I'm going to go with the obvious choice here…no, not that, the other one.  The Cavaliers should select Porter.  I'll admit, at first I was skeptical, but the boom/bust potential (emphasis on bust) of Noel scares the bajeezas outta me.  As much as this is a big man's league, time and time again it's been proven that in order to win, an elite SF is needed (look no further than Paul George).  I'm not holding my breath on Lebron. He may come back, he may not.  But the Cavs franchise shouldn't be held hostage because of him.  Porter is a do-everything player with a good shot and elite D skills. What more could a ball handler-dominant, defensively deficient team ask for?  Nothing. Porter is the no brainer here.  Except for a trade. That's the real goal.
Tom Pestak: Otto Porter, 6'7″, SF, Georgetown. The Cavs have drafted the guy they considered best player available (BPA) for the last 2 seasons.  They most certainly did not draft for need, nor did they consider value added when you realize that adding a B+ power forward when you have a C+ power forward and an A- power forward playing center (out of position) adds less value than drafting a legitimate center to replace Ryan Hollins.  So now what?  Noel could be the BPA (along with 15 other prospects) and most certainly plays a position of need – so I guess it's a no brain-er?  Oh just one more thing: How much value does Nerlens add over the six other centers that will go in the 1st to early 2nd round?  It's safe that he'll be good at one thing: altering shots.  Jeff Withey will give you that in the 2nd round.  I've come full circle on this, but I'm going Otto Porter. It's not a home run.  I think Anthony Bennett is the BPA, but the Cavs can not draft another power forward (or undersized player, or guy that doesn't try on defense).  Mike Brown's gonna turn Porter into an elite defender and if the Cavs are ever going to get past Paul George and/or Paul Pierce, much less the unholy one, they're gonna need some freaking perimeter D.
Kevin Hetrick: Nerlens Noel.  I have already beaten this topic to a bloody frickin' pulp.  Noel, but with trepidation about the two left knee surgeries.
Nate Smith: Victor Oladipo, 6'5″(ish), SG/SF, Indiana.  I do not want this pick.  This is a lot like getting the #1 in fantasy football in a year where there are five or six equally good players, and then knowing you don't get to pick again till 18 picks later.  Actually, it's exactly like that.  Watching clips where Otto Porter runs around looking like Grant Hill (Phoenix Grant Hill, not Detroit Grant Hill), makes me realize he has an old man's game in a young man's body.  When faced with old man Porter, two centers with leg problems, a low efficiency shooting guard, and an undersized power forward who loafs on defense, Oladipo is the safest choice and the best player available.  At the very least,  he's a much more efficient Tony Allen.  At best, he has transcendent defensive and finishing abilities: think Andrew Iguodala if he could shoot. Oladipo will fit well with Kyrie and Dion, as he among the best in college at finishing on the break, hitting catch and shoot jumpers, and cutting off the ball.  He is good off the dribble, too.  To quote Clark Kellogg, "Oladipo is like a baby's bottom – smooth and sometimes…explosive!"
With the 19th pick of the NBA draft, the Cleveland Cavaliers select…
Mallory: Gorgui Dieng, 6'11", PF, Louisville.  Now that the Cavs have their small forward of the future, it's time to go after that elusive center.  Assuming Gobert is gone (he will be) the obvious choice is the anti-Zeller – Dieng.  A big, strong bruiser, Dieng is a great defender with adequate offensive skills.  Dieng excels in the pick and roll.   If Andy and Kyrie's chemistry is any indication, PnR centers are a good fit on this team.  While Dieng's ceiling isn't ten stories tall, he's certainly a solid option for a team lacking in D and pick and roll options.
Tom: Gorgui Dieng.  Disclaimer: if I was running the Cavs, I'd draft Noel, sit Kyrie every time he gets a headache, and #tankstrong one more year to land a high pick in a not awful draft.  And then I'd go to work.  But that's not the plan, the Cavs want to win now, with a new coach (that notoriously gets off to slow starts), and a bunch of 20-year-olds.  So Porter and Dieng make so much more sense to me than Noel and a Euro pick.  Dieng protects the paint without fouling, anchored the #1 D in the NCAA last season, is very athletic, blocks shots well, can finish lobs and such, and has good size for the center position.  He's 23 and won't ever be an all-star, but the Cavs don't need one at center – they just need someone to play defense and block shots as they'll be "gettin' buckets" from the perimeter.
Kevin: Chad Ford's most recent mock draft has the Cavs taking Sergey Karasev, and I am completely fine with that selection.  Allen Crabbe (6′ 5″, SG, California) or Reggie Bullock (6′ 6″, SF, North Carolina) are who I will go with though; variety is the spice of life.  Crabbe's shooting percentages don't look great, but he was asked to use 25% of California's possessions.  According to draftexpress, he made 54% of his unguarded catch & shoot threes this season.   Bingo!!  Listed as a shooting guard, he is only .5″ shorter and 3 pounds lighter than Bullock, but sports an extra 2.5″ of wingspan.  I think either could be a supplement / upgrade to Alonzo Gee as a combo 2 / 3.
Nate: Tony Mitchell, 6'9″, SF/PF, North Texas.  Tall, long (7'2″ wingspan), strong (13 bench reps), a good rebounder, a good shotblocker, a good scorer, and a legit 3 prospect, Mitchell is a high risk/high reward pick.  After a scintillating freshman year, Mitchell returned to North Texas and had a disastrous sophomore season under former Marquette assistant Tony Benford.  Mitchell's numbers dropped across the board, and he has spent much of his pre-draft time answering questions about consistency and effort after his team went 12-20 this year in the Sun Belt conference.  Was he in a horrible situation where he made bad decisions, or is he just a loser?  Mitchell's athleticism is off the charts, and he could project to be a Josh Smith/Paul George type player with some development, or he could be a less talented Hakim Warrick (yikes).  With range out past the three point line, he is probably a stretch 4, but Mitchell would allow Brown to give minutes at the three to Mitchell or Oladipo on any given night, depending on matchups.  Mitchell has lottery level potential at #19?  Take him and pray.
Robert: Rudy Gobert, 7'2″, C, Cholet (France).  I don't think they'll ultimately be picking here, but I'll get to that in a few more questions. For now, I'm going to say Gobert. As Nate pointed out earlier this week, Gobert's a very intriguing player. He's got great size, seemingly fixable weaknesses, and we've just seen another 7'2″ Central Division center tear it up in the playoffs. Would the Cavs pick two offensively raw big men in the same draft? I can see it, especially when one of them might not play most of next season. By this pick in this draft, I can't see Chris Grant passing on a player he likes because "Eh, we got one of those already."
With the 31st pick of the NBA draft, the Cleveland Cavaliers select… Tom: Lucas Nogueira, 6'11", C, Brazil.  I've seen him as high as 17 so he might not be here at 31, but if he is – great pick for the Cavs.  He's 20, is a solid defender, has great size, and has a ton of potential.  He's Brazilian and already has wild-thing hair, so he has a solid mentor in Cleveland.  (The Cavs have Varejao, Z, and now Potapenko…) "Bebe" Noguiera sounds like the perfect big man project while Varejao finishes out his career with the Cavs over the next 4 seasons.  If he can just slip past the Spurs…
Nate: Giannis Adetokunbo, 6'9″, SF, Greece.  As much as I'd love to take Virginia Tech's Erick Green here, like most mock drafts predict, I just see no way the Cavs can play all four of these picks.  So it's time to stash.  Adetokunbo is an intriguing 18 year old prospect with tremendous athleticism and freakishly long fingers which allow for advanced passing and ball handling.  Giannis can play any position on the floor, but that's in a very low level Greek league.  He would be completely over-matched as an NBA small forward at his current age.  But, if he drops to 31, the Cavs should snag him in a heart beat as he's an excellent long term prospect.
Robert: Tony Snell, 6'7″, SF, New Mexico. Now, here's your small forward depth. Snell has ideal height, length and foot speed to project as a solid defender at the position. He's also got a nice stroke from deep. He struggles putting the ball on the floor, but if you can get a guy in and tell him "Look, the only thing we want you to do is defend and hit corner threes," Snell is probably better suited for that role long-term than the Cavs' incumbent 3, Alonzo Gee.
Kevin: Pierre Jackson, 5'10", PG, Baylor.  I could regret this, but… As a general rule, most point guards are not particularly great at defense.  Then there are guys like Aaron Brooks that are so horrific that their offensive contributions are definitely cancelled out.  Pierre Jackson could be one of those guys.  With that as a confidence inspiring intro, I think he can make plays on offense.  As a young senior turning 22 in late August, he averaged 20 points and 7 assists per game this year at Baylor.  According to statsheet.com, the Bears were plus-275 when he played and minus-33 when he sat.  If the Cavs signs a free agent point guard, and let Jackson teeter between the Big Leagues and the D-League depending on injuries; this is an interesting stab at a future back-up point guard & bench spark-plug.  And really, how can you pass on a guy about whom DraftExpress says, "it's his overall effort and attentiveness on this end of the court that may make it hard to find a spot for him at the next level. Jackson will simply fall asleep off the ball with alarming regularity."  Oh wait, I'm not helping my case.  Mike Brown will get him playing defense, right?
Mallory: Reggie Bullock.  The hope is that a guy like Bullock falls here.  I wrote about him months ago, but essentially Bullock is the quintessential 3 and D guy.  Long and athletic, Bullock has what it takes to defend NBA swings, with the added value of a sweet stroke. If he's gone, look for Tony Snell.
With the 33rd Pick of the NBA Draft, the Cleveland Cavaliers Select…
Nate: Mike Muscala, 6'11", C, Bucknell.  As DraftExpress said, "Teams are all over the map on Mike Muscala. Some think he's a major sleeper. Others don't think he's a NBA player at all."  So there's that.  Muscala was one of the country's best rebounders at 11.3 a game, averaged 2.3 blocks, 2.3 assists, and shot .515/.250/.788 — excellent percentages for a center.  His shooting regressed this year from three, probably because of being the focus of defenses, but he shot in the mid 30s from behind the arc the two previous years.  Muscala had a 36.1 PER (#2 in the country) this season and his shotblocking and rebounding should translate well to the pros.  Muscala did play in the underwhelming Patriot League and had an anemic showing in the tournament, but with passable combine numbers, Muscala is a legit center prospect who is smart and tough and can play both with his back to the basket and as a pick and pop guy.  Also, with two Ms for initials, and a Bucknell degree, Mike provides ripe nickname material.
Robert: Glen Rice Jr., 6'6″, SG/SF, Rio Grande Valley (NBDL). Check out the Draft Express video scouting report for Glen Rice Jr. (if you haven't, like me, done so a dozen or so times already) and you can see some skills there (athleticism, shooting, nasty streak) that, if he's to be believed, will now be allowed to blossom given his end to bad decision-ing… Aaaaaand his foot speed on defense looks awful. Really, this pick is more about my love of Glen Rice Sr. Picking his son would, in some twisted part of my brain, feel like we were picking the father. And I like him a lot! GR Jr. does not seem to be a Chris Grant pick but, the memory of Glen Sr. whispers in my ear.  That might be exactly what makes it a Chris Grant pick. Geez…
Kevin: Grant Jerrett, 6'10", PF, Arizona.  Let's go out on a limb on this one.  Arizona freshman Grant Jerrett was a McDonald's All-American, ranked 10th in his high school class.  Enrolling with two other top-17 freshmen bigs, he was the odd man out for playing time this year.  6'10" tall in shoes, with a 7'2″ wingspan, Jerrett drained 41% of his threes.  During combine drills, he shot as well as Bullock and bested Crabbe.  Signing Grant for three years with one guaranteed, then sending him on a 2013 – 2014 D-League adventure, may guide him towards becoming a stretch four addition to combine with Noel & Thompson.
Mallory: Deshaun Thomas, 6'7″, PF/SF, Ohio State.  Since most second rounders flame out, I hope, for the sake of home-field fandom, that the Cavaliers select Deshaun Thomas. The truth is 9 times out of 10 I hate Thomas' game, but every once and a while he can light it up.  Throw in some half-decent rebounding, and he's not a bad stretch 4/SF option.
Tom: Lorenzo Brown, 6'5″, PG, North Carolina State. Well, he's huge for a point guard, distributes well, racks up steals, can't shoot much, can't finish, has no explosiveness, and he's already 22.  If we're gonna witness Mike Brown 2.0, he's gonna need an Eric Snow 2.0, and that's Lorenzo Brown.  Look the Cavs suck because they can't defend, and even if the young guys start to figure it out under Mike Brown's tutelage, they are a supremely undersized team.  So everyone on this list plays D and has good size.   I look at this draft and see 3 players that could become superstars: Noel, Bennett, and Burke.  The latter two play positions the Cavs already have filled, and Noel is super risky and not even close to being ready to compete next year (the Cavs stated goal).  So these guys plug some pretty huge holes in the boat.
We have a trade to announce…
Robert: #31, #33 and a future second round pick for #13 where the Cavs select Jamaal Franklin, 6'5″, SG/SF, San Diego State. If you haven't read Zach Lowe's Grantland article about the George Hill for Kawhi Leonard deal it goes something like this: "both teams won and got key pieces to playoff teams," and then goes on to talk about how Leonard is really, really good. Am I oversimplifying things by picking the guy from Leonard's alma mater here? Absolutely. I don't think that Leonard and Franklin are the same type of player. Not necessarily. But I see in Franklin the same potential for future chants of "He was taken way too late! He's one of the best perimeter defenders in the league already!" These have already become staples among Leonard lovers everywhere.
Kevin: Follow me here.  You're Denver.  If Andre Iguodala picks up his option, you've got 11 guys signed for $68 million next year.  If he doesn't, the payroll drops to $52 million, but you need to replace him while not having enough cap space to make a sizable free agency offer to a new guy.  So, the luxury tax is definitely in play.  Even without Iggy,  your roster includes Danillo Gallinari and Wilson Chandler, thereby squeezing your 2011 and 2012 first round picks (Jordan Hamilton and Evan Fournier) into some time at shooting guard.  Ty Lawson is your 35 minute per game point guard.  Andre Miller is your…37 year old, $5 million per year guy that's pushing you towards the luxury tax and keeping the young guys from seeing the court?  If the Nuggets wanted to cut salary, while giving Miller's minutes to a combination of Fournier and a cheaper back-up point guard…perhaps the Cavs could trade #31 for him.  Miller could spend his twilight years where he began while mentoring Kyrie and being a lot of fun to watch.
Tom: The Cavs trade #1 and filler for Deandre Jordan and Eric Bledsoe.  Jordan is crazy overpaid and redundant so the Cavs are doing the Clips a favor and Bledsoe will be a star very soon (but don't tell the Clippers).
Mallory: The goal, in my mind, has always been Kevin Love.  I can't think of another player, especially given the skills of Kyrie and Dion, that compliments this team better. Of those three, Love is the best shooter off the ball.  Not only that, he can roll to the basket, and he's a great rebounder.  The front office should do just about everything in their power to acquire the disgruntled PF. The thinking: the two first rounders this year, a couple future firsts, and some combo of either roster junk (Zeller, Gee, Miles, etc) or TT.  The Wolves are likely going to lose Love in the future, and this is probably the best offer that comes along.  Who says no?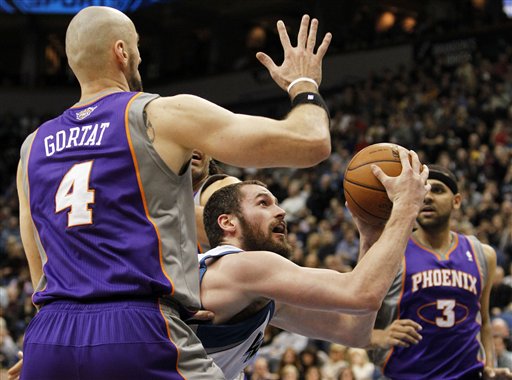 Nate: I pitched the following trade to the guys at Valley of the Sun: the #1 pick, and Tyler Zeller for the #5, Marcin Gortat, and Jared Dudley.  I got split responses from the Suns' bloggers.
Michael Schwartz: I don't think that trade would be very attractive to the Suns. There isn't a whole lot of differentiation between the top five or so picks this year, and those are two of the Suns' only attractive players…. Perhaps they fall in love with a prospect like Noel, but save that I don't think they would do something like this.
Ryan Weisert: The Suns would do that in a heartbeat.  I like that trade for the Cavs too.  Puts them in a position to get Oladipo and a veteran center.  How vigorously are the Cavs shopping the pick?  I agree about Oladipo [being the best pick of the draft].
Nate Smith: Surprised you'd make that trade with your opinion that Oladipo is the best guy.  I think the Cavs are looking for veterans.  They want to make the playoffs next year, and not add a ton of salary.  This is why Dudley/Gortat makes so much sense. Gortat's on his last year of his contract.  The general opinion there is he hates it, right?  Dudley is a nice player but he's a finishing piece, not a building block.
RW:  Agree on Dudley. Gortat doesn't hate it, he is just in Steve Nash withdrawal. He is used to being in contention and getting easy by keys off pick and roll. That didn't really happen with Dragic. In response to the trade, the Suns would definitely do that. If I were in charge, I would not. I don't think much of Noel or Zeller.
NS: Huh.  Good to know.  BTW, we fans are running a special. Zeller seems to be available with every trade.
—-
Well, that's it, commentariat: some conjecture to get us all through the weekend.  Monday, we can start analyzing the shooting percentages of Adriatic league players versus college dropouts who've been bitten by mosquitoes while wearing jump soles.  I can't wait.  In the mean time, who would you take?