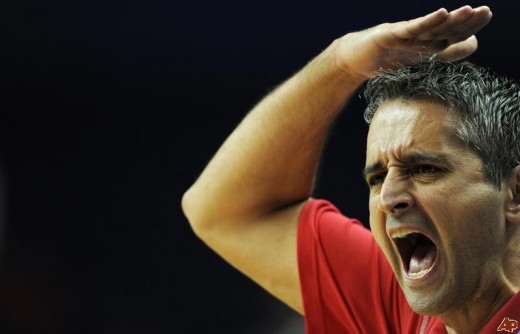 The Cavaliers organization took a lot of flack for the speed at which they hired Mike Brown. After firing Byron Scott, the team wasted no time (okay, they wasted 10 days) in bringing Brown back into the fold. At the time, many criticized the unsexiness of the move, even suggesting that it reeked of panic.
If Dan Gilbert and Chris Grant are fools for rushing in, however, the same cannot be said for Brown who has been methodically assembling his staff of assistant coaches since re-boarding the Cavalier boat.
The names we all expected to see – mainly former Pistons head coach, John Kuester, an assistant under Mike Brown in both Cleveland and Los Angeles – despite being heavily rumored, never surfaced. Instead, Brown trended "developmental" by retaining Tristan Thompson god-maker, Jamahl Mosely, from Byron Scott's staff, adding former Lakers player development coach, Phil Handy, and, most recently, adding former-Cavs Vitaly Potapenko in a player development role.
Lost among all this development, might be the most significant one: Brown's hiring of long-time Phoenix Suns assistant coach, Igor Kokoskov. Kokoskov has been an NBA assistant for 13 years, working for Alvin Gentry (Clippers and Suns), Larry Brown (Pistons – including their 2004 championship season), and briefly both Terry Porter and Lindsey Hunter (Suns). For Hunter's brief stint with the Suns last season, Kokoskov was considered the team's offensive coordinator, while Hunter ran the defense, a situation that is likely to repeat itself with the Cavs.
Most of the information we've been given about Kokoskov is exceedingly positive. Gentry has called him "one of the brightest minds as there is in the game" and former player, Earl Boykins gushed about Kokoskov's point guard-focused offense.
But none of that has given Cavs fans any real sense of what a Kokoskov-run offense will look like. So, I talked to someone who has actually watched a little Kokoskov-run offense: Ryan Weisert* from Valley of the Suns.
CtB: Ryan, you got to see a bit of the Igor Kokoskov show this season as he became Lindsey Hunter's lead assistant. Earl Boykins said "He believes point guards should have the ball all the time." What, if anything, can you tell us about the type of offense Kokoskov likes to run and what he might bring to the Cavs?
RW: I think Boykins' quote hits Kokoskov right on the head. He really trusts and relies on point guards offensively. For most of Igor's time in Phoenix, the Suns' offense relied on Steve Nash. During the earliest parts of that tenure, the Suns offense was among the best in the league. Though their efficiency and points per game has dwindled somewhat in recent seasons, the Suns' reliance on their point guard has not. It was not a perfectly smooth transition from Nash to Goran Dragic by any means. The Dragon, as he's affectionately known in Phoenix, struggled out of the gate as a starter. But around the time Lindsey Hunter took over and Kokoskov became lead assistant was when Dragic's production really started to take off. Goran's assists and points per game increased every month under Hunter, culminating in averages of 18 points and 9 assists over the final month of the year. That's incredible production for a player in his first year as a full-time starting point guard in the NBA. It's also a testament to Kokoskov's offensive philosophy. The Suns have always been at their best when they played up tempo and let their point guard, be it Nash or Dragic, run the show. Kokoskov will definitely help the Cavs get out and run more in transition, especially considering all the youth on the roster. He is also good at utilizing his lead guard in a way that suits his skill set. Nash was incredible in the pick and roll, so the Suns ran that a great deal before he was traded. Dragic isn't as good in pick and roll, but he is a great penetrator and plays really well off the ball. This season, the Suns focused less on pick and roll and more on giving Dragic driving lanes and moving him around the perimeter without the ball. I expect Kokoskov to use every one of Kyrie Irving's skills and really give him a ton of different ways to attack a defense.
CtB: What has watching the Suns made you believe are Kokoskov's strengths as an assistant (and, specifically, an offensive) coach? What are his weaknesses/shortcomings/bad habits?
RW: That question is a bit difficult to answer for a few reasons. First, before Alvin Gentry stepped down, Kokosov's role among the coaches was not as prominent, so it's difficult to make judgments about his coaching strengths before that time. Teams don't having coaching depth charts, but over his first few years he was definitely lower on the totem pole than guys like Elston Turner, Dan Majerle, and even Gentry himself before he was made the head coach. After the departures of the three coaches I just mentioned in early 2013, Kokoskov served as lead assistant to Lindsey Hunter through the remainder of the season. But it's not a great idea to judge his coaching talents and offensive insights on such a small sample size, especially considering how awful the Suns played during that time. None of the blame for the Suns' mountain of late season losses should be laid at Igor's feet. There was little he could do to stem the tide of the Suns' precipitous decline. First off, Marcin Gortat got hurt in early March which seriously limited frontcourt depth and altered Phoenix's lineups. Second, the Suns were subtly, and at times not so subtly, tanking for a better draft pick. They accomplished this by giving playing time to younger players like Kendall Marshall and Wesley Johnson. Both of those guys' production definitely picked up at the end of the year, but their increased minutes combined with the team's overall lack of direction and chemistry led to some pretty poor offense as the season wound down. I think all that can be said definitively about Kokoskov as it pertains to the latter part of this Suns' season is that Dragic's success is mostly his doing, especially with Lindsey Hunter's focus primarily on the defense. The increase in Dragic's assertiveness and the versatility he showed as a scorer are evidence of what Igor can do when working with a talented ball handler. How Kokoskov will do in terms of building a system/offense/playbook still remains to be seen as he didn't get a great opportunity to install anything amidst all the upheaval in Phoenix.
CtB: With a lot of focus in this year's playoffs being on "systems," both offensive and defensive (i.e. Oklahoma City is a more play-based offense, while, say, the Bulls for example run an offensive system) would you call Kokoskov a system guy? Should we look toward D'Antoni and Gentry's offenses as indicators for what he might do?
RW: Having cut his teeth under Mike D'Antoni and Alvin Gentry, I seriously doubt Kokoskov will institute a called play-centric offense in Cleveland. Both Gentry and D'Antoni were system guys who espoused an offensive philosophy for their players to interpret as opposed to coaches who prowled the sidelines calling out plays on every possession. I would expect Kokoskov to be more of a football (soccer) manager than a football (NFL) head coach. D'Antoni's system was Seven Seconds or Less. Gentry's system was similarly up-tempo, though he preferred to use a deeper rotation to keep the pace high and the pressure on the defense up. As I mentioned before Kokoskov hasn't gotten a real chance to implement a full offensive system yet, but he should get that opportunity in Cleveland, especially with Mike Brown more known as a defensive coach. I would expect his system to be very up tempo and really utilize the Cavs' youth. I would be shocked if the Cavs didn't increase their transition scoring rank (25th according to Synergy) under Kokoskov. I would also expect Cleveland, and Kyrie specifically, to attack out of isolation plays less often as they institute more ball movement and more defined sets.
CtB: Outside of Kyrie Irving, who on the Cavs stands to benefit from the type of offense Kokoskov likes to run?
RW: Should Marreese Speights return, I think he could have some success under Kokoskov. Luis Scola had a great deal of success operating from the high post and running the pick and pop with Goran Dragic in Phoenix this past season. Speights is actually a good shooter from 16-23 feet and most of his attempts out of pick and roll this season were jumpers. His accuracy and opportunities to shoot could definitely increase. I also think Nerlens Noel, if he is the #1 pick, could have some success. A penetrating point guard like Kyrie is going to generate easy buckets for a big man with hops, active feet, and decent hands. Whenever the opposing center has to slide over to keep Irving from getting an easy layup, the lob or dump off is going to be there for Noel. Kokoskov's system is going to create driving lanes for Irving which means Noel will have opportunities to finish buckets close to the hoop.
CtB: Thanks, Ryan!
So, Brown has brought in a lead assistant with experience creating offenses suited to elite to above average point guards. That's great news. We got one of those!
The other big take-aways: Kokoskov's focus on ball movement will hopefully quell Kyrie's love of isolation, Dion Waiters is a pretty talented guard who would seem to benefit from a guy who likes finding ways for talented guards to succeed, and Anderson Varejao is a pretty good pick-and-pop threat in the Scola mold… you know, for 30 games or so.
*Ryan Weisert is lifelong Suns' fan-turned-blogger currently living in exile in St. Louis, MO. He has written for Valley of the Suns for two years. When he's not breaking down the Suns or writing for his personal blog, Spectavius.com, he can be found at St. Louis University where he works in a lab during the day and pursues his MBA at night.