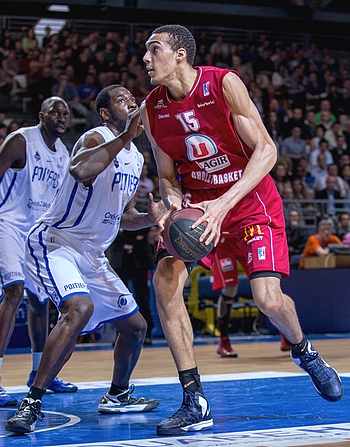 How you get a rude and a reckless?
Don't you be so crude and a feckless
You been drinking brew for breakfast
Rudie can't fail
-The Clash

Bonjour.  Frenchman Rudy Gobert, like most players in the 2013 draft is a human Rorschach test.  He has incredible strengths and glaring weaknesses.  Gobert, unlike most college players, doesn't have an extensive body of work that we were able to watch from which to draw conclusions.  What we can do is infer from the information we know, and project onto him.
Rudy Gobert was once rumored to be 7'4," was measured at 7'2″ in shoes at the combine along with a 7'8.5″ wingspan and a 9'7″ standing reach, both records. As has been discussed in this blog before by the estimable Kevin Hetrick, Rudy Gobert's numbers do not exactly project "star."  As Kevin has noted, reach alone does not correlate to production, and speed of centers has been the best predictor of NBA success.  Rudy Gobert's 3/4 court sprint is 3.57, which isn't great.  His agility score of 12.77 wasn't elite either.  And as Kevin has also noted, standing reach and wingspan haven't been great indicators of NBA success.  In fact, at the extreme end, I've noticed they tend to be negative predictors.  Perhaps most of these guys get so long they just can't control their arms.  But there are players who've posted corresponding numbers who've fared well in the NBA.  Brook Lopez ran extremely similar numbers with a 3.57 and 12.77.  He has fared well in the NBA.  Andrew Nicholson posted a 3.66 3/4 court sprint and posted a similarly condorian wingspan of 7'4″.  Nicholson just posted a fairly solid rookie season, and frankly should have replaced Tyler Zeller on the all-rookie second team.
Other Condors who've had success? Andre Drummond, Larry Sanders, Brendan Haywood, Alonzo Mourning, and Shaquille O'Neal all had wingspans over 7'6″.  Of course that's 6 names out of 43 on the DraftExpress measurements database.  Borderline players on that list include Eddy Curry, Bismack Biyambo, and Desanga Diop.  So 9 out of 43 players became at least rotation NBA players– a pretty horrible 21 percent.  A big wingspan is not an automatic NBA pedigree.
But Rudy Gobert is not a player you can quote stats on, à la monsieur Hetrick's marathon of draft profiles from last week.  Yes, Gobert posted 8.4 and 5.4 boards in 22.7 minutes for Cholet last year, and shot 73.6% from the field.  He posted 1.9 blocks, .7 steals 1.5 turnovers and 2.1 fouls in that time too, and shot 70.4% from the line.  Yes, those are bizarre numbers.  Yes, Gobert rarely shot from farther than 5 feet a way and put up pretty pedestrian rebound numbers for a guy who's got a 9'7″  reach.  But Rudy is like a piece of fine French cinema about clowns and balloons and women who smoke.  He rewards multiple watchings.

I've been reading about and watching an awful lot of video on Rudy Gobert, and most of the draft pundits have have him pretty well nailed down.  DraftExpress has a great profile on him, here, that was posted May 29th.  Rudy does certain things better than anyone else in this draft, and he does certain things more poorly than anyone in this draft.
Strengths
Potential to be an elite shotblocker/defensive player: he's got impeccable timing, reach and instincts for blocking shots.  Additionally, despite his low agility/sprint scores, he has good defensive footwork for a big man, and can show on the pick and roll, and trap guards.  Due to his massive wingspan and very quick hands for his size, this trap is smothering.
Ability to finish on the pick and roll: Gobert has very good hands and can catch and finish with either hand on the run, and doesn't have to receive the pass high to convert.  He gives a very large margin of error to the guard in P/R situations.  I'd wager his hands are better than Noel's.  Furthermore, he has good pick and roll timing, though he is often looking to slip the pick more often than he is looking to sustain it for the guard.  But he seems to be in constant offensive motion, looking to set screens or have his hands up to receive a pass.  Rudy's 71% field goal percentage was almost entirely out of these types of situations.
Basketball IQ: in looking over a lot of his game video on RudyGobert.biz (which is the only .biz site I've ever been on that didn't give my computer a virus)., Rudy seems very perceptive on offense and defense.  He's a willing, if not always effective passer, makes quick decisions with the ball, and has decent court vision.  I've seen him make impressive passes:  passes like catching the ball from the high post and touch passing it out to the wing for an open three without even bringing the ball in.  Or, one dribble and a scoop pass to a cutting guard off the pick and roll.  Also, his outlet passes are très bien.
Consistent Motor: in all the video I've watched, Gobert wasn't a loafer.  He consistently ran on offense and defense.  Unlike a guy like Anthony Bennett, Gobert gets back on defense, challenges the ball around the rim, and challenges guards.  As a help defender he can be incroyable.  Additionally, he's constantly moving on offense and defense.  I would much rather have a guy who has a 3.57 3/4 court sprint who runs every possession than a guy with a 3.2 who doesn't.
Range: in offense and defense, Gobert covers a lot of ground.  He has a huge catch radius on lobs, cuts, and rebounds.  If he gets his feet under him he has incredible rebounding range due to his wingspan.
Offensive rebounding: Gobert gets 18% of his points off the o-boards, rebounding at a very nice rate.  Has the potential to be a Zydrunas Ilgauskus like volleyball offensive rebound finisher.
Intangibles: by all accounts he loves the U.S. and wants to be in the NBA.  He works hard and has a desire to improve.  And anyone can see who watches him for any length of time, he hasn't had the best coaching and has had some pretty lousy teammates, yet kept running and playing hard.
Weaknesses (and this is where it gets bad).

Horrible lower body: consistently gets pushed off the block, pushed out position for rebounds, and pushed out of the booth at Le Denny's.  Gobert has got to build up strength in his core and legs.  That would probably help his sprinting and his agility, as well.  As we can tell from the pic above, Rudy is ripped, and has 4.4% body fat, but his lower body needs work.  He is frequently off balance and ends up on the floor after a lot of dunks and blocks.
Plays too fast: part of the reason he's on the floor a lot is that Rudy will make a decision and try to pull off a pass, a shot, or a cut before his body is ready to do it.  This results in bad passes, goofy layup attempts, and falling down after a pick.  Slow down, Rudy.  You'll get there.
Extremely limited post game: Rudy doesn't seal well and his post move is catch and finish with a dunk or spin and finish with a dunk.  He has a bad jump hook, and doesn't like turning to the middle.  From what I saw, he tries to spin baseline for a layup or dunk far too often because he's afraid to go to that hook.  This results in him getting trapped under the basket, usually by much smaller players.  He must develop  l'hook to get better.
Doesn't shoot jumpers: DraftExpress said he was 0-6 on the year, but I saw him can a nice post turnaround J off the mid block in his highlight films, so I don't know who to believe.  Still, he doesn't keep the ball up when he shoots.  His 71% free throw percentage, excellent for his size, does not translate to live game situations because he brings the ball so low when he shoots.  I'm quite sure this leads to him being blocked a lot.  Rumor was his mid-range game looked decent at the combine, though.
Defensive rebounding: doesn't hold space and grab the ball as well as he should.  Most of this is due to being pushed off the block and having no lower body strength.
Project: Rudy Gobert is probably the definition of a project big man.  He needs a lot of work to to be effective.  Whoever drafts him will look like a genius or an idiot.
The attempt of this article is to draw a distinction.  Rudy Gobert isn't like other tall, foreign big men who've failed in the past.  For one, it's obvious when looking at his picture that he takes care of himself.  I don't know if I've ever seen a guy that was so cut that you could see the striations in his muscles.  Secondly, I encourage you to watch his game clips.  While some of the clips look like high school ball, there's vision and timing there that seem mature, both on offense and defense.  He's been playing since he was 11, and he's been playing pro ball since he was 17.  While he turns 21 the day of the draft, he's different than most older big men.  He's never had American coaching.  If his game can be rebuilt like Kelly Olynyk's, then sacre bleu! Gobert could be a game changing NBA big man.
He's already had several breakout performances.

At last year's Adidas Eurocamp, Rudy, "shut down the paint against the U20 Russian team, finishing with 15 points on 7-8 shooting, 3 rebounds, and 4 steals while providing an incredible defensive presence in 30 minutes of action."
I've always hated goofy foreign big men.  I don't know what has come over me.  Maybe it's my love of foie gras, berets, and mimes but Rudy is a Euro center I'd take a chance on.  I don't put as much stock in his sprint speed as Kevin.  Furthermore, with Zydrunas Ilgauskus, Tristan, Andy, and new player development coach, Phil Handy (though I will miss Nate Thibbetts), can all help Rudy develop the post moves necessary to become a consistent finisher.  Now I could be wrong, and Gobert might be the French word for Thabeet, but I believe Rudy will become a force in the NBA.  If he's not, I'll pose for a pic with Kevin while he wears a "Je suis avec stupide" t-shirt.
The other problem is where to draft him.  He's rumored to go anywhere between six and the mid teens.  The Cavs would be laughed at for taking him #1, and at #19, he probably won't be there.  But supposedly the Mavs are shopping the #12 to preserve cap space for this summer, and a future #1 would probably be enough to get it.  Would Rudy be available then?  It's hard to know.  I hope to see him in a Cavs uniform even if it's a year before he's contributing.  Like English punk, and French wine, Rudy Gobert will get better with age.
P.S. Be sure to go to 3:07 on this video to see a tour of L'Appartement de Rudy to the tune of Bob Dylan's "Meet me in the Morning" on Cholet local news.  C'est Magnifique!