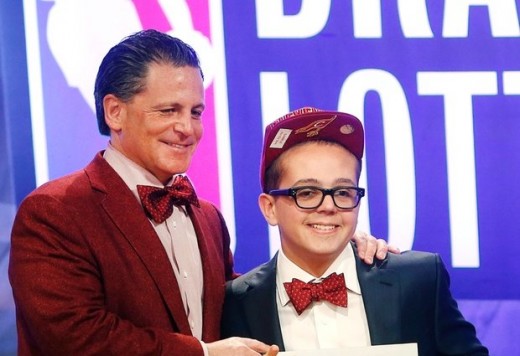 Note: The disjointed nature of this post pretty ably reflects my ability to make sense of the first pick.
Having looked closely at Ben McLemore, Victor Oladipo, Otto Porter and Nerlens Noel, my draft board for the Cavs says:
Noel
Porter
Oladipo
I am not excited about it though.  Noel's size, athleticism and production are worthy of the first pick, but I can't get over the two knee surgeries.   And honestly, whether the Cavs do or don't pick him, I'm not sure there will be a lot of room for future "I told you so's".  What fan will legitimately be able to say, "I knew what would happen with his left knee"?
But enough of that…I need to find an answer.  I populated my "parallel universe simulator" with the thousands of requisite variables, then let it churn on hundreds of networked computers throughout the course of the week.  The hoped-for output: the answer to the question of "which selection will help win the Cavs win the most games over the next ten years?"
But before talking about that, let's look at one more comparison, this time for Trey Burke (maybe there will be an Anthony Bennett or Alex Len article next week).  Here is Burke's line:
5' 11.75" barefoot, 6' 5.5" wingspan, 187 lbs, 29.5" no-step, 36.5" max, 11.2 agility, 3.16 sprint.  Age 20.6 at draft time.  121 orating on 29 usage.  46 / 38 / 80.  50 / 31 / 18.  dreb% = 8.7.  stl% = 2.8.  ast% = 37.2.  blk% = 1.5.  A:TO Ratio = 3.  Pure Point Rating (PPR) = 6.34.
Short and fast with good length.  Features a resume of sterling production.  NCAA Player of the Year as a sophomore?  Check.  The second-best PPR in draftexpress.com's extensive 2013 database?  Yep.  The 121 offensive rating, combined with 29 usage, against the NCAA's fourth most difficult schedule?  Awesome.  A run to the NCAA final?  Icing on the cake.
Here's the comparison:
Player A – 5' 11.75" barefoot, 6' 4.25" wingspan, 178 lbs, 32" no-step, 38" max, 11.09 agility, 3.22 sprint.  Age 20.1 at draft time.  123 orating on 23 usage.  45 / 47 / 83.  40 / 28 / 32.  dreb% = 12.3.  asst% = 33.8.  stl% = 3.9.  blk% = 0.0.  A:TO Ratio = 2.4.  PPR = 4.76.
Similar for size and athleticism, Burke's efficiency stats bested his slightly younger counterpart, including PER of 29 versus Player A's tally of 25.  The comparison guy snagged more rebounds and steals.  This is Chris Paul his sophomore year at Wake Forest.  Mimicking 2005, could Nerlens Noel be this draft's Andrew Bogut*, the injury prone defense-first big man?  And Ben McLemore fills Marvin Williams role as the athletic freshman that never meets expectations?  All the while, no one is paying enough attention to the guy who couldn't stretch six-foot tall in socks, then Trey Burke takes the NBA by storm from the 4th or 5th slot?
Probably not, but Burke had an excellent season and at a similar age, measures up very well with the game's best point guard.  I am going to talk great about him, flail failingly at driving his stock up, all in a misconstrued attempt to raise the value of the first pick.  NBA GM's…keep your eyes on this trinket…you are getting very sleepy…Trey Burke and Nerlens Noel are future stars…the first pick is extremely valuable…
Because ultimately, I feel like punting on the first pick.  On the spectrum of thirty NBA's teams current tolerance for risk, I'll assume the Cavs fall in the middle.  They are still young and building, but there is a definite desire to see signficant improvement next year.  So in this hypothetical "risk aversion ranking", there are many teams willing to roll the dice more than Cleveland.  Teams willing to take the potential franchise center with the health issues, coupled with a desire to tank in 2014.  There could even be a team that decides Trey Burke is a superstar and wants to snag him before Orlando does.  Six weeks ago, David Thorpe was already advocating for Burke at the top of the draft.
I know every GM is saying they aren't interested in the #1 pick, but surely a handful are lying.  Maybe there's a really great trade lurking out there somewhere; I won't even hypothesize further on for what or whom.
But wait…"ding"…the timer went off on my "parallel universe simulator".  And the long awaited results, of one-million alternate realities, over the next ten years:
The Cavs draft Noel 527,000 times.
The world only ends 69 times during those scenarios (never directly because of the Cleveland / Nerlens thing).
Across these runs, the team averages 44 wins per season, peaking at an average of 65 and bottoming out at 29.  Best case scenario, they win seven titles.
The Cavs draft Porter 132,000 times.
The team averages 45 wins per season, peaking at average of 61 and bottoming out at 33.  Best case; four banners get raised.
The Cavs trade the pick 244,000 times.
Lebron comes back…I'm going to keep those results secret though.
In 247 parallel universes, Nick Gilbert is elected Mayor of Cleveland in the next ten years.
Even more shocking, twice the Lakers relocate to Cleveland, due to rising oceans.
And most amazingly, once in a million realities, Chris Grant quits as GM to live his dreams as a tour guide in the Andes.  The Cavs:the Blog writers are named co-GM's of the Cavaliers.  On draft night, after much thought and deliberation, we send Nate up to Commissioner Silver with our selection.  A dynasty awaits!  To our shock though, Nate submits an alternate card from his back pocket…Kelly Olynyk!!  We gasp!!!  The world does end in this scenario, directly linked to the Cleveland / Olynyk selection.
Well, I've lost my way.  Give me a break though…five articles in a week wears me out.  Lots of options with the #1 pick; four more weeks until it becomes reality.
*Remember Bogut made All-NBA Third Team one season, and lead the league in per-game blocks another year.