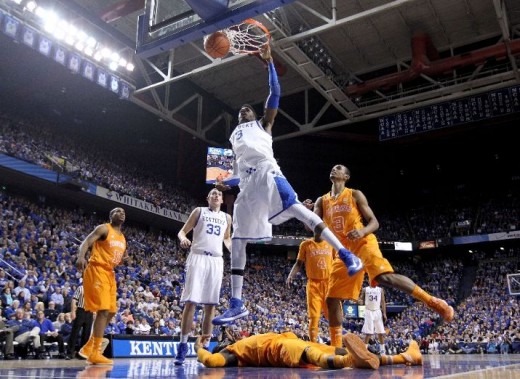 Finally, the time has arrived: Nerlens Noel, the majority selection for Number One.  The type of long, super-athletic prospect that front offices drool over, the Kentucky freshman followed up on his place at the top of the high school class of 2012 with an impressive twenty-four games at Kentucky, parlaying that dossier into top-pick status.  Of course nothing is easy though; on February 12th, he tore his left ACL, sidelining him until 2014.  If not for that, this series never exists.  Nerlens numerical profile is:
6' 10" barefoot, 7' 3.75" wingspan, 206 lbs (apparently he played at 220 pounds.  Also no athleticism tests, but I will give Noel the benefit of the doubt of a 3.15 – 3.20 sprint time).  Age 19.2 at draft time.  109 orating on 19 usage.  59 / 0 / 53.  78 / 0 / 22.  dreb% = 21.7.  ast% = 9.3.  stl% = 3.9.  blk% = 12.9.  A:TO ratio = 0.8.
Pretty impressive stuff.  Solid rebounding; astounding steal and block rates; and decent offensive play for an 18-year old center.  Tough to find comparisons for those traits, and I've split this into a few categories.
Low minute back-ups:
Player A – 6' 9.25" barefoot, 7' 5.75" wingspan, 222 lbs, 25.5" no-step, 12.49 agility, 3.27 sprint, age 21.6 at draft time (comparison season is 19.6).  97 orating on 17 usage.  50 / 0 / 46.  80 / 0 / 20.  dreb% = 23.2.  stl% = 1.2.  blk% = 18.8 (dropped to 11 his sophomore year, as his minutes increased).  ast% = 1.5.  A:TO Ratio = 0.2.  196th toughest schedule in NCAA, 534 minutes.
Player B – 6' 11" barefoot, 7' 6" wingspan, 241 pounds, 27" no-step, 12.75 agility, 3.25 sprint, age 20.4 at draft time (comparison season is age 19.4)  100 orating on 18 usage.  60 / 0 / 47.  80 / 5 / 15.  dreb% = 13.1.  ast% = 1.6 (3 assists on the season).  A:TO Ratio = 0.1.  blk% = 8.5.  stl% = 1.0.  330 minutes, 131st toughest schedule in NCAA, 330 minutes.
Player A is long, skinny, and with sprint speed nearing outstanding levels for a big.  He couldn't get minutes at his mid-major school his freshman year.  And deservedly so; even as an low-volume offensive role player, he stunk.  Also, his weight matches Noel's playing mass, despite being 2.5 years older.
Player B is also long, fast, and skinny.  Like Player A, a hole on offense, racking up one assist per 110 minutes.  He also apparently made the decision to not rebound at the defensive end.  This contrasts Noel, who is a player lauded for his attitude and effort.
These players are Larry Sanders and Javale McGee.  They aren't comparisons like the players presented on Monday through Wednesday were; Noel is markedly superior to each at a similar age.  Plus, McGee is a knucklehead, right?  At least these players help build a portfolio for the floor and ceiling that Nerlens possesses.
Next comparison: a long, fast, low-usage shot blocker from an NCAA powerhouse.
Player C – 6' 8.75" barefoot, 7' 4" wingspan, 257 lbs, 31.5" no-step, 12.32 agility, 3.15 sprint.  age 21.7 at draft time. (age 19.7 season).  114 orating on 13 usage.  59 / 0 / 62.   79 / 0 / 21.  dreb% = 20.3.  ast% = 4.4.  stl% = 1.4.  blk% = 12.4.  A:TO Ratio = 0.6.
I know, I know…257 pounds.  This guy was 30 months older than Noel though.  In two years, could Noel at least push 240?  North Carolina managed to pack thirty pounds onto John Henson in a similar timeframe…let's say yes.  Player D's wingspan and reach equal Noel, and his sprint-speed meets the elite levels anticipated from the Kentucky freshman.  He played thirty minutes per game, taking part in an Elite Eight run.  He rebounded well, swatted shots, and scored 21% of his points from the free throw line (despite not shooting particularly well there).  Alot of similarities to Noel, except Nerlens was six months younger, collected significantly more steals, and garnered a larger share of his team's offense.  Oh, and the fifty pounds.  This similar freshman rim protector was Emeka Okafor; he averaged 14 points, 10+ rebounds and 2 blocks over his first five NBA seasons (before signing a big contract and never producing the same again).
Now, one final comparison…a player that was definitely better than Nerlens Noel.
Player D – 6' 9.25" barefoot, 7' 5.5" wingspan, 222 lbs, (no athleticism tests), age 19.3 at draft time.  134 orating on 19 usage.  62 / 15 / 71.  73 / 2 / 25.  dreb% = 23.7.  ast% = 7.4.  stl% = 2.5.  blk% = 13.7.  A:TO Ratio = 1.2.
Anthony Davis was really fricking good.  That has nothing to do with Nerlens though.  So what we've learned is that Noel is well ahead of where Larry Sanders or Javale McGee were at his age.  He will gain some weight; perhaps a fifteen-footer will develop; pick and roll alley-oops and offensive boards will be slammed with authority.  For a ceiling, I could  envision lines similar to Okafor's early days: 15 points and 10 rebounds, but with maybe 3 blocks per night.  All other considerations being equal, I have zero doubt that Nerlens Noel deservedly sits atop draft boards.   Noel is great prospect, a potential game changer at one end of the court, who at a similar age is well ahead of many of the NBA's best basket defenders.
Unfortunately not everything is equal.  He fractured a growth plate in his left knee in high school, and now the torn ACL in the same knee.  People say, "if the doctors sign-off, carry on…"  But I still worry; a crew of doctors thought Greg Oden was sound at #1, and he had no history of knee surgery.  Pretty much every team stayed away from Dejuan Blair.  Now after playing 5400 minutes*, suiting up in 90% of the Spurs games over four years, those medical assessments look a bit off.  This stuff isn't a perfect science, even for the world's best physicians.  You mean they haven't mastered predicting the impact of thousands of high-velocity, high-torgue movements on the human knee?  Amateurs…
That's silly, but this series never would have existed if not for Noel's left knee.  What scenario is the bigger gut punch?  The one where three years from now, the 22-year old is undergoing a third surgery on his left knee?  Or the one where the Cavs don't take Noel, and we watch him swat Kyrie layups during breaks from his receiving John Wall alley-oops, as the Wizards cruise to another Eastern Conference Finals?
Wow; Cleveland sports fandom can leave a person jaded, but these dual questions are what keep this from being cut and dry.
High stakes indeed, and luckily Chris Grant is making the pick.  Are there comparisons to players with two surgeries on the same knee before their nineteenth birthday?   Let me know your thoughts in the comments, then we'll wrap this up tomorrow.
*Blair has also logged 276 playoff minutes, impressively with a 23 PER.