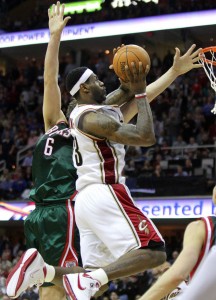 Chris Paul tells the Hornets he wants to play for the Cavs.
"But the Cavs' ninth victory in the last 10 games — a win that reduced both their magic numbers to clinch the top seed in the East and the No. 1 overall seed to two — probably wouldn't have happened without an unsung stalwart.  That would be Fox Sports Ohio, whose cameramen and replay machine pretty much clinched the Cavs a second game in the last month." [Brian Windhorst on the Cavs 6th Man]
From the same article, it appears LeBron drew up the play for the winning layup, which Tim Legler called "One of the best set plays I've seen all season out of a timeout" in this video.
"When he brought it up, I kind of chuckled because I was like: 'Really? Are you kidding me?' And lo and behold, they went out there and executed the play to a T," the coach said. "I don't know if we've ever run the play before in that situation." [Mike Brown's quote from George M. Thomas' Game Recap]
I get the feeling there will be some anti-Mike Brown articles coming from DimeMag if they learn the truth about the layup:
"We've given Mike Brown a hard time before about his, um, lack of offensive ingenuity, but he deserves credit for drawing up a flawless play at the end of Cavs/Bucks that led to maybe the easiest game-winner LeBron James is ever going to get…"
"But it's to the Bucks' credit that instead of focusing on a wacky disparity, they focused on the fact they did not win a game they could have won. On a night when the Celtics lamented officiating calls, the Bucks said they lost because they blew chances, not because of a free-throw disparity of Grand Canyonesque proportions.  It's a measure of their growth, and of the reality that come mid-April they could be a very dangerous combination." [Patrick McManamon on the Bucks' Growth]
"Truth be told, Milwaukee probably intentionally fouled Cleveland 10 times for 20 of those shots. The Cavs also played a more aggressive attacking game, where as the Bucks took and made a good amount of jump shots. When they did get to the rim it usually wasn't contested well because of defensive lapses." [Rick – WFNY]
"It is too late with Antawn Jamison, who makes weird shots look fluid but makes free throws look like they hurt." [Brian Windhorst on the Cavs Free Throw Woes]
"James will star in "Fantasy Basketball Camp," a comedy set in Las Vegas that is expected to be modeled after the wildly-successful "Hangover" that was out last summer." [Brian Windhorst on LeBron's Busy Summer]
This NBA TV Video interview reuniting LeBron and E Snow is awesome. I hope everyone that thinks LeBron is contrived with the media watches this video.  Also, LeBron saying the following should be on the front cover of every sports media site by now: "I got a goal, and that's a huge goal, and that's to bring an NBA championship here to Cleveland.  And I won't stop until I get it."
"The idea of the no-New York clause is [that] James is confident he will make extra money off the base contract by selling more shoes because of his new royalty agreement. And he will sell more shoes by winning championships." [Marc Berman New York Post]
Fathers all across the country are going to be raising their kids on raised rims after reading this piece by Bill Livingston.
"10. LeBron "Slaying of the First Born" James. Do you really need an explanation here? Have you ever heard the expression "give up his first born"? Well, how many [insert 2010 team here] fans have hinted at that in their drunker moments? Also, the Angel of Death did the deed and if I had to hire an Angel of Death from the NBA, it would be LeBron. Sorry, Kobe." [Bethlehem Shoals with Biblical Nicknames!]
"In short, Jackson has the heart of a real champion, LeBron & Durant don't (as evidenced their their zero career rings), and Kobe scowls a lot and therefore is a bad teammate/human being. So if you're voting for just one MVP this season, don't pick a chump. Pick Stephen Jackson, the greatest American hero I can think of. You won't be sorry." [Neil Paine Finally Starting To Understand The NBA]
I did a bit of research on the Cavs' lineups.  Turns out, they've discovered a sure fire way to be outscored by more than a point every 2 minutes (or -24 points per game):  just sit Mo and LeBron at the same time.  In 2008-2009, with MoBron on the bench, the Cavs were outscored by 25 points in 52 minutes.  This year (as of March 24th – can I apply for a job updating 82games.com?) with MoBron on the bench, the Cavs have been outscored by 21 points in 43 minutes.  If I got the job at 82games, first thing I'd do is make that -29 points in 46 minutes since last night, during a 2 minute and 51 second span starting near the end of the 3rd quarter and extending into the 4th quarter, the Cavs got outscored by 8.  If fans are going to fine J.J. every time he shoots a 15 footer (he drained 2 last night) Mike Brown needs to get fined every time he sits MoBron.  It is guaranteed devastation.
Box Scores To The Present:

The Cavs 89th point was J.J. Hickson making free throw 1 of 2.  The Cavs 90th point was J.J. Hickson making free throw 2 of 2.  Sandwiched between those free throws was a 30 second span that featured 4 missed Cavs free throws, a blown Andrew Bogut layup, and a missed LeBron James transition 3 that was destroyed on twitter.
The Cavs missed twice as many free throws as the Bucks made.  FTW (free throw woes!)
If you plug in >= .48 FG%, >=.41 3PFG%, <= .39 FT% in basketball-reference.com's player streak tool, you will find that since 1987, 15 players (including Craig Ehlo) have managed to string together no more than TWO straight games of this statistical anomaly.  Surprisingly, you won't find Antawn Jamison on the list, despite the fact that he just AVERAGED THAT for the ENTIRE MONTH of March. FTW!
Last night, DeAndre Jordan posted a MINUS 27 in ONLY 12 minutes and 30 seconds!! (essentially 1 quarter's worth of play)  I'm not sure what the NBA record is for point differential in a quarter, but my guess is the 4th quarter of this game has got to be up there.
Tweets To The Present:

"For those of you who are counting at home, that's 3 game winning defensive plays by Lebron this season" [Noam Schiller]
"Cavs FT shooting is up to a whopping 63 percent for the game." [George M. Thomas]
"When did Chris Dudley become the Cavs free throw instructor?" [realcavsfans]
"Call overturned. Of course, that implies the Cavs are going to hit free throws here, so I might take that back." [Brian Windhorst]
"Mo just got in front of someone on defense" [WayneEmbrysKids]
"Has Kendrick Perkins ever smiled?" [Justin Verrier]
"Why is Sheed playing well? I don't get it." [Noam Schiller]
"Incidentally, Lakers again completely ignoring Pau Gasol … drew consecutive and-1s on Horford in 1st, only 1 shot since" [John Hollinger]
"Holy cow, could this be right? Third quarter, and Knicks, say MSG, have 11 rebounds total." [Henry Abbott]
"Kobe counts the rim as a teammate. Hence the many passes to it." [Marcel Mutoni]
Not a tweet, but Charley Rosen's thoughts on Kobe's night: "As a result, Kobe took more than twice as many shots as any of his teammates — 21 to Pau Gasol's 10 — hoisted four of the ugliest bricks since cement was invented, was only 2-for-6 from the stripe, and passed only when he was unable to see the rim."