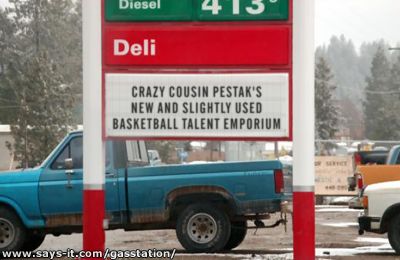 With the extreme good fortune of a lottery victory, the Cavaliers find themselves in a luxurious position.  The League's youngest All-Star, another #1 pick, two other recent top-fives, cap space, the league's most draft picks over the next five years.
There are interesting factors at play regarding the Nerlens Noel winning-ticket though.  First, the entirety of Cavalier-dom – management, coaches, players, writing hacks, avid blog readers, and casual fans – all expect a step forward next year.  Brian Windhorst reports that the Cavs are more than open to shopping the pick, and Nick Gilbert is adamant that he doesn't want to be back on a podium in 2014.  And who is the man for helping in that task?  A nineteen year old that will miss the first two months of the season — unless the Cavs decide to throw everyone a curveball and draft Otto Porter #1.  We'll pretend that possibility doesn't exist for now.
Trending in the opposite direction, rebuilding teams that are not ready for a playoff push next year, and aging teams looking to rebuild, could see drafting Noel as a perfect opportunity.  Get an uber-athletic seven-foot tall player that won't help much next year?  Position themselves for the Andrew Wiggins sweepstakes of 2014?  For a handful of teams, tankapalooza 2014 could be every bit as pitiful as the woeful displays of 2012.  And trading for Noel would be a perfect place to start.
Obviously with an asset as coveted as the draft's first pick, fans can dare to dream big.  What fantastical ideas are the C:tB writers thinking about?
Kevin: The easy targets to think about are Al Horford and Kevin Love.  The Hawks seem at a complete turning point where a quick infusion of Nerlens Noel followed by all-out suckitude in pursuit of Wiggins may appear to be a great plan.  Horford has ten more good years in him, averaged 15, 10 and 3 over the last four years, plays solid defense, and presents a great fit next to Tristan in the frontcourt.  The Wolves may consider trading Love considering he has an opt-out after next year and only played in two-third of their games over the last four years.  Would their new management consider starting fresh with a Rubio, Pekovic, Noel, 25% chance of Wiggins, foundation?  On the upside, obviously Love is a 24 year old with All-NBA second team on his resume. For Horford, offer the pick straight up.  For Love, throw in a top-ten protected 2014 first rounder.  If those offers are light, I'm not ready to turn the team upside-down anyways.  Also, I am unsure what other team offers a better package for Horford than the #1 pick.
Next, I'll go truly wild.  How about:
Cavs get: Ryan Anderson, Meyers Leonard, 10th pick
Pelicans get: 3rd pick (Porter), Wizards 2014 1st rounder (lightly protected), Trevor Booker
Wizards get: 1st pick (Noel)
Trail Blazers get: 6th pick (Bennett), Tyler Zeller
I'm not sure what I accomplished here, but it was fun.  The Cavs add a big, young body and a veteran, marksman stretch four.  With the tenth pick, the Cavs pick…Cody Zeller?  Then Sergey Karasev at 19…and sign Ellington, a veteran small forward, and a back-up point guard in free agency.  I promise I have not been drinking.
Or what about, first pick for Pau Gasol plus the rights to switch first round picks with the Lakers every year from 2018 through 2050?  That's against the rules?
Nate: Noel will miss two months of the season?  You're assuming everything goes perfectly.  I'm betting he won't be back till mid february at the very earliest.  Noel is the perfect player for a team looking to tank: he won't help you next year.  As for your trade, I don't think the Blazers trade Meyers Leonard, and I think the Pelicans keep Anderson who's the perfect forward to play with Anthony Davis.  Are you sure you haven't been drinking?  The real problem though is you're targeting teams stuck in the middle, not teams that are trending down hard.  I'm talking teams that need to blow it up like Bruce Willis blows up a rock hurtling towards Earth.I'm talking the Milwaukees Bucks of the world.  What if Cleveland traded the future Larry Sanders for the current Larry Sanders?  The Bucks need a purge, and they know it.  Sanders is just coming into his own, and his future looks bright.  He's a shot blocker extraordinaire and a good rebounder  Mike Brown would be a fantastic coach for him.  What about…
Trade1: Cavs get: Larry Sanders, the right to trade picks with the Bucks in 2015 or later, Ersan Ilyasova, and the Bucks #15 pick.
Bucks get: The Cavs #1, the #31. Tyler Zeller, and their choice: Miles, Gee, or a future protected pick (maybe the Kings pick).
Sanders and TT start, Andy and Ilyasova come off the bench, with Ilyasova splitting between the 3 and 4.  With the #15 the Cavs draft the best perimeter player to fall out of the lottery, and then take Karesev at #19 (or the other way around).  That is a really good defensive frontcourt rotation.
Trade 2: But here's the one that gets me really excited…  Orlando is where the Cavs were last year.  And I don't think Otto Porter helps them all that much.  The guy for them is Burke or Oladipo, probably, but I think they'd listen to this.
Cavs get: Orlando's #2 (Otto Porter), Nikola Vucevic, and one of Orlando's bad contracts (Al Harrington, perhaps).
Magic get: Cavs #1, Tyler Zeller, the #31, and a future first-round pick. Vucevic just had a monster sophomore year in the NBA, is only 22, and is a legit 5 with two years left on his rookie deal.  He could lock up the center spot for the next 7 years.  There's a lot of wiggle in this trade, but this is a basic framework.  This gives Orlando a ticket seller and a shot at the cellar.  Aside from the fact that Vucevic is probably untouchable, what do you think?
Those are my two faves.  There are lot of outside the box trades that involve the #1 pick for above average players: Evan Turner and Thaddeus Young, Kosta Kufos and Wilson Chandler, Gortat and Dudley…  all of those would involve those teams first round picks but those moves, aside from trolling our readers, don't exactly have the cachet of going after an all star…
Colin: Re: all-stars.  Just for the sake of reference, I've been tooling around stat databases and here are some numbers you could expect each big man target to put up. They're not an average, exactly—something more like a safe estimate based on what they've done over the last few seasons. Plus, I've included their contract info and age.
Kevin Love: 22 PPG on 56TS%, 13 RPG, 2 APG, a PER of 23, and lousy defense. He's been really banged up the last couple years, and his contract runs until 2015-16, paying him $14.7M, then $15.7M, then $16.7M. That is, if he doesn't exercise his opt-out clause next year. Oh, and he'll turn 25 in September.
LaMarcus Aldridge: 21 PPG on 54TS%, 8.5 RPG, 2 APG, 1 BPG, and a PER of 21 with meh defense. Aldridge has been a horse for most of his NBA career; you'd expect him to play at least 70 games. He'll be 28 when the season starts and his contract runs another two years, paying him $14.1M this year and $15.2M the next.
Al Horford: 14 PPG on 58TS%, 10 RPG, 2.5 APG, 1 BPG, and a PER of 19 with pretty good defense (especially one-on-one in the post). He'll be 27 in a few weeks and his deal pays him a flat $12M/yr over the next two seasons. Aside from missing a giant chunk of the 2011-12 season, Horford's been pretty durable.
And just for comparison, Chris Bosh's numbers: 17 PPG on 57TS%, 8 RPG, 2 APG, 2 BPG, and a PER of 19 with solid defense. And Bosh makes $19M next season, then, if he so chooses $20.5M and $22M in subsequent seasons. Obviously, Bosh's numbers are sorta weird because of his role on the Heat. During his Toronto years, he was closer to 22 PPG on 57TS% with 9 RPG and a PER of 22.
Tom: The moment Nate pitched this piece I imagined him giddy and giggling, like Ron Swanson about to cut government spending while consuming a meat tornado.  But in all your trade machine giddiness, you've identified some #truthbombs about the Cavs current position.  They've given no indication, in word or deed, that they intend to play the Wiggins lottery (sighs).  They are bereft of talent at 2 of the 5 positions, and a team looking to strike gold in the Wiggins lottery could really help their cause by selecting Nerlens Noel.  So the Cavs will certainly put some feelers out there and should offer the #1 pick for proven talent.  You guys seem kinda fixed on the usual suspects, but I see a borderline playoff team that is going to look radically different in the next 2 seasons whether they like it or not, and maybe dangling Nerlens in front of them could help them realize they need to blow it up.  The team is the Celtics.
Now that Allen is gone, the "big 3 era" is officially over in Beantown.  I imagine Paul Pierce will ride out his career in Boston but the Celtics are going to need a backup plan at SF for the future.  Andrew Wiggins?  KG, similarly, is in the twilight of his career.  He's still effective, and probably has 3 more productive seasons in him, but he's not going to be part of the long term in Boston.  Jared Sullinger is a nice player, but is a bit undersized to defend true NBA centers.  So the trade is, Kevin Garnett and Avery Bradley, the Celtics first round pick (#16),  for the Cavs #1 pick (Noel).  Since the salaries don't line up the Cavs will have to sacrifice some of their spare parts: some combination of Gee/Casspi/Miles, who would probably be traded or waived.  The Cavs desperately need a defensive presence in the backcourt (well, everywhere really) and Avery Bradley would provide that in droves.  KG would be that culture changer the Cavs desperately need and would compliment the Cavs trio of big men that are not comfortable spacing the floor.  Remember how awesome Mo Speights looked that first week?  Imagine that PLUS elite defense, a mean streak, and an unquenchable desire to win at all costs that will surely trickle down to the young pups.  The Cavs can use their 4 draft picks to make another move, or fill in the gaps/stash some Euros.  Boston falls out of playoff contention next season, secures a top 5 pick in a stacked draft, and adds Nerlens.  In the 2014 offseason, Boston is geared up for the Rondo, Green, 2014 Pick, Sullinger, Noel era to commence, and Paul Pierce is still around doing his thing.  That's a good looking team, and will only require one awful year.
Ray Allen leaving and taking less money was the canary in that coalmine.  KG has a no trade clause, and maybe he wants to grind out 1st round playoff exits in Boston until he calls it quits – that would burst this pipe dream in a hurry, but maybe he wants a chance to be an important part of a young team on the rise.
Here's my other thought.  Which team has the most to benefit from drafting Andrew Wiggins?  Why, his hometown Toronto Raptors of course.  It will be like Cleveland in 2003 all over again – only Wiggins doesn't seem like a grade A backstabber.  Toronto is rapidly approaching NBA mediocrity, especially with the Rudy Gay trade.  They aren't nearly talented enough to get out of the first round and they have zero selections in this draft and only 1 (their own) in next year's draft.  They need to #tankstrong hard and that means dumping some of their talent in order to pump up their draft odds.  They have too many good players and no stars – sounds like a desperate team.  So here's the deal:
Cavaliers trade: Their #1 pick and spare parts for Amir Johnson and Kyle Lowry.  Yep, that's it.  The Raptors select Noel, dump Barnagni, and trade Gay next season to a contender that happens to have another team's unprotected draft pick (hopefully that exists).  They build around Jonas, Nerlens, DeRozan, and hopefully Wiggins from the fruits of their #tankstrong campaign.  The Cavs get two very underrated players (both starting caliber) that are entering their primes with plenty of cap space left over to address the small forward position.  They keep Varejao, fielding 3 PFs, knowing that if they ever run into the Pacers, Frank Vogel will just sit Roy Hibbert anytime the game gets close anyway.
Kevin: Nate, I was on a recent podcast with our TrueHoop affiliate from New Orleans, and they were pretty excited about Porter.  The opportunity to get him, a future first rounder, and a serviceable power forward might make them answer the phone.  Regarding Meyers, he is obviously younger than Zeller, but he didn't set the league on fire this year.  Looked at strictly as 2012 eleventh pick and 2013 tenth pick for 2012 seventeenth pick and 2013 sixth pick, it sounds  appropriate.  And really, once I started talking about four teams swapping their top-ten draft picks…I wasn't living in reality-ville anyways.
And why would Milwaukee trade current Larry Sanders for future Larry Sanders?  I really like the idea of the Vucevic plus #2 trade.  To make it more likely, what if the Cavs threw in #19 instead of #31?  Orlando sounds keen on Trey Burke, but what if instead they took Noel and Orlando-native Shane Larkin?  Noel, Larkin, expunged bad-contract and future first-rounder for Vucevic and Porter?  Sounds like a deal.
Regarding Tom's trade with the Raptors; only a plus-minus geek would do that.
I digress though; perfect reality wasn't the goal here.  There do seem to be forces at play potentially pushing Cleveland and other teams towards a trade.  It will be fun to see what happens over the next 5 weeks.