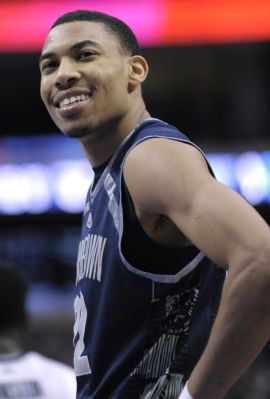 Due to massive computer issues on my part, a podcast with Robert and Colin has been delayed.  Fortunately, there's lots to discuss on the draft front.
To start, both Mary Schmitt Boyer from the Plain Dealer and Bob Finnan from the Morning Journal note how the Cavaliers are doing their best to find an underrated, special player during this week's combine.
Jason Lloyd over at the Akron Beacon Journal covers how, surprisingly, the Cavaliers will not meet with Otto Porter at the combine.  Thankfully, he notes, Porter has made it clear he'd like to play for the Cavaliers.
On Bleacher Report, Greg Swartz details how Mike Brown will improve the current Cavs squad's D.  Suffice to say it will be a challenge.
Finally, Rant Sports' Cody Williams touches on Shaun Livingston's season with the Cavaliers, and speculates about his future.
–Update–
DraftExpress just published the NBA Draft combine measurements.  Notables include Rudy Gobert with the third biggest wingspan, (7'8.5″), and the second tallest standing reach (9'7″) in combine history.  Also, Otto Porter ranks among the lightest players for his size in combine history at 6'7.5″ and 198 pounds.  The entire sortable historical database is posted here.