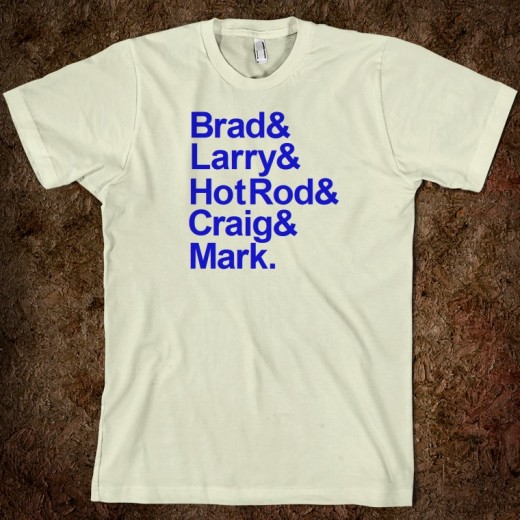 It began with a sandwich.
The sandwich had bacon and cheddar upon it and the sandwich, when teamed with inevitable add-ons Large Fries and Cool, Refreshing Coke, begat a package of basketball player cards. And it was those cards, one of which featured a certain young man whose name having been given to the sandwich, that along with said sandwich made a certain young man feel, in his words, "seven feet tall."
What do you mean you need context? Oh, okay..
And with that, Brad Daugherty was seven feet tall and he was teamed with inevitable add-ons like Craig Ehlo and "Leaping" Larry Nance, and they begat a team of basketball players named the Cleveland Cavaliers. And, in the 1991-92 NBA season, it was those Cleveland Cavaliers, who featured not just Daugherty, Ehlo and Nance, but also Mark Price and … um … that other guy … Mike something, and this team reached the Eastern Conference finals after going 57-25 to tie the eventual Finalist Portland Trailblazers for the second best record in the NBA (though, both of them a full 10 games behind the eventual champion Chicago Bulls) only to lose to those Bulls in six games in the Eastern Conference Finals that made this certain young (at the time) man feel, in his words, "well, you know, kinda bummed?"
The playoffs can be tough. No, I'm not talking about the nail-biting games or the physical pounding endured by players facing suddenly ratcheted-up intensity. I'm talking about having to watch other teams' players enduring this and not those players on the Cavs. I'm talking about foaming at the mouth and chewing on my draft tether for another six weeks and hearing rumors about the summer of 2014 and about keeping Kyrie happy and about defense, defense, defense.
So, allow me, if you will, to escape to a simpler time — to the "time we were really good" before the most recent "time we were really good," to the year and the playoff run where I cut my teeth on the Cavs, the NBA and Cleveland's just-come-up-shortness. Ladies and Gentlemen, if you please, let us remember and consider…
Your 1991-1992 Cleveland Cavaliers*:
C: Brad Daugherty (7-0, 245 —  21.5 PT, 10.4 REB, 23 PER) The '91-'92 Cavs were statistically the best of that Lenny Wilkens group from the late-80s/early-90s. There was no Ron Harper, sure. There hadn't been for a few years, at that point. But the Cavs saw career-best (or veeeeery nearly so) years from Daugherty, Price and Nance. Daugherty's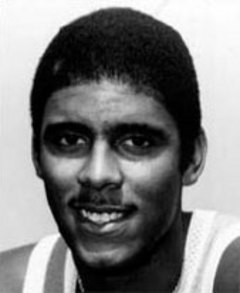 career was limited to a relatively short eight years — and he only played close to a whole season in six of those eight. But he was a legit seven-footer, a 20/10 guy, who excelled at a time when the NBA was much more a center's league. Offenses played inside-out and if teams didn't have a star at that position (Ewing, Olajuwon) they had a body and some elbows to throw at you (Cartwright, Laimbeer). Still, Daughtery probably doesn't receive credit for being as good a player as he was. He could never shake the label that he was "soft" and his Cavs teams, of course, could never shake Jordan's Bulls. It's fun to imagine a healthy Daugherty in today's game, though, where his combination of finesse and relative speed for a man his size could be even more effective than he was in his day. That hairline, though, is effective in any era.
PF: Larry Nance (6-10, 205 — 17.2 PT, 8.4 REB, 3 Blocks, 21.4 PER) The old man to this rag-tag bunch of unkempt youth, Nance's elite shot blocking anchored this team, known more for its offense than its defense, and his ability to consistently hit the 10-15 foot jump shot spaced the floor for Daugherty and Price, making him the anti-J.J. Hickson. You know how commentators like to drool over Serge Ibaka and his shot blocking? Well, Ibaka led the league this year (with Brook Lopez) at 3 a game, the same as Nance in '91-'92.
SF: Mike Sanders (6-6, 210 — 12.6 PT, 4.7 Fouls, 60.8 True Shooting Percentage, 13.6 PER) Sanders is fascinating to look back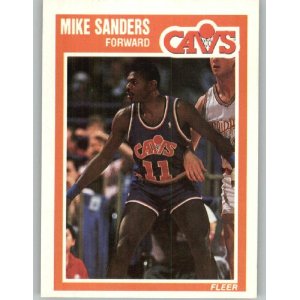 on. Completely fascinating. He scored decently enough, but he rarely shot three pointers and still wound up with a FG% just under 60% at a "towering" 6-6. That's crazy to me. I just struggle to come up with any rotation player on a championship-caliber team (which these Cavs were, don't forget) with such an off-kilter production line. I don't struggle with the 4.7 Fouls per 36 minutes, though. That, I love. Just run him out there for 40 minutes a game and watch him foul out every time. We gotta get us some MIKE SANDERS!
SG: Craig Ehlo (6-6, 180 — 13.9 PT, 41.3 3-point percentage, 13.8 PER) "Mr. Everything," as my internet searches claim Ehlo was nicknamed, has a pretty good line for the team's fourth option on offense. That 41.3% from three is particularly impressive. You have to imagine, if Ehlo played today, he'd be a Three-and-D guy, known for hitting uncontested corner threes and getting abused by the other team's best player … oh. Oh, wait. Yeah, I guess some things never change.
PG: Mark Price (6-0, 170 — 21 PT, 9 REB, 94.7 free throw percentage, 22.7 PER) Lost in Price's constant battle with John Stockton and Jeff Hornacek for "guy who looks the least like a professional athlete," is just how good of a professional athlete Price was. It was just that he was 6-0 … and had those sleepy eyes … and had the knees that he had … and that problem with Jordan that his team kept having that often gets him shuffled toward the back of the Great Point Guards Discussion. Price was underrated off the dribble and a joy to watch shooting the basketball.
This team will unfortunately go down for what they did not do. Still, I wonder what a team like this team would look like today.
I know, I know… different league, different style, different rules, buuuuuuuut there is a similarly dominant player set on running away with MVPs and the (perhaps) title(s) in this current era that will surely push some player from a Kerr to an Ehlo. On the one hand, you could make the simple comparison— that the '11-'13 Pacers, '11-'13 Bulls or even the '11-'12 Celtics are the few christened to carry the torch of the Conference runner-up, the same position of sharing a conference with a transcendent talent playing at his peak as the '91-'92 Cavs.
But that's the simple comparison. That's always going to happen.
I want to know what collection of current NBA players when put together most mirror the '91-'92 Cavs roster — their starters, at least. I used statistical comparison as a jumping-off point. But, in the end, this experiment is two parts numbers with the rest filled up with gut.
So…
NOW get on your feet to meet your … um … well, your 2012-13 '91-'92 Cleveland Cavaliers:
C: Brook Lopez (7-0, 260  — 23 PT, 8.2 REB, 24.7 PER) Lopez is really where this whole crazy idea started. After two years of arguing with Nets fans about how much Lopez sucked, I saw him grow, this season, into, if not a dominating force, at least a guy who is a franchise offensive center whose closest comparison was one Bradley Daugherty. Lopez doesn't rebound on Daugherty's level but, boy, he smacks of him in many other tests, specifically the eye test.
PF: Old Kevin Garnett (6-11, 220 — 17.9 PT, 9.4 REB, 1.1 Block, 19.2 PER) Okay, Old Kevin Garnett is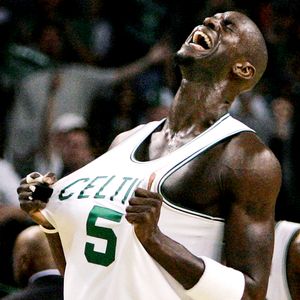 very different than Kevin Garnett, but his rangy frame, defensive intensity and reliable jumper earn him the spot as this team's Larry Nance. Old KG is still a better rebounder than Old Man Larry (aided, in part, by Garnett's playing center for the small-ball Celts the past year and a half) and Nance was the better shot blocker. But Garnett brings with him a similar late-career all-star glow that Nance flashed during his Cavs career.
SF: Kawhi Leonard (6-7, 225 — 13.7 PT, 6.9 REB, 59.2 True Shooting Percentage, 16.4 PER) For the record, I told you Mike Sanders was going to be a tough player to replicate. I told you that — and I'll readily admit that Leonard is probably overqualified for this spot (somehow he just can't figure out how to foul at such an elite level…). This was a gut move, reinforced by their similarly high true shooting percentage. Yes, Leonard's going to take and make more threes than Sanders (i.e. any) but, to this point in his career, he's been a defense-first, athletic, glue guy. Mike Sanders, I'll be looking for your "thank you" card in the mail.
SG: Thabo Sefolosha (6-5, 215 — 9.9 PT, 41.9 3-point percentage, 12.8 PER) Sefolosha was a much easier selection. I just asked myself "Who plays two-guard for a contending team, contributes in multiple ways, likely is tasked with stopping the opposing team's most dynamic wing players and, more than likely, will wind up on the wrong end of a big game-winning shot?" Thabo, meet Craig. Craig, Thabo.
PG: Stephen Curry (6-3, 185 — 21.6 PT, 6.5 REB, 90.0 free throw percentage, 45.3 3-point percentage, 21.3 PER) Price was challenging for many of the reasons I listed that made him so fascinating. Jameer Nelson? No, Price was better than Jameer Nelson is. What if Jameer Nelson ate Mike Conley and J.J. Reddick? Nah, I'm not even sure that digestive breakdown would warrant an all-star selection. Maybe I'm huffing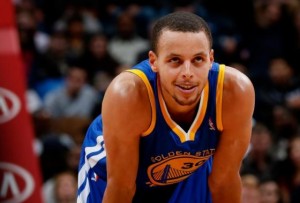 too much of the playoff zeitgeist, but from the choir boy looks to the insane shooting, Stephen Curry is your present-day Mark Price. Yes, Curry is probably an even better shooter than the insanely-good-shooting Price, but imagine what Price might have done in a more free-shooting league that played a more guard-oriented offense. I'd take that. Yes, please, with seconds.
That's a pretty good team. I'm not convinced they'd win a championship (or even have a top-three record) but, like the original, I'd wager Eastern Conference Finals, coaching depending. Okay, fine, they have Phil Jackson. Let 'er rip!
Until we're back in it, folks…
*All Cavaliers stats are for the '91-'92 season, contemporary stats are for the '12-'13 season, all are adjusted to "per 36 minutes" (though, to be fair, all of the Cavs starters averaged very close to 36 minutes that season) and all are courtesy of basketball-reference.com.