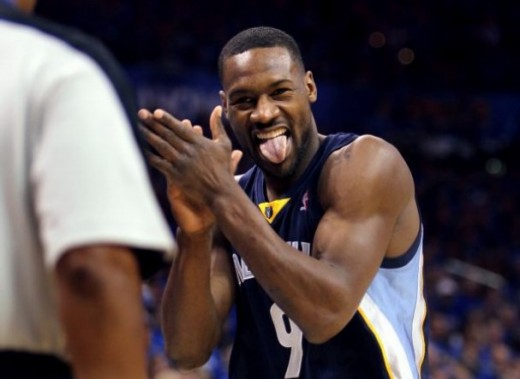 Okay, over the last three seasons, we've learned a thing or two. For instance, we've learned that a team with a starting five of Ramon Sessions, Anthony Parker, Alonzo Gee, Antawn Jamison and whoever is getting Anderson Varejao's post-injury minutes is, especially with cap-stretching salaries and a dearth of draft picks, a bummer to watch. On the flip, we've also learned that a team with a starting five of (the NBA's youngest All-Star) Kyrie Irving, (he of a very promising February) Dion Waiters, (sigh) Alonzo Gee, (an absolute god-send of player development) Tristan Thompson and whoever is getting Anderson Varejao's post-injury minutes is, even given relatively favorable salaries and an excess of future draft picks, still often a bummer to watch.
The lumps that we, the people following the Cleveland Cavaliers, took were lumps we knew we would take, and gladly take, favoring player development and a general bottoming out over a Milwaukee Bucks-ish eternal eight or nine seed. But, now, Mike Brown stands before us and says things about defense and about competing and we viewers, along with the Cavs organization, have to hope that the biggest lumps have ended. In order for that to be true, though, in order for the type of play that marred most of this season to be, by and large, in the rearview, we'll need to be very selective (and lucky) in choosing the complementary pieces to this young and developing roster.
By all accounts, the Cavs want to keep Wayne Ellington, a restricted free agent. Marreese Speights is likely gone (and probably isn't as good of a fit with this team as we thought during our brief Marreese Speight love-in when he first arrived). Livingston could stay or go and Miles could stay or be dropped. So, who else is out there? It won't be Josh Smith or Dwight Howard, but I fully expect the Cavs to be aggressive in getting value players that will help them win (more) next season. So who?
(long sigh)
Someone WILL give J.R. Smith in excess of $10 million. Someone might even give Josh Smith a max deal (though, I don't think it's collusion to suggest that NO ONE IN THEIR RIGHT MIND SHOULD). None of these people will be Chris Grant, though. The Cavs' free agent targets should look a bit more in-focus now with Brown and his organizational philosophy entrenched. In fact, their free agent targets will be very much in line with their draft targets: long, versatile wing players and bigs who can defend and protect the rim. Remember these three key words: Defense, Length and… well, Defense. These are the "Mike Brown Guys." As the off-season progresses, we'll talk about restricted free agents and who the Cavs might target with trades, but, for my initial run at being Chris Grant's personal shopper, here's a look at the Unrestricted Mike Brown Guys:
1.) Tony Allen (Memphis Grizzlies, 8.9 PTS, 4.6 REB, 1.5 STL in 27 minutes)* Oh, please, god, let it be Tony Allen. Not only would the 31-year old shooting guard — and widely considered "best perimeter defender in the NBA" — be Mike Brown's dream addition, it's feasible there's a deal with Allen to be made. There's a chance, with the Grizzlies' season-long scouring of their payroll, that they won't push hard to get him back. Could the Cavs offer him something in his current range ($3.3 million**) for two years with an option for a third? Would they guarantee the third year (or increase the yearly just a touch) if it meant landing a guy who could definitely help change the mentality of the team? I bet they would.
2.) David West (Indiana Pacers, 17.1 PTS, 7.7 REBS in 33 minutes) Two things will likely prevent this from happening: West's desire to sign a long term deal now that he's fully recovered from his pre-Pacers knee injury and the fact that such a deal would hamper the Cavs' much ballyhooed 2014 cap space. So, while my money is on West staying in Indiana, he is exactly the type of player the Cavs need: tough, skilled and a great leader. He was signed for two-years/$20 million. Is there someone comparable who might even cost a little less? How about…
3.) Elton Brand (7.2 PTS, 6 REBS, 15.2 PER in 21 minutes) My 2013 free agent darkhorse! Yes, Brand is a tad off West's offensive production (and, let's be honest, off of Speights's production in similarly limited minutes), but if the Cavs determine that the 34-year old can still be a productive player (he has the credibility of once being a very productive player) and can bring him in for around the $2.1 million he made last season, he might be one of those once-g0od-players-who-are-now-great-locker-room-guys that could be very helpful from a leadership standpoint (if not, you know, from a scoring the basketball standpoint).
4.) Carl Landry (10.8 PTS, 6 REB, 17.5 PER in 23 minutes) Golden State is playing very well right now with David Lee out and Landry taking a bigger chunk of the minutes. Now, does this mean the Warriors will push to keep him or that they'll decide Jarrett Jack is the more important player and cut Landry loose? Will Landry ride a strong playoffs into a contract in excess of the $4 million he made this year? You have to figure he's on the Cavs radar (as, to a degree, Jack will be, as well), but a lot of things will have to break Cavs for it to be the right fit.
5.) Greg Oden (…) This is the anti-Mike Brown hire: the longer I think about this the more I talk myself OUT of it.
Not much there, right? Take a look at the fee agent list yourself (thanks to Tom's 4/30 Links to the Present). Beyond Allen, trying to find the obvious right fit ain't pretty. Still, Chris Grant's got the money, picks, players and pieces to make some improvements happen. Now it's up to him to click it all in.
*all stats are for the 2012-13 NBA season and are taken from Basketball-Reference.com.
**salary information taken from spotrac.com.