Lots of content today – and it's all worth reading/listening.  Please read Colin's piece and listen to our podcast.
I was fortunate to tune into the Cavs press conference and I wanted to highlight some things.  There is no real format here, I just want to sit down in a comfortable arm-chair, sip some coffee, and let you know how I received this press conference welcoming Mike Brown back into the organization.  Here is the Plain Dealer breakdown.
The first question, right out of the box, comes from Mary Schmitt Boyer, Plain Dealer beat writer and president of the Professional Basketball Writers Association.  She point-blank asked Dan Gilbert if firing Mike Brown was a mistake and if not, (with a combative tone) what has changed from 3 years ago?
And, as is typical, Gilbert waved his hands, talked about not living in the past, and refused to answer…. GILBERT TOTALLY OWNED IT.  "Yeah, it was a mistake."  [Link]  Wow.  Did NOT see that coming.  Maybe I should have.  Gilbert has always been a straight talker.  But I didn't see him owning the firing like that.  It's in the past, he didn't have to.  Accountability starts at the top.
This is important to our discussions of the organization.  Dan Gilbert messed up.  Dan Gilbert recognized (probably immediately after LeBron left) that he never should have fired Mike Brown.  Recall, Dan Gilbert was madly in love with Mike Brown's acumen and attitude when he hired him in 2005.  Today, the way he spoke about Brown was exactly the way he spoke about him back then.  We now know that a 1 hour dinner turned into a 6 hour discussion about basketball.  As both Gilbert and Brown talked, they spoke of the "inches" of the game.  How every inch requires cognizance and preparation.
Gilbert and Grant were gushing about Brown this entire press conference.  About how nobody has the knowledge and commitment to the game like Mike Brown.  There were thinly-veiled contrasts to Byron Scott, to whom Gilbert thanked for his work individually with the young guys, but Gilbert spoke about a 'holistic' growth now in order.  If there is one thing that many of us here at C:TB lamented this year, it was the lack of identity, and the appearance that the Cavs were never more than the sum of their parts.  The organization felt the same way.  Mike Brown is their guy.  They are married to him now.  They got exactly who they wanted.  They never wanted Phil Jackson, or Stan Van Gundy.  They did a half-ass 'reaching out' to appease all of us hyperventilating fans.  They wanted Mike Brown the whole time.  And Mike Brown would have moved back to Cleveland to play Dad-in-the-stands (working the refs) at St. Ed's.  Getting back into the highest level of his profession, and working towards "unfinished business" was the 20 million dollar icing on the cake.  I know my colleagues range from puzzled to downright furious that the Cavs didn't follow some due process.  But if you were married to someone for 6 years, split up, desperately missed one another, and then met up for dinner and realized that it was always meant to be, are you gonna go you separate ways and "still see other people".  No.  That's ridiculous.  You're going right back to the courthouse and claiming your old side of the bed back.  They didn't hire Mike Brown out of desperation.  He was coming to Cleveland regardless.  They hired him back because he is Dan Gilbert and Chris Grant's coach.  Thanks for the fling, Byron.  You're a good dude.  "It's not you, it's me."
This is a healthy organization.  Dan Gilbert, Chris Grant, Mike Brown: they understand the severity of the task, and they understand that it's just basketball.  Any hidden animosity that Mike Brown may have had (he's not capable of animosity) towards the organization was quickly dispelled.  Gilbert, upon another question of the firing looked to Chris Grant: "didn't you fire him, Chris?" Everyone cracked up – and it was genuine.  Some other fun moments: the first person Mike Brown thanked was "Andy" [Varejao] for coming out to support him.  Later on, he compared Andy now to Z then, and scanned the room for Zydrunas.  Mike jokingly alluded to the fact that he needs more veterans, and talked about how Big Z might have to lace up.  Chris Grant quipped: "Z is your boss…" Everyone laughed, Mike shook his head while laughing and explained that it would take some getting used to.  This answered my question about Z's relationship to the team.  It continues.  (Good.) Certainly, Mike Brown will have a solid working relationship with Z the way Danny Ferry (one of Z's best friends) had with Mike Brown.  Let's not forget Chris Grant and Mike Brown go way back. (They played on the same University of San Diego basketball team)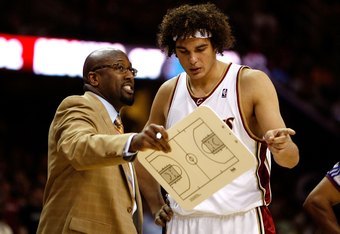 The one negative thing from this press conference is that it was stated that Mike Brown has not reached out to any assistant coaches.  Despite the reports from earlier that he would name John Kuester his assistant, among others.  My guess is this is just standard procedure, and that Brown will reach out to the aforementioned coaches.  I just hope no one offers Kuester a head coaching gig before everything is official.  Sam Amico offers this defense of his earlier report.
Chris Grant chimed in, in his usual, wonky way: "no team has won a title without at least a top 12 opponent FG%".  [As I dislocate my shoulder with an EPIC FIST PUMP]  This might seem like an arbitrary line in the sand for most.  But it's on the radar of the organization.  Windhorst, acutely aware of the way the Cavs FO thinks, mentioned this back in February in a podcast with the Kenny Roda. (He also dropped some significant Mike Brown foreshadowing way back then)  The last 3 years the Cavs have been last, 4th last, and 4th last in opponent FG%.  This must change, and under Mike Brown, it will.
Mike Brown's words were mostly how I imagined them.  A lot of what he says is cliche – but that's a good thing.  They are his cliches.  He talked about the "process", and the motto is: "commitment to the journey".  He used very concrete terms when describing the sensations the players would have [going through this process].  When Brown 1.0 was here, he often talked about how the other team needed to "feel" the Cavaliers defenders – and that is what played out on the court.  I have no doubt that this is going to be a "process".  Brown quickly defused playoff talk when asked – and re-calibrated expectations.  Good.  This team is not competing for a playoff spot unless they are healthy and make at least 2 major off-season acquisitions.  And that's exactly what might happen.  But it hasn't happened yet.  The best thing Mike Brown said (and you can roll your eyes I won't get upset) is when he was answering a question about "unfinished business" and the burden of getting close and losing.  He said (and I swear it wasn't scripted): "The pain of this city drives me."  Later on, Gilbert echoed something similar, albeit less dramatically, about how the passion of the fans drives their organization to win.  Brown remarked that he could "feel" the commitment of the Cavs FO all the way from southern California.  Some might take Brown's quote the wrong way.  That it feeds into the beast that is Cleveland Sports victimization.  I say, there's nothing phony about the passion, intensity, and suffering of Cleveland Sports fans.  And as one such fan, I want the owners, management, coaches, and players to at least be attuned to What Sports Means Here. That doesn't mean they have to freak out every time a lead starts to shrink, or expect to snatch defeat from the jaws of victory, or have an overall negative outlook.  It means they need to understand how badly we want to win, and how much we will support them in this effort.  This job isn't about Mike Brown's redemption.  (The 20 million dollars he can keep, though)  This job is about bringing the Cavaliers back to the precipice, and taking care of that "unfinished business".  It's for the city.  Mike Brown gets that, and I have enough evidence that the FO does as well.