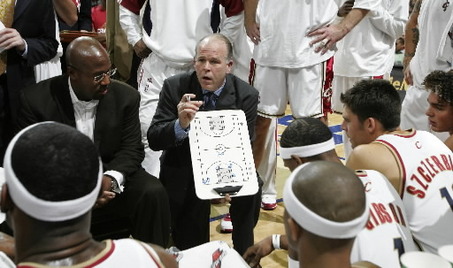 UPDATE: Mike Brown claims he has NOT reached out to any assistants.
https://twitter.com/PDcavsinsider/status/327136225288933377
John Kuester will re-join the Cavaliers.  Boy is this moving quickly, and in plenty of time for the staff to meet with Chris Grant and the analytics department to go over draft scenarios.
https://twitter.com/SamAmicoFSO/statuses/327091453044076548
Just to re-iterate, the Cavaliers, in 2008-2009, won 66 games, and sported the 4th most efficient offense in the NBA.  They did this, despite doling out 4000 minutes to Ben Wallace, Sasha Pavlovic, rookies J.J. Hickson and Darnell Jackson, Lorenzen Wright, and Tarence Kinsey.
"Brown, officially introduced as the Cavs' coach Wednesday, will add former Detroit coach John Kuester and former L.A. Lakers assistant Kyle Triggs to his staff, a source told FOX Sports Ohio. Nate Tibbetts and Jamahl Mosley will be retained from Byron Scott's staff, the source added.  Bernie Bickerstaff, who took over for Brown briefly with the Lakers earlier this season, could also be added in an advisory/coaching role."
"[Jamahl] Mosley has spent the last two years working with power forward Tristan Thompson and was vital in the player's progress between his rookie and sophomore campaigns." [Scott @ WFNY]
Link to the Past:
http://www.cleveland.com/cavs/index.ssf/2008/12/brown_credits_assistant_kueste.html