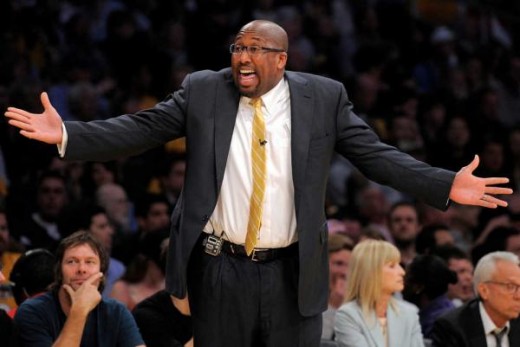 First, stop yelling at and snarking on each other. It baffles me how supercilious some of us are acting about a decision of which we don't yet know the impact. Clog your miserable hate-spittle hole for a second and let other people have their opinions. They're every bit as valid as yours, given that Mike Brown hasn't even been properly introduced to his players yet. Shouting down everyone who disagrees with you doesn't make you right, just unpleasant to be around.
With that out of the way, here's a short history of Mike Brown's head coaching career, though you probably don't need one: during Brown's first stint in Cleveland, he was a great defensive coach whose teams were markedly uncreative on the offensive side of the ball, especially in late-game scenarios. (Here's where Tom goes "Except for the '08-'09 season," and I'm all "Be quiet, Tom; you're disrupting the narrative.")  It's overstating the problem to say Brown didn't run plays, but he and his assistants failed to create a recognizable and recognizably effective system—say, like the Spurs have used for the past few years—and it seemed that during fourth quarter timeouts, Brown just drew pictures of LeBron James equipping a jetpack and rocketing over the defense for a dunk while Mo Williams and Antawn Jamison were left wondering if they could possibly do anything to help. Brown helped the Cavs become a perennial title contender as LeBron entered his prime in the late 00s, then he got canned by the Cavs after the team's bizarre implosion in the 2010 Eastern Conference Semifinals. After that, Brown—actually, why don't we just slap a big ol' C-minus on his brief Lakers tenure? Now he's back in Cleveland to coach a team that barely resembles the one he left behind a few years ago.
The fact that, if you're a regular reader of this blog, you probably didn't need the above primer on Brown is sort of the problem. He's not an alluring coaching prospect precisely because we're already acquainted with his stagnant offenses and habit of squinting into middle distance. (Puzzlement is never a good look for a supposed leader of men.) Whenever Mike Brown makes a Mike Brown face, we'll remember the Cavs' various LeBron Era playoff flameouts and feel a bit sick. We'll do the same thing if Kyrie Irving is running Bron-esque isolations at the end of tight games. Nevermind if some relatively unknown assistant the Cavs could have hired—let's call him Matt Green—were to make these same sorts of mistakes and heartburn-afflicted facial expressions. If and when Mike Brown screws up, our reaction is going to be the kind of angry you get at a friend who, no matter how many times you talk to him about it, can't help but arrive to any meetup an hour late. We're biased against familiar incompetence; Matt Green's deficiencies would be more excusable because they would at least be a surprise. It would be harder to blame management for not anticipating Matt Green's ineptitude in performing any number of tasks head coaches are responsible for, than if Mike Brown's second Cavs' tenure falls flat in a typically Mike Brown way.
This set of biases leads some of us to make our very own Mike Brown faces at the Mike Brown hire, but I also don't think we're being overemotional and that these biases don't matter. More to the point: the organization is willfully hiring someone they know is a sub-par offensive coach and hoping that he's either become more inventive—Brown's Lakers tenure would seem to undermine that assumption—or can pair himself with a great assistant who will figure out how to use the Cavs' uniquely talented backcourt and jumpshot-averse frontcourt. The Cavs' front office must also know that Brown was routinely outflanked during his first run with the Cavs by smart opposing coaches who seemed much better than he was at making in-game adjustments, and that Brown didn't exactly command the respect of the last two superstars he coached. These are whatever you want to call them: red flags, areas of concern, out-and-out weaknesses.
(I don't want to get into Mike Brown's hiring and its impact on LeBron's possible return. I don't think it's an irrelevant question to ask—we're talking about the best player since Jordan—but those of us outside of LeBron's inner circle and the Cavs' front office can't speak with even a modicum of certainty on the matter. This won't stop certain media types whose entire business is speculation-as-content, but it will at least stop me.)
Mike Brown's a fine coach, and anyone bemoaning this hire as a disaster is ignoring the work Brown did in hammering the late-00s Cavs into one of the league's best defensive teams. What irks me most about this whole ordeal isn't the end result, but the process and its rapidity. Whether my perception mirrors reality or otherwise, it appears Dan Gilbert threw a tantrum, sacked Byron Scott, and felt like he needed to lock down Mike Brown immediately, without considering anyone else save Phil Jackson, who was always going to be a long shot. What Gilbert and the rest of the organization have lost in deciding not to interview anyone else for the job is the opportunity to inject new ideas and perspectives into the organization. The interviewing process isn't just for finding the right coaching candidate, but for picking various basketball minds. Did the Cavs need to be dead certain they got Mike Brown at the expense of sitting down with someone like David Fizdale or Mo Cheeks? It strikes me as small-minded to not even consider other candidates. Brown isn't such an impressive coach that the team needed to buck protocol and make a quick hire.
We're all having strong reactions to this decision because we know this hire has to work out if the team doesn't want to take out a timeshare in the lottery or be forced to bottom out all over again in a few years. The next couple of seasons will be determinative in terms of the direction this rebuild is going to take, and the head coach is going to have a significant effect on the team's improvement or arrested development. Mike Brown's the man who'll get the blame or the plaudits, and we can argue about whether that's a good thing, but I wonder most of all if this needed to happen as swiftly as it did.