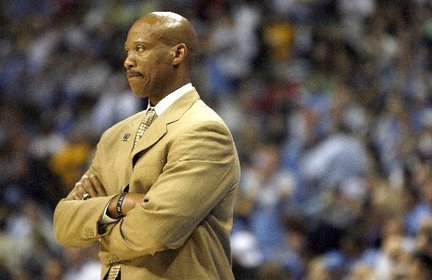 This happened more swiftly than I thought it would. The morning after the Cavs finished their season with a loss to the also-lowly Bobcats, Byron Scott is jobless. You know the story: three straight years deep in the lottery, rumors of locker room dissent, lots of looks similar to the one pictured above, where Scott just sort of peered out over the court as if it were an ocean, with a look of peevishness or bemusement.
There's a sad impotency to ineffectual coaching that's unique to the profession. The guy in a suit on the sidelines seems as if he might as well be a hundred miles away from the court. Players screw up. Not that they mean to screw up and not that the coach wants them to screw up, but they make mistakes. Over and over again. Maybe they stop listening to the guy in a suit on the sidelines because they're frustrated or feel he's not helping. A fissure widens. The coach's control is revealed to be highly contingent.
There has been a lot of talk over the past few weeks that the Cavs need a firebrand who can whip the team into shape—barge through the locker room door imperiously and tell Kyrie Irving that, son, on this team we play with maximum effort. This is a gross, paternalistic strain of fandom—informed by the notion that these players in some way belong to us; they should be ideal actors because, dammit, we pay for their salaries. I think we should all do our best to avoid being that type of fan, especially in terms of this now-active coaching search. Irving will improve or stagnate according to his will; all a coach can do is advise him. You can tell all-stars what to do, but it's up to them to listen. The Cavs should find someone who can speak to Irving, help him grow into the leadership role he needs to occupy, and not someone who will try to break him, because he probably won't break.
I don't know why Scott was fired, specifically, though I have a hard time believing all the losing was the primary reason. This team started the season with no bench and sub-par starters at three positions. Then Andy Varejao went down. Tristan Thompson and Dion Waiters improved markedly. Chris Grant poached a respectable bench unit from salary-dumping Memphis and Washington's scrap heap. Then more injuries. I find it hard to believe Scott was expected to do significantly better than he did, record-wise, though the record is abysmal. Coincidentally, it could land the Cavs at the very top of this upcoming draft. From what I know of Grant, he's a pragmatist who looks long-term while keeping himself firmly rooted in the present, so even if the Cavs lost, say, ten or fifteen more games than he thought they would this season, he'll take the high draft pick and move forward.
What I'm more inclined to believe is Scott was fired for reasons less apparent in the standings and more apparent on the court: the puzzling substitutions patterns, the lack of ingenuity on offense (especially down the stretch), the damn high-pressure defensive system that was at least partially to blame for the Cavs' historically bad opponent shooting percentages over the past three seasons. Perhaps this group of players was too young, too disparate to achieve respectability, but Scott could never assemble them in a way where it became easy to see where the future might lead. If the rumors are true, the players might have been divided as to whether he knew what he was doing. As of this morning, I'm certain the Cavs have talent, but I'm uncertain how that talent fits together and how each players' individual skills can best serve the team's success. A great coach is a great sense-maker, and this team is still gibberish in motion.
I'm sure the Cavs have a list, but I wonder who will want this job and the sort of work it's going to entail. Surely, there are more than a few out-of-work head coaches and ambitious assistants who see a young team with promise, but it's going to take a lot of effort—and some very specific expertise—to turn this team into a winner over the next few years. C:TB's Nate Smith has been compiling a list over the past few weeks, and he'll be hitting you with the a batch of possible candidates tomorrow morning.
At any rate, farewell Byron Scott. Whether you did the job well and got unlucky or did the job poorly and rightfully got the boot, enduring three seasons of rough basketball isn't good for the psyche—I know this because I endured it, too, but I'm, at the very least, a wholly inculpable fan. I'm sure you'll catch on somewhere else. Here's to better days for both of us.