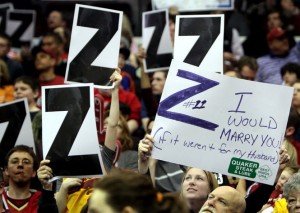 "Z was actually probably relieved, a long ordeal may have brought some tears. He got a putback hoop at the end of the quarter that got almost as loud of a cheer." [Brian Windhorst's Beat Blog]
"I love you," he told the fans. "Thanks for everything." The ceremonial part of his return is over. There are practical benefits in the offing, in particular what his size can mean against Orlando and the Lakers. But that's for later. Sunday, a town showed its appreciation of Ilgauskas for the years gone by. [Bud Shaw on Z-Day]
"Already facing a letdown game coming off a Western road trip, the Cavs didn't seem to gather much momentum from the reception for Ilgauskas. Without their top energy player, the issue became a bit of a problem as they were sluggish for much of the afternoon." [Brian Windhorst]
"With the victory, the Cavs swept the 10 games against Pacific Division teams this season, the first time it has happened in history under the 82-game format." [Brian Windhorst]
"So, if your eyes filled up watching #11 say thank you on the floor of The Q, imagine what it would be like to watch him raise a championship trophy over his head.  That would be a tear jerker!" [Fred McLeod]
"Without disparaging anyone on the Cavaliers, looking at his roster compared to other teams that have won the Finals makes him look even better, should they win it all." [Christopher Reina on Roster Imbalances]
Lots of Cavs questions and answers in Chris Sheridan's Sportsnation Chat.
So what does 'Melo think about LeBron's future?
"Why would LeBron leave a situation where he has an opportunity to win a championship every year, to going to a place that's rebuilding?" Marbury said. "How does that work?. How do you try to get to people to believe that? I don't understand it. As a Knick fan, that would be great. But playing in the NBA, it doesn't make sense." [Marc Berman on Starbury]
"It's not about a big city (LeBron thinks he's a world capital), pleasing Nike (it's the other way around) or money (infinity plus $1billion = infinity.)" [Mark Heisler on Summer 2010]
Nothing to do with the Cavs – but you will enjoy this, I promise.
Fun Tweets:
"LeBron surely has to at least listen to what this guy has to say. Also safe to say free-agent upgrades to Nets' dance team on way for sure" [Marc Stein]
"Um, why did my Spurs-Celtics feed just cut to some women's college basketball game?" [JE Skeets]
"Just realized that Knicks could potentially knock Toronto out of playoffs on last day of season … and grease skids for Bosh to NY" [John Hollinger]
"Listen to my audio tweet. http://tmic.fm/rfvnwqxlfk0 [Shaq]
"Boy @THE_REAL_SHAQ is about one hour away from eating Vaseline. He needs to get back on the court quick, fast and in a hurry." [realcavsfans]