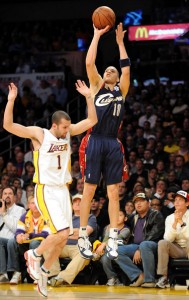 "But perhaps a major, if overlooked, accomplishment is the team effort that has helped West become more balanced emotionally. That includes work West has done himself." [Brian Windhorst on Delonte West]
Anthony Parker has a good MailBag Q&A.  I especially like the part about him being an alleged Kobe stopper even though he thinks Kobe averages like 35 a game on him.
"Even so, it's still an inane thing to say.  We all know how great LeBron has become. Few even bother to argue anymore against the fact that he is, hands down, the best player in the league. We don't need him reminding us of what he could do if he wanted to, you know, because he's just that awesome." [Brent Pollakoff on LeBron's scoring title claim] I agree, although, at least what LeBron said is probably TRUE, he leads the NBA in scoring and averages way more assists than those close to him on the scoring list.  Remember when Kobe said "Put me in the East, see what happens" in response to a question about LeBron's MVP legitimacy.  Well, Kobe's stats are actually lower against the East for his career…
"Well put this in perspective: the Cleveland Cavaliers star is the only player in NBA history to average more than 25-7-7 over the span of his playoff career. Think about that for a moment, in a league that was/is home to players such as Michael Jordan, Larry Bird, Magic Johnson, Scottie Pippen, Dominique Wilkins, Wilt Chamberlain, Tracy McGrady, Kobe Bryant, John Havlicek, Oscar Robertson, Jason Kidd and Dwyane Wade; LeBron James is the only player to manage such a feat." [Silverback Gorillas looks at Franchise Players]
Steve (Cleveland): What odds do you put on the results of a Cavs-Magic ECF?
John Hollinger: I'm conflicted about whom to pick in this one. I'll say this though: I think the winner will take the championship. Nobody out west playing nearly as well as these two.
Fun Tweets:
"Why so much fuss about LeBron scoring statement? He's been active career scoring leader for 2 yrs now at 27.8 ppg. Kobe is 25.3, Melo 24.8″ [Brian Windhorst]
"He's too humble to say so RT @ nuggetsnews I think if he truly, truly wanted it, the scoring title would belong to Nenad Krstic" [Howard Beck]