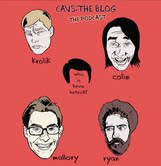 It's Bench Week here on C:tB.  And what would any in-depth discussion be without Tom, Nate, and me discussing Aaron Cra…err…putting in our two cents vocally.
Nate was kind enough to lend his voice to the marathon 'cast, so he'll be posting his article later this week.
On today's podcast, we discuss the individual players that make up the Cleveland Cavalier's bench.  We touch on Shaun Livingston, Marreese Speights, Luke Walton, CJ Miles, Tyler Zeller, and Wayne "Duke" Ellington.
And of course, there's Aaron Craft…
As always we're on SoundCloud at – https://soundcloud.com/cavstheblog/0027-aaron-craft-get-benched
And on iTunes at – https://itunes.apple.com/us/podcast/cavs-the-podcast/id528149843?mt=2
Enjoy!