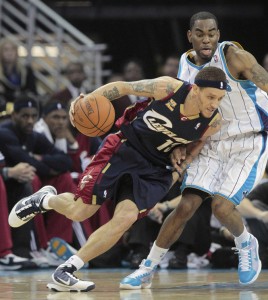 "But it is clear the Cavs' young big man is feeling some urgency. One missing center is back and another is coming, and Hickson is going to have to step up his game or lose minutes.  He certainly played with urgency on Wednesday come gametime." [Brian Windhorst's Game Recap]
"When the cameras are on and when fans are in the building pregame it can look like James is just messing around, dunking and trying halfcourt shots. At some points in the season he is. But don't just believe what you see, James is working harder than ever." [Brian Windhorst's Beat Blog]
"O'Neal pounded every single step in the lower bowl along with assistant strength coach Ken Snead, working his away around the arena while the Cavs went through drills before facing the Hornets. That workout, plus what O'Neal said has been a personal ban on cheeseburgers, appears to have helped him peel off weight during the recovery period." [Brian Windhorst on the Cavs Playoff Rotation]
"It's going to be a process," Ilgauskas said. "I'm thinking more than reacting. I was just trying not to force anything. I was just trying to find my spots and space. At times it felt like I was in space on the floor. The floor was very huge for me. I expect it to shrink for me with each game." [George M. Thomas]
From the Fanhouse PowerRankings: "Some think this makes the Cavs invincible, but despite the wealth of talent, getting everyone on the same page chemistry-wise may be more difficult than expected heading into the postseason."
David Thorpe explaining on Tyreke Evans should learn from LBJ: "After all, James leads the league in scoring partially because defenders know he is more than willing to find the open man. So LeBron's teammates love playing with him even though he scores so much. If the Kings can learn to love playing with Evans in the same way, they'll become a much more dangerous team."  (Maybe Kobe should learn from LeBron?)
Brian (CA): Lebron is the best basketball player in the world hands down. However, there is still one element that separates Kobe from Lebron. Kobe is a proven champion and as of now Lebron isn't.
David Thorpe: So is Josh Powell. And?
What would you do to keep LeBron in Cleveland?
82games update. Jamison's NET production looking strong so far.
Fun Tweets:
"Shaq looks like he's dropped at least 15 lbs." [George M. Thomas]
"In san antonio bout to practice. Don't know what I'm going do with the rest of my day. Might walk the riverwalk" [Mo Williams]
"Even the Knicks dancers Blow. – http://bit.ly/deBuCs" [realcavsfans]
"Classic Joe Tait tonight… "That sounded vaguely like the national anthem"." [realcavsfans]
" We just landed in san antonio, saw my boy d fish and kobe, it reminded me of that .o4 shot, thanks d fish" [Shaq]
"Whenever Dajuan Blair hits the deck, I worry about the floor." [langwhitaker]