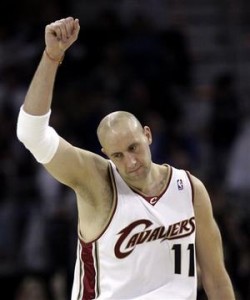 "Zydrunas Ilgauskas, the Cavaliers' beloved center, will sign a one-year deal to return to the team this morning, sources told The Plain Dealer, and presumably will be available to play when the team travels to New Orleans for a game Wednesday." [Mary Schmitt Boyer]
"1-year/1 season, rest of this season @patrickorrDoes "one year" for Z mean he is signed for 2010-2011 season?" [Brian Windhorst Twitter]
"Doubt it, JJ likely to stay starter & Z comes off bench RT @simmsythekid15 Now JJ can go back to bench and make a dangerous combo w/ Andy" [Brian Windhorst Twitter]
"He is the guy who could have limped off with $60 million after several foot operations, but decided to have one more surgery — an experimental procedure where they rebreak and reshape the foot." [Terry Pluto on Big Z]
Five of the Cavs' top six lineups in terms of point differential per minute are with Big Z at center!  Think about this for a second, once he gets back in rhythm, the Cavs can play a lineup (thanks to the Jamison trade) where every single player on the court is a legitimate 3-point threat.
I'm lucky enough to be going to the game this Sunday (I'm already working on my lung capacity for the 3 minute long "ZEEEEEEE" I'm going to be belting), and I might have to show up wearing this.
"James said that the fact he and his teammates have been able to take care of business against weaker opponents shows a lot about the team." [George M. Thomas]
The Cavs have taken care of business against the best teams too.  Against the other top 9 teams in the NBA(by record), the Cavs are 13-7, only Denver has a better record (14-6) against the top competition.
"You go through all the physical rehab, but so much of recovering from an injury like that is mental. You're carrying that knee. That's just the nature of a significant injury like that. It's so important to have confidence in that knee, so you won't drag it. In Leon's mind, he'll start to say: 'It's normal now.' And now, instead of dragging that knee along, he'll pick it up and bring it with him!" [Austin Carr on Leon Powe]
Fun Tweets:
"Cavs to sign Zydrunas Ilgauskas today, per multiple reports. In equally shocking news, when I close my eyes, it gets dark" [InsideHoops]
"Z might not start games but if JJ goes into his Drew Gooden mode Z will finish games." [RealCavsFans]
"I think it would be cool of the Cavs wore throwback jerseys from the first year Z played for the team. I realize they are terrible." [WayneEmbrysKids]
"Yo my moms on Twitter @Real_Shaqs_Momfollow her! & check out da new site 4 her book!www.lucilleoneal.com. Proud of u mom!" [Shaq]