We ran a similar article last week, but Cleveland's season is slowly being decimated by injuries, and hell, it's March Madness!  Let's talk about who will make a big impression this weekend in the NCAA tourney…who could be a nice addition with the Cavs next year.
QUESTION 1:  The Midwest Region; looking at the top four seeds, only Marcus Smart, Mason Plumlee and Gorgui Dieng look like first round picks.  You got a no-name that will be household by the end of the weekend?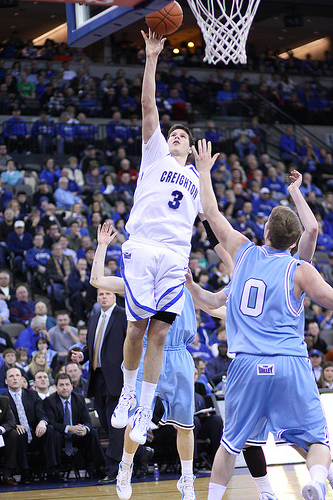 Nate: Doug McDermott (Creighton).  Who else?  One of my favorite uncles pitched for the Blue Jays in the 80s, so they're a mid major I always follow.  #4 in the nation in scoring, at 23.1 a game, he's been all over the board in mock drafts.  Nbadraft.net has him going 18 to Atlanta (a Kyle Korver replacement?) and Draftexpress slots him as the 48th pick…  He's a a 6'8″ light's out catch and shoot guy from anywhere on the floor, and a proficient postup threat who moves well without the ball on cuts. This all adds up to a .68 TS%, and the #4 PER in the country at 33.9.  While an adequate rebounder in college, as a pro, he's a 3/4 tweener who will struggle mightily on defense.  Also, he doesn't get to the line as much as he should.  McDermott probably needs to model himself as a Korver type, and set himself up as a bench scorer who can play the 3 in the pros.  Despite his deficiencies, he's an elite shooter who will help a smart team stretch the floor.  The question on McDermott: is he Dino Gallinari or Jon Diebler?
Kevin: I'm veering way into outer-space on this one: Adreian Payne of Michigan State.  He's a junior and Draftexpress lists him as the 23rd pick in 2014.  I remember him playing spectacular defense against Ohio State last year.  In three years, his free throw shooting increased from 49% to 70% to 83%, while providing an excellent 117 offensive rating with 20% usage.  Combining that with the Big Ten's second best defensive rebounding presents a promising package.
Tom: I'd like to cheat and say Gorgui Dieng of Louisville, since I don't think he's a household name now, and I think he will be by tourney's end.  But since you rigged the question, I'll go with Michigan State's Gary Harris – who I think will still be a relatively no-name guy until draft night when he will be selected in the lottery.  Advanced stat guys like him and his measurables/game is somewhat similar to Dion Waiters – who also surprised some people on draft night.   He's a better shooter than Waiters but less explosive and doesn't have the PG-skills.
Mallory: You'll begin to notice a pattern here with regards to small forwards, especially since the competition at center is pretty difficult to judge on a game-to-game basis during the tourny.  Michigan State's Brandon Dawson isn't the best three point shooter, but boy oh boy is he explosive.  Dawson contains one of the best first steps in college basketball and is a good ball handler for his height.  But where the young Spartan really shines is as a defender.  Using his athleticism, quickness, and length, Dawson is a terror to both wings and power forwards.  If he can help MSU go deep into the tourney, look for the light to shine on him.
Dani: Gorgui Dieng, from Lousiville, is the kind of player who could come to the NBA and contribute right away. The combination of rebounding, shot-blocking, and facilitatory abilities add up to a pretty tantalizing end-of-round prospect, even for a guy who's already 23. You would prefer that a player that old have at less some modicum of scoring ability, but hey- if Dieng could score, he might be a lottery pick.
QUESTION 2:  Ohio State is in the West bracket, playing in Dayton?  Maybe C:tB's resident Daytonian will go watch his favorite player, Aaron Craft.  Maybe he will talk about someone else in response to this question: Who skyrockets up draft-boards from this group?
Nate: Of the top 200 scorers in the country, only one has a better TS% than McDermott.  Kelly Olynyk (Gonzaga) has shot up the draft boards this year with a blistering .70 TS% and leads the nation in PER at an ungodly 38.1.  A friend of Tristan Thompson's from team Canada, this fellow Toronto area native is a first team All-American.  A true seven footer, Olynyk actually redshirted last year as a junior to avoid having to play behind Robert Sacre, Elias Harris, and Sam Dower for the Zags.  In that time, he went through a pretty crazy training regimen to develop his neural system.  That regimen is soon going to be copied by every team in college basketball, given its results.  A 17.7 PPG scorer, and a 7.1 RPG rebounder, Olynyk can score on the block, the cut, out of set shots, and can even put it on the floor.  Turnover prone, and not the greatest defender, he is still incredibly coordinated, shoots 36% from three, and will block some shots.  Superb shooting?  Check.  Crazy training routine?  Check.  Do it all 7 footer?  Check.  Long flowing locks?  Check.  Who's the NBA comparison?  Only Dirk Nowitzki.  Would I love to see Olynyk share the frontcourt with Tristan Thompson?  Double check.  Not even on the national radar when the season began, Kelly's currently in the early teens on draft boards.  He will be drafted in the top ten.  With a strong tournament?  He could climb all the way to the top pick of the draft.  Oh, Canada.
Kevin: DeShaun Thomas can score in the NBA as part of a second-unit.  He gets buckets inside and out, and although his efficiency tailed off some this year, his 20 points per game paced the Big Ten.  Perhaps he can turn-around his miserable 17 of 47 shooting from the Big Ten Tourney and creep up draft boards.
Tom: This is the strongest bracket [4 teams in the AP Top 12 including the #1] and it will be difficult for the Buckeyes to emerge.  Aaron Craft is admittedly my favorite college basketball player.  That said, I find it almost impossible to settle on an upper and lower bound for his post-collegiate career.  I feel like he could play 18 NBA seasons and become a hall of famer and we'd all look back and go "well duh – best defensive PG since Gary Payton with court vision to match…" or he could wind up wrestling with 'Gody for loose balls in the D-League and we'd all look back and go "well duh – unathletic guard that can't shoot at all…"  I'm throwing my hands up – I have no idea what his future holds – sometimes I watch him and I see Rajon Rondo, other times a guy that wants the ball in his hands but can't even create his own shot much less make it.  If OSU does make it out, I do say Craft skyrockets up draft boards [so there, Hetrick] – in that he will go from UDFA to early second round pick.
Mallory: The theme today is Big 10, the best conference in college basketball this year.  The guy to watch in the Midwest is none other than Ohio State's Aaron Craft.  Putting aside the arguments that I'm sure will go on in the comments section, the fact is, in the last few weeks, Craft has been the offensive player he needed to be in order to raise his draft stock.  Craft's uncanny ability to adjust his shot while slashing to the basket, despite a serious lack of vertical leap, is nothing short of amazing.  His floater is equally impressive, especially since he lacks any semblance of an outside game.  If he shows some signs of a jumper, continues to drive to the basket, and plays the amazing D we all know he's capable of, Craft will work his way into the draft discussion this year.
Dani: Kendall Williams is a second-round tier point guard for New Mexico that the Cavs would be remiss to ignore in the second round of the draft. He dropped 46 on Colorado State recently, and has the size and scoring ability to be a valuable PG off the bench in the NBA. He's also got great size (6'4″) for the 1, which bodes well for his future defensive impact.
QUESTION 3:  So this is where the prospects have been hiding?  Who will separate themselves from the heap in the South bracket?
Nate: What a bracket!  Every single first round game but SDSU/Oklahoma features draft prospects.  But I'm interested in Shabazz Muhammed (UCLA).  He was once considered the most can't-miss prospect of this draft, but he mailed it in this year.  Now people are questioning his athleticism, his defense, and whether he has a position in the NBA.  He may be a victim of the hype machine that pumped him up just to tear him down.  Can he reclaim his mojo?  Can he stop shooting so many threes? (He had a 2-11 game at Washington State two weeks ago).  Can he help UCLA make a run?  He really has to step up his game to avoid falling out of the top 5, and while I was really high on him a year ago, unless I see something different, I don't want the Cavs to touch him…  Of course he could be one of those guys that's just better as a pro.  Who was the last guy purported to be like that?  O.J. Mayo?  Whoever it was, UCLA should make for interesting theater.
Kevin: Quick!  What is the lamest answer you can think of?  Well, Eric Murphy, of course.  The Florida senior is currently slotted towards the latter stages of the second round.  Especially if Speights is allowed to leave, Cleveland needs some front-court players with shooting range (please show this next year, Tyler).   Standing 6′ – 10″, Murphy drilled 46% from deep this year.  What, you say that Cleveland needs interior toughness, too?  Oh.  Moving on…
Tom: Well I'd like to say Trey Burke – but Michigan will have to play Kansas and if they upset the Jayhawks they will find Florida waiting.  Both teams are elite defensively – so this tourney probably won't boost his draft stock unless he leads the Wolverines into the Final 4.  Rather, Ben McLemore will "separate himself from the pack" in the sense that Kansas will continue to be on TV and he'll do enough things to reinforce the narrative of being a top 3 pick even if he doesn't take over any games.
Mallory: With the need for a long, athletic SF so glaring on this Cavaliers team, the guy to watch is Wolverine Glenn Robinson III.  Robinson is still very raw, and likely doesn't get drafted this year, but he's the kind of player that, with some improvement on both the offensive and defensive end, would be a great addition to most NBA teams.  If he can show signs of a sweet three-point stroke, there's no doubt the Cavaliers would be taking a serious look at him.
Dani: If the Cavaliers find themselves in position to draft Ben McLemore of Kansas, tough decisions will abound. Chris Grant feels he has his shooting guard of the future in Dion Waiters, but McLemore is an ultra-athletic Ray Allen type who ACTUALLY plays like Ray Allen (as opposed to Bradley Beal). That's an awfully tough opportunity to pass up. The biggest concern with McLemore is his apparent lack of a killer instinct; watch that over March Madness.
QUESTION 4: Who is the Beast from the East(ern bracket)?
Nate: Anthony Bennett (UNLV).  I think drafting an undersized power forward in the lottery is like drafting a running back in the first round of the NFL draft.  Unless they are once in a generation players, it's probably a waste of a draft pick.  But… I do want to see what the big deal with Bennett is.  6'7″ 239 pounds of muscle and bone with a 7'1″ wing span, Bennett is another efficient scorer, .531/.387/.696 with a 15.8 PPG average.  He's a crushing finisher who through January was finishing over 70% around the basket.  He's tailed off during the second half of the season, but he's an extremely skilled player with the shooting and ball handling skills to play the 3 and the power to play the 4.  He's the right kind of tweener.  Unfortunately, he is often described as "disinterested" on defense, and scouts doubt he'll have the speed or lateral quickness to play on the wing in the pros.  Best case scenario?  Larry Johnson.  Worst case scenario?  This season's Brandon Bass.
Tom: Anthony Bennett is the beast.  When I messaged Nate and told him that's the dude I want, his response was: "ARGH!  NO!"  I know he's undersized, I know he's one dimensional, I know the Cavs have enough undersized/1-dimensional players, and I agree with Nate's argument.  But…THIS!  I'm sorry, Nate.  I want a guy that can close out on a shooter like that, run the floor like that, and wants to TEAR. OFF. THE. RIM.  He's got a 7'1″ wingspan – it'll all work out I promise.  We've made a lot of comments regarding college players – this is the first guy that I am officially endorsing for the Cavs front office to select.  I'll sink or swim with Bennett.  (Yes, I've even got reservations about Noel now.)
Kevin: Averaging 11 points, 11 rebounds, 1.3 blocks, and 2.2 steals, Andre Roberson of Colorado seems bound to carve out a niche in the NBA.  His 27% defensive rebounding rate ranks in the NCAA's top-ten, and if the Cavs want to substitute another strong defender and rebounder when they sit Tristan, this could be their guy.  He is only a junior, but Draftexpress projects him to be taken in the second round this year.
Mallory: While I'll give a shout out to Zeller's baby bro, the guy to watch, without a question, is Cody's IU teammate, Victor Oladipo.  Like Dawson and Robinson, Oladipo is raw.  Unlike both the aforementioned players, Victor is already incredibly refined on defense and has the ability to stretch defenses with his outside shot.  There's a high likelihood that, with strong tourny play, Oladipo will boost himself to a top-10, and even top-5 spot in the draft.
Dani: Victor Oladipo is amazing, he will be amazing and I cannot imagine a scenario in which he falls out of the top ten. Oladipo can score, he can jump higher than anyone in college, and he plays hard-nosed defense. He can also play either wing position. Oladipo is a star and the Cavs should do everything possible to draft him.
QUESTION 5:  I know none of our writers knew any of these guys before this article (just kidding), but let's pretend we're college basketball experts, and missed someone we really wanted to talk about from the four Regionals.  Who is you wild card to watch?
Nate: My 2013 super sleeper pick: Mike Muscala (Bucknell).  6'11", 232 pound Muscala is one of college basketball's best two way players.  He's currently #3 in the country in rebounding, and #4 in rebound rate, and the only player in the top 30 in rebounding to have a foul rate below 3 per 40 minutes.  (Though this may be because he is going against scrubs in the Patriot League).  He also averages 2.4 blocks per game with a nice wingspan and 2.4 assists with only 1.7 turnovers — fantastic for a center.  Shooting .517/.267/.787, his jump shooting is actually down from the previous three seasons, probably because he scores 19.2 PPG and is the centerpiece of the Bucknell offense.  But he gets to the bucket  and the line more this year, attempting almost 7 freethrows a game, and has learned how to finish proficiently with either hand.  And oh yeah, he's #2 in the nation in PER at 37.4.  This combination of scoring, defense, rebounding, polish, and motor from a big man is rare.  My bet is that despite being a senior he will move past his borderline first round projection and into the late teens on draft night.  Meanwhile, It will be fun to watch this Patriot league standout take on perennial Nate favorite, Butler, on Thursday in the battle of the Bulldogs and the Bison
Tom: Kelly Olynyk has a super-rare combination of skills.  He's 7'0″, a legitimate 3 point threat, has Varejao circa 2013 touch around the hoop, plus an actual post game.  He's also 7'0″ and I'm not sure he can dunk on a 9 foot hoop.  I don't think he can even jump rope.  Not because he isn't coordinated, he's super coordinated, it's his total lack of leaping ability.  Unless that jump rope is made out of fish line, it's not getting under Kelly's shoes.  He's the only guy I can watch and take the Lord's name in vain in both a good way and a David Wesley layup way in the same sequence.  Still, college PER doesn't lie right? [Hides Michael Beasley in nearest closet]  And he's 7'0″ with 3 point range.  What's not to like?!  [Hides Bargnani in next-nearest closet].
Kevin: Victor Oladipo from Indiana.  For a guy whose calling card has been defense, his 60 / 44 / 75 shooting, 30 PER, and 123 offensive rating (23 usage) light up the stat-sheet.  I remember watching Indiana games when he was younger, seeing him throw down a monstrous jam, and thinking, "who is that guy?".  Turning 21 in February, his future appears bright.  Maybe Kyrie, Dion and Victor could co-exist on-court for 8 – 10 minutes per night.
Mallory: Since I've spent so much time talking about Aaron Craft, who I still see as a great bench guard for any NBA team, I figured I'd give another Buckeye some love.  While I easily could've gone with DeShaun Thomas (whose game I dislike, by the way – I want nothing to do with a volume shooter like that) or Amir Williams (raw, physical center, who definitely wont be drafted this year, but has the tools to someday be a pro) I've decided to highlight the most underrated player on OSU's roster.  Namely, Shannon Scott.  Scott isn't much of a shooter, although he's dramatically improved as one from last year to this year, and he's not an absurd athlete.  Scott is just one of the quietest great defenders you'll ever watch.  It's rare he gets beaten, and rare that he misses a rotation.  If he improves his shooting, particularly from the perimeter, he's a guy to lookout for in the next few years.  Maybe not as a high pick, but certainly as someone with the talent to contribute.
Dani: Shabazz Muhammad is a basketball enigma. No one can agree on his ability to star in the NBA. Some see superstar potential, pointing at his passing and shooting ability, which all comes with an insatiable, infectious hustle after every ball. I personally believe he's going to be a slow shooting guard on defense. He doesn't have the height, speed or athleticism to play the 3. Watch out for him.