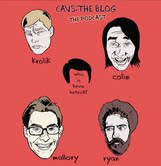 Ouch.
That one really, really hurt.  Like bad breakup hurt.  Like getting ripped to shreds by your boss hurt.  Like finding out you have bed bugs hurt (don't worry, I'm clean.)
After leading by 22(!) off of a crazy shooting night from Mo Speights, the Cavs got COLD (and I mean C-O-L-D COLD) from the field, while doing their usual lets-not-play-d thing.  And, surprise surprise, they lost.
On today's podcast Tom, Nate, and I discuss the Cavs' 102-97 loss to the New York Knicks. We also discuss the current make-up of the team, Kyrie's D, TT and Tyler's ceilings, and how to best improve.
As always we're on SoundCloud at – https://soundcloud.com/cavstheblog/0026-the-problem-is-melo
And on iTunes at – https://itunes.apple.com/us/podcast/cavs-the-podcast/id528149843?mt=2
Enjoy!