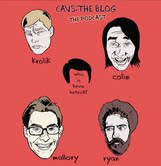 FINALLY!
When last we recorded, Tom and I had the unfortunate responsibility of covering a horrible loss to the T-Wolves.  Not anymore!  After many, many, many, attempts, the Cavaliers finally took down their rival Chicago Bulls in an exciting victory.
On today's Podcast Tom, Nate and I discuss the Cavs 101-98 win over the Chicago Bulls. Topics include Dion Waiters' improvement, the Cavs' offense, Luke Walton, Tristan Thompson, and the bench. We also touch on whether or not Kyrie and Dion Waiters can co-exist, and who is a better long-term piece – Wayne Ellington or CJ Miles.
As always we're on SoundCloud at – https://soundcloud.com/cavstheblog/0025-feeling-bullish
And on iTunes at – https://itunes.apple.com/us/podcast/cavs-the-podcast/id528149843?mt=2
Enjoy!