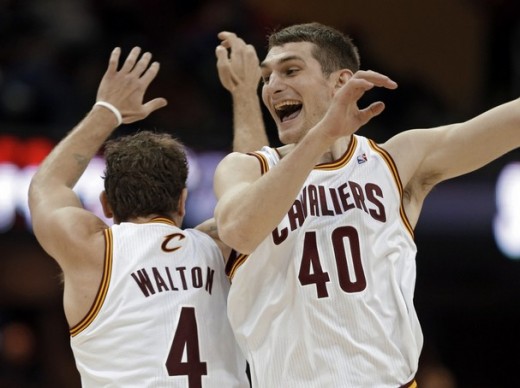 When the Cavs last defeated Central Division Rival (read: 4 chances a year) Bulls I was in graduate school, unmarried, and in possession of about 20 LeBron-related articles of clothing.  Today, I am happily married, gainfully employed, a proud father, and there is an orphanage in Jamaica full of witnesses.  The Bulls have terrorized the Cavaliers for quite some time (with and without Derrick Rose).  Tonight, the Cavaliers got the monkey off their back without superstar Kyrie Irving in an exhilarating and herculoidian effort.  Unlike the last podcast, which came on the heels of a loss, tonight there was plenty to celebrate.  So I'm going to keep this recap relatively short.  No running diary tonight.
First Quarter: After falling behind 11-2 the Cavaliers responded with a heavy dose of Tristan Thompson.  The first quarter set the tone for the rest of the evening.  It was scrappy and intense from the get go.  You could sense the Cavaliers wanting to bounce back after the loss to the Heatles and you could sense an equally determined Bulls squad was looking to impose their will on the inexperienced Cavaliers and trying to regain some of their early season momentum (Bulls have now lost 7 of 10).  One thing I noticed was that the Cavaliers' game plan was to deny the Bulls' crafty bigs from generating easy looks with interior passing.  They were packing the paint and trying to keep bodies on all weakside cutters – daring the Bulls to kick out to shooters and beat them with a perimeter attack.  Now the Bulls had an absurd 33 assists on 39 made baskets and shot 42% from 3, so it's hard to say it was a great strategy – but the fact that there was a strategy (and it was executed) is encouraging.  The Bulls did a lot of their damage with an inside-outside attack instead of the layup line that I'm accustomed to watching.  At the end of the first quarter, the Cavs were down 3.
2nd Quarter: Dion and the Herculoids!  Thus began two quarters of highly-efficient offensive execution for the Cavaliers – against one of the stoutest defenses in the NBA.  Both teams were still scrapping for loose balls and fighting for position in the paint.  Notable play came with 9:07 in the 2nd.  Marreese Speights comes off a curl (unusual) on the left side and starts driving towards the rack.  He's met by Joakim Noah and after a pretty significant amount of body contact – Noah flattens on the deck like a fly in Mario Paint and Marresse just calmly struts to the free throw line like "yeah".  Speights is just Mo' Nasty.  Ellington had a very solid half.  He was +11 in 10 minutes at one point and there was a play where he accelerated past defenders around midcourt while pushing the ball on the break and smartly found C.J. Miles for an easy hoop.  Dion scored 10 in the quarter – the momentum shifted a few times, and it seemed pretty clear this game could go down to the wire.  Tie score, 48 all at the half.
3rd Quarter: The third quarter was a microcosm of the post-Livingston acquisition Cavs.  The passing was crisp and contagious.  The Cavs had 7 of their 18 assists in the 3rd, including 3 quick assists by TT to start off the quarter.  Dion got a few deep jumpers out of his system and the Walton/Livingston 2-man game thwarted an elite defensive team.  (think about that)  You could start to see Chicago make adjustments on offense.  They were really running through Boozer and worked hard to get him the ball in good spots.  The Cavs started to break down a bit on screens and Boozer was often left with a wing defender or an out-of-position big.  He made them pay.
Can't hold down the Herculoids, though, and despite the Bulls shooting 11-16 for the quarter, they actually got outscored by the Cavs: 27-23.  The Cavs were really grinding all game and they started to shore up the defensive rebounding after halftime.  The quarter ended on a really sweet play.  With a few ticks left, Luke Walton streaked up the court and threw a nifty behind the back pass to a trailing Wayne Ellington who splashed a deep 3 at the buzzer.  Henceforth, I will refer to the Cavs finding a spot up Wayne as "going back to the WELLington".
4th Quarter: What an entertaining quarter.  Starts off with a technical free throw for C.J. Miles who is now 56-60 from the free throw line this season.    It was really an interesting game for Ellington.  He was forced to create a little more offense than usual against the  stifling defense of Chicago – exacerbated by the lack of a certain Uncle.  I've been gushing about how he never forces anything and never makes the incorrect play.  Tonight, he was forced to force (that's terrible) and you could tell he was a bit out of his comfort zone at times – especially when he had to try to create something with 5 seconds left on the shot clock.  So he took a few bad shots but he also showed off a more complete game.  He made a few nice runners off curls and came up with some huge rebounds/outlet passes when the game was in the balance.  Anyway, Ellington put up a fairly inefficient jumper after the Bulls played hounding defense and he back-ironed it to the waiting arms of Joak…WAIT STOP.  Marresse Speights somehow tips it to himself 3 times and as he's falling out of bounds saves it to C.J. Miles who promptly goes BACK to the WELLington for 3!  (And we are in the present tense so you know this game is ending in epic fashion)  FREON follows up a 20-foot step-back with a devastating drive and finish.  Dion is looking like a stud lately and even when he makes some poor decisions he just oozes talent.  The Cavs force a timeout with a gorgeous Walton/Zeller two man game that leads to a Zeller baseline layup and events that inspired this tweet.  Out of the timeout the Bulls score quickly on two possessions before Dion Waiters attacks the rack and draws a foul.  Bad Dion fires up an out-of-rhythm step-back in that situation, but tonight he was patient, and instead probed until he could attack.
The next 5 Bulls possessions featured the same maddening play: Kirk Hinrich dribbles along the left side of the court, Carlos Boozer comes from the weakside to set a pick near the left elbow extended, the Cavs allow Hinrich a path to the hoop, eventually collapse, and Hinrich finds Boozer for an open jumper.  It's so simple, and yet completely unstoppable.  When the Cavs finally made the adjustment to force Hinrich away from the lane, he responded by hitting a terrible fadeaway baseline jumper.  At this point, the fate of monitors everywhere rested with B Scott.
The last few minutes featured a flurry of excitement.  Alonzo Gee jumped not 1, but 2 passing lanes.  Either could have iced the game but the first ended with him dribbling off his leg out of bounds under the hoop (it was an uncontested breakaway) and the second he was only able to tip it out of bounds.  Dion hit a huge jumper and after some tough misses by both teams, Shaun Livingston found Luke Walton for a HUGE 22-footer with a hand in his face as the shot clock was winding down.  DAGGER?  Luke Walton doesn't believe in Daggers.  He just keeps playing.  Five point Cavalier lead and the bench is going crazy.  After 2 Luol Deng free throws it was Gee that found himself trying to break the Bulls full court press.  He dribbled coast to coast (miraculously) and found Tristan under the hoop.  After TT was fouled he made 1 of 2 to give the Cavs a 4 point edge.  Unfortunately Dion fouled Jimmy Butler BEFORE the ensuing inbounds pass and the lead was trimmed back to 2.  After a Cavs miss it was certainly "sweaty palms time" to quote Fred McLeod – 30 seconds remained on the game clock. The Cavs defense held, forcing the Bulls into a low-percentage Luol Deng outside shot (and not a 3) and Luke Walton grabed a strong rebound in traffic with about half a minute remaining.  After Shaun Livingston was intentionally fouled (he calmly drained both FT), Luke Walton STEALS THE INBOUNDS PASS and throws it off Kirk Hinrich out of bounds for good measure (that's for all the pick and rolls!).  EPIC END TO A THRILLING GAME!
Concluding Thoughts:
-Big-time win for the Cavs.  Not only did they finally beat a division rival that has had their number, but they proved to themselves that they can win a game with toughness and composure, and without their best player.  This was not a C.J. Miles drops 30 in one half game, or a no one can stop Jeremy Pargo for some reason game.  This was a total team effort and a gritty road victory.  This was the kind of game that well-coached teams win.
-All 9 Cavaliers took at least 6 shots.  Dion played the role of primary scorer and did it very efficiently – 25 points on 16 shots.  Super balanced attack.
-C.J. Miles had 7 points, 3 steals, 2 rebounds, 2 assists, and a block in 17 minutes – And only 6 shot attempts.
-Alonzo Gee could finish February shooting 50% from the field and 40% from 3 if he plays well again tomorrow.
-The Cavs really have something with Livingston / Ellington / Speights / Walton / Miles.  I cannot stress enough how putrid 4th quarters used to be.  The Cavaliers bench is dominating opponents.  As for the starters, they've gone through the grinder this season.  And while there is much work to be done – the talent is undeniable.  It's nice to see games like this where the Cavs seem to put it all together.  They had a gameplan, they didn't get pushed around by a team playing tougher (been a huge problem so far this season) and they executed offense in the halfcourt.  I hope the basketball acumen of guys like Walton and Livingston is being rapidly absorbed by the "rising stars".
-Dion Waiters was in attack mode and concocted a Freon Smoothie of devastating drives to the basket and patented long 2s. He's so talented though, and the jumpers were silky smooth tonight – especially when he shot them off the dribble.  He was bad very early and faded very late and was the best player on the court in between.  At the beginning of the season I knew he was raw and just wanted to see 'flashes' of greatness.  Really, he's been providing that from day one, and recently, in droves.  He gave a pleasant post-game interview with the NBATV crew after the game. Please listen to the podcast that Nate, Mallory, and I recorded – it was a lot of fun and we spent most of the time talking about this game.  Podcasts are always better after wins!