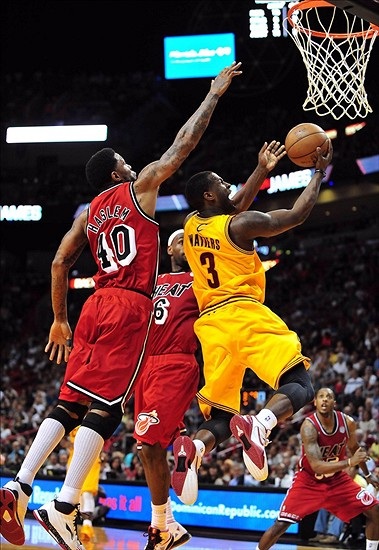 And lo on Sunday, the twenty fourth day of February in the year of two thousand thirteen, the faithful struggled to defeat the firey Heat of Miami.  Led by the the righteous baller Kyrie Irving, and the prodigal slasher Dion Waiters, the Cavaliers of Cleveland fell to the army of King James, and Dwayne of Wade, whose game was dirty as the floors of a stable…  Inspired by the marksmanship of Calvin Andre Miles, the Cavaliers twice fought back from the precipice of oblivion and overcame a score of points to stand poised to take victory.  But nay, the young defenders of Cleveland could not overcome.
So it might read in the history books if this battle were really as epic as it felt.  Gone is much of the acrimony of earlier battles with King LeGone, but the tension in games against Miami is always palpable.  The Heat seemed focused and determined at the start and came out of the locker room with a frenetic energy that stifled Cleveland's offense.  A pitched back and forth game ensued with runs and momentum swings that seemed insurmountable, yet were countered by surpassing surges of will and coordination.  This game felt like it was four hours long.
1st Quarter:  Kicked off by an LBJ dunk twelve seconds into the game, Miami flew around the court on offense: the players a whirr like the never stopping parts of a complex machine,  pausing only but to catch the ball, pass, move on and then score with precision.  On defense they attacked the Cavaliers: aggressively double teaming everyone who touched the ball, overplaying every passing angle.  Cleveland did jump out 8-2 early, but they soon wilted.  Miami forced Cleveland into seven turnovers and turned that into crisp passes and four 3-pointers.  Due to some timely long range shooting by Waiters and Irving, Cleveland was lucky to score twenty.  Cleveland 20, Miami 33.
2nd Quarter: Marreese Speights scored the first six points on free throws and twin twenty footers for Cleveland, who could not defend Wade and Allen.  Ellington picked up a couple of very timely free throws to stem the tide, and C.J. Miles scored a quick five (but not his quickest five), to cut it to thirteen, and then the Dion and Tristan show started.  Dion fed TT for a dunk from the left baseline, and then scored high off the right glass on what might've been the prettiest move of his young career, then Tristan bulled over a flopping Bosh for a rightie layup.  Dion then went behind the back on Wade and Haslem and ducked under LeBron for a reverse layup with perfect english.  Check it out here.  Then he got an and1 off a quick post-up  and a nice pass by Walton.  But they were all just traded baskets and the lead was still ten.  Then endemically, Cleveland gave up a 12-2 run over the last three minutes of the quarter, nine of them generated by the form of LeBron who cut through the field of gold like a gleaming crimson scimitar.  Cleveland 46, Miami 64
3rd Quarter: Cleveland gave up four and then mounted a quick 10-0 run off some very nice distribution by Kyrie.  LeBron fed his jumpshooters for an 8-4 counter.  And Kyrie started attacking, looking like Tim Hardaway with his handle.  Dion attacked too, getting buckets, and Iverson assists.  Then C.J. Miles happened.  1:35 left in the quarter, with the Cavs down ten C.J. hit three straight triples: left wing, right wing, and then KI cut in front of him on the break and bounced passed backward between the legs, to hit Miles perfectly.  Swish…, FOUL! Plus, Spolstra got T-ed up for incessant whining! Miles: FIVE POINT PLAY.  Eleven points in 1:04.  Somehow, Cleveland 82, Miami 81.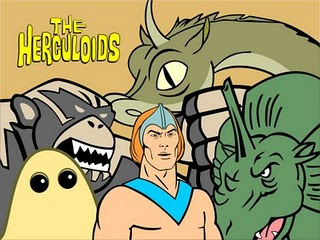 4th Quarter: Herculoids time: Ellington, pullup deuce; Speights, driving layup on Chis "Birdman" Anderson;  Mo from Zo — threw down an absolutely freak nasty dunk on Allen who fouled him (but no whistle).  Then Miles gave up an absolutely awful layup to Wade where he literally cleared out and gave him the entire left side of the lane, which Dwayne gladly took.  One of the worst plays of the game there.  Miles giveth, and Miles taketh away.
Crunch Time: 6:46 left.  St. Weirdo followed the benevolent light that shone down from the rafters and beat the Birdman to the rack for quick layup off the right square.  92-85, Cleveland.  Out of a timeout, Wade fell down on a drive, avoiding what would have been a traveling call in any other arena in the world.  From the ground, he shuffled the ball to Battier in the corner for a gut punch three.  Ugh.  But hope remained: Speights threw up a miracle J, then C.J. canned another three on the left wing.  97-89, Clevleand.
Some weird mixture of fear and confidence emanated from television.  I knew the Cavs had been in this situation before.  But, this wasn't the same Cavs team.  Then Dwayne Wade posted up Dion Waiters; hooked Waiters for a second and then hit a turnaround 12 footer from below the free throw line.  Uh oh.  Dion made the elbow/hook gesture to the ref, and spent half the next possession making that gesture and barking at Ed Malloy.   Dion spent the rest of that possession standing thirty feet from the basket doing nothing.  Considering most of that possession had the Cavs best two offensive players thirty and forty five feet from the basket, it naturally ended up a turnover.  Then Waiters, obviously still steamed, didn't even bother to pick up Wade on defense.  He just milled around in the key, unsure of who he was supposed to guard, and then Wade ended up isolated on Speights which he promptly turned into an and1.  After, a spectacular quick step runner by Kyrie for two, Waiters decided to wander into the paint to help on a Chalmers drive, but not really help.  He just stood there, as Speights was forced to foul.  Suddenly, it was 99-96, Cleveland.
Kyrie bricked a pullup three off a left wing P/R, continuing a trend of low percentage looks in late close game situations.  Then Waiters stood in the key doing nothing (half double team?) on a LeBron post-up of Kyrie from the right block.  Waiters was completely unsure of what he was supposed to do and somehow he bodied up… Bosh?  Even though Bosh's defender, TT, was right there…?  Wade cut behind Dion for an easy layup.  Oy.  Miles tried to go one on two and got blocked.  Wade came down and crossed up Dion, and scored two more when he should have been fouled.  Ugh. 99-100, Miami.  Waiters called for a post-up on Chalmers, got the ball, pulled up on a long step back two with six second left.  NO NO NO – YES!. Cavs regained the lead.   Missed Battier 3!  Missed Kyrie layup :(.  Kyrie jogged down after the miss.  It wasn't really a jog so much as a leisurely shuffle behind every single player on the floor.  I'm pretty sure Gheorghe Muresan would've beat Uncle Drew down the floor on that breakout.  Battier got wide open three from the left corner.  Ugh.  101-103, Miami.  1:30 left.
So Cleveland's offense was basically: flatten out, leave KI and Dion on the wings; TT, in the middle; Gee and Miles in the corners.  Let the wings iso, and if they're doubled, kick it to the other wing.  Waiters isolated Chalmers on the right wing.  His neon-ness pulled up for a twenty three foot air ball with eight seconds left on the shot clock.  The acolyte pleaded for a foul, but Monsignor Malloy had not forgotten the rebuke of three minutes prior.  His whistle did not blow.  Gee rebounded, and after a shot clock kerfuffle Irving missed a runner, and Wade shoved poor Tristan out of bounds for the rebound.
Miami ran that beautiful high pick and roll with LeBron and Wade on the next possession, yet somehow LeBron missed a gimme at the bucket after some ponderous Cleveland defense, but Miami got the rebound, and ran it again.  Then Waiters who was guarding Wade, and Gee who was on LeBron,  paused confusedly and Wade simply went by Gee while Waiters sort of chased him after taking the very long way around the screen.  Then Dwayne Wade dunked the ever loving snot out of the ball.  101-105 Miami, 24 seconds left.  Waiters made a very nice driving lefty on the next play to cut it to two, but free throws were made, and a Kyrie pullup three while isolated on LeBron was a failure.  The day was lost.
Conclusions: In the post game interview, Byron Scott mentioned that the Cavs were told to switch every single pick at the end.  The Miami play was designed so that LeBron and Bosh both came up to the top of the key and Wade could go off either screen.  It put mass confusion into the defense.  On the first iteration, Wade paused and went left off Jame's pick.  LeBron cut to the hole and Bosh's man, Speights, went with LeBron.  Waiters and Gee went with Wade.  Bosh was wide open, and when Speights tried to recover, Bosh hit LeBron under the bucket, but he missed it.  The Heat rebounded and ran it again.  So on the first try, if the coach said to switch, Waiters screwed up and didn't switch.  He should've rolled with LeBron.  On the second iteration, Gee probably didn't switch because Waiters didn't do what he was supposed to do the time before, so Waiters was forced to chase from way behind.  The worst part?  The fact that no one fouled Wade with twenty four seconds left in a two point game on a dunk attempt…  That's losing basketball.
It's tough to know whether "blame" lies with the player or the coach in this situation.  One can blame the coach for not calling plays that are effective, but if the players can't execute the plays he calls, it's hard to blame him, and certainly "switch every pick" is not an overly complicated defensive strategy.  Defensively, the blame probably falls with the players, but that three man play with Battier and Chalmers at the corners is probably as brutally and elegantly effective of a play as there is in basketball, given that the players Miami has fit into it like Swiss made gears.  That play is the Kobayashi Maru for NBA defenses.  I'd love to see the Cavs run a version of it.
On offense, the Cavaliers fail to get high percentage looks in late game situations off of anything other than isloations and dribble penetrations.  There is rarely any off ball pick and roll action, or an attempt to move Waiters or Kyrie without the ball and there is little attempt to run a play other than a simple wing screen for a shooter who scored eleven points in one minute and four seconds.  Yes the Cavs hung with the defending champs, but until they devise plans to score and defend in late game situations and execute those plans, they won't beat good teams.  There are other players on the team besides the two starting guards.  If the Cavs want to win close games against good defenses, they'll need to find ways to get those players involved on offense the way teams like Miami do.
Everyone played well at times in this game, but most everyone had strange mistakes that hurt the team.  If Scott wanted to win, he probably would've been better off putting Ellington in for Waiters, but he wanted to teach.  I'm ok with that, and I have been all year.  Personally, I think Waiters would be better served contemplating his mistakes from the bench, and taking a vow of silence when it comes to officiating.  Dion Waiters is truly an enigma.  He can make brilliant plays followed by jaw dropping losses of composure.  Saint Weirdo is the patron saint gorgeous layups, bad jump shots, and swallowed whistles.  Let us pray he meditates on these matters and finds some enlightenment.