The Cavs represented themselves well in front of a national TV audience and (more importantly) a very enthusiastic home crowd.  I could get used to this script.  Act 1: Cavs come out with a purpose and a dedication to the defensive end.  Act 2: Cavs offense looks like a well-oiled machine.  Act 3: Cavs show off the bright spots and ugly warts of being a young team, putting on a clinic in the first part of Act 3 before reverting to stagnant iso-ball and chaotic breakdowns on defense.  Act 4: Cavs bench holds the line, Uncle Drew brings em home to MVP chants.  Yeah, I could get used to that script.
Overall, I was very impressed with the tone the Cavs established at the outset and carried through until Buckets Unlimited™. They came out with a purpose, particularly at the defensive end.  I've been one of the Cavs' most vocal critics, citing a lack of defensive intensity, cohesion, commitment, etc.  Tonight was like watching a different team.  A few notable examples: Kyrie was fighting picks all night.  Over, under, through the woods, whatever.  The rest of the Cavs were making a concerted effort to identify pick and rolls before they developed, and anticipate the direction of the penetration.  They were very successful to that end.  They also did a nice job staying home with the scouted 3-point shooters.  At least 4 times I noticed the Cavs' defensive big man hedge on the pick.  Thompson, Zeller, and Speights all did it on occasion.  Tristan was particularly effective, as he showed so strongly he forced the ball-handler to retreat halfway to the timeline before he hustled back and the Cavs were able to regroup.  This was a staple of Mike Brown's "little engines that could" defenses, particularly when Zydrunas was hitting his twilight years.  It's a very effective maneuver and it's been missing since Mike Brown left.  On offense, the Cavs were stagnant at times, but they showed a committed to attacking, despite the Hornets length inside.  Dion Waiters and C.J. Miles in particular were super effective at slashing into the teeth and finishing despite a crowded paint.  The scoring was balanced – everyone that played contributed.  The bench guys did what we've come to know and love, and Kyrie put on an offensive clinic from the moment he re-emerged in the 4th.
The format for this recap is going to be a running diary.  I admit that this might seem clunky or hard to read, but honestly, I've noticed how much more excited I get about individual moments in real-time than when I've had 48 minutes to let the "nuance" and "balance" and all those horrible things cloud my hyperbolic judgement.  The reality of this team is, they are young, and promising.  Game recaps need not be (individually) characteristic of the season, the team, or the trajectory.  Each game is its own story, and it's worth diving into all the highlights and lowlights.  So I present my running diary – and of course more over-arching analysis during timeouts and halftime.  Love it or hate it, just let me know either way.
"]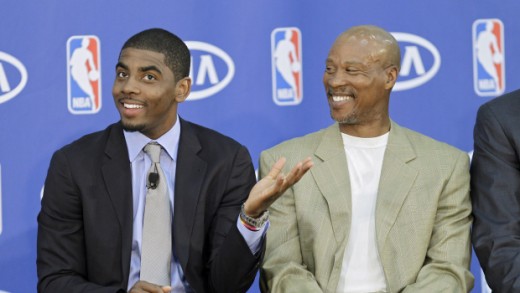 1st Quarter
Cavs win tip – Tristan jumps out of bounds to save ball.  Ball swings, Gee hits corner 3. Great start.
Pick n foul-line-extended pop for Zeller (more his range than the 20 footers). Drains it.
Cavs defense force two straight out of rhythm Js to start game.
Cavs anticipating screens and ball movement early.  (good sign)
Waiters goes strong to the hole! (EXPLOSIVE)  Jon Barry likes the Waiters draft pick.
Tristan Thompson with a beautiful step through move that draws a whistle (boooooooo get that prescription checked ya bum!)
Kyrie fighting under screens early (another good sign)
Waiters another drive – gets into teeth – nice interior pass to Zeller who flips it in.
TT tosses in an OLD SCHOOL Jump Hook!  Throwing it DOWNWARD towards the net.
Oh my TT's handle.
NO is a "long" team.  OKC being the original "long" team.
Alonzo Gee has a very strange shot.  Some of his threes look like Bill Cartwright's free throws.
Kyrie tried spinning curve-ball bounce passes twice already in the 1st quarter.  Pretty low-percentage pass.  He might have to learn how to pass with his left.  We already know he's basically ambidextrous with his shot – but he likes to bring it back to the right side to pass.
Tristan working hard to get shots at the rim – but he's pressing a bit.  Needs to get comfortable and get that euro-touch back.
Cavs being kept off the O-boards.  Every possession is 1 and done.
Bill Cartwright hits his second 3.
This is a real man's game in the 1st.  Intensity is high – every shot being challenged.  Lots of blocks and body checks.  Kinda jarring after the all-star game.
Kyrie hits his veteran Andre Miller bank shot.  Then gets doubled, finds Luke Walton who finds Speights for the money 17 footer.
Cavs trapping now.  I really like that they're mixing it up.  And that was maybe the 5th travel called in this game.
Jon Barry laughs off LeBron to Cleveland rumors – says people can keep dreaming. [ok?]
Kyrie shows Barry why any free agent should give Cleveland a look – just a sick dribble move and floater.
Cavs use their FOUL-TO-GIVE!!  (don't even care that Ryan Anderson hit a circus 3).  Byron Scott gets a huge air high-five from me for that quarter.  Cavs played very well at the defensive end, mixed up their D, used their foul to give, and Kyrie played with an intensity on D that I haven't seen from him in a while.
2nd Quarter
Herculoids/Speights cowboys in.

Whoa – don't talk about the video of that Shaun Livingston injury.  Yeesh that makes me more queasy than the blood donation questionnaire.
Walton backdoor pass to Livingston drains 8 footer.  I love the Herculoids.
Brian Roberts? I feel like there is a Brian Roberts in every professional sport.
C.J. MILES puts his head down and does his best Dion Waiters impression.  Jon Barry remarks how C.J. Miles played well early this season, which proves that 'early' is a relative term.  And yeah, he's right, at this point, December was early in the season.
Walton with another gorgeous pass.  Doesn't lead to a bucket though.  Pelicans defend the rim pretty well.
Wayne Ellington can shoot.  I really love his game – hope he's a Cav for a long time.  It's very valuable to have role players that know their role, and fulfill their role.  It's not an easy job in pro sports to be that guy, the pinch hitter you can count on etc etc.  You see lots of guys make a career out of playing within themselves and leveraging their talents – as opposed to trying to be dynamic scorer.  [Heed Baloo]
C.J. Miles goes strong AGAIN this time with a soft high layup in traffic.  Roger Mason!  Wow I remember him draining wide open 3s all night long for SA after the trade from Wash.  Didn't even know he was still in the league.  Feel like he had a negative PER or something a few seasons back. (checks bball-ref…nah 7.2)
Austin River is like a 3rd-world-orphan-man's Kyrie Irving.
Was that the 9th travel called?
C.J. Miles is playing like a man possessed – Jumps passing lane, throws down monster 2-handed dunk.
Waiters having a REALLY great game so far.  He just hit a step-back, contested 2 but unlike every other step-back, contested 2 this was actually a good shot in rhythm.  C.J. Miles just swatted a ball out of bounds. (!)  Seriously that dude is ridiculously athletic.  He's just too nice of a guy.  Someone needs to disrespect his family's honor or something – he needs a mean streak.  @RichMcCreedy the floor is yours…
Waiters hits another long, contested 2.  But it was end of the shot clock and it was in rhythm.  Well done, FREON.
Tyler boxes out Geico Caveman and the refs correctly call an over the back.
Tristan doing a good job getting in position – just tossing up bowling balls.  Cavs working really hard on D but a great defensive possession ends with Tyler Zeller getting pump-faked out of his shoes.  He really has poor lateral quickness.  And Zeller turns it over…
Byron Scott calls a "quick" timeout off two bad Zeller possessions.  B Scott winning me over this game.
The play is getting physical and the onus is really being put on the refs, and I feel like they've gotten almost every call correct, even if they are being a little overzealous with the traveling calls.
Just did a bball-ref check of Brian Roberts.  Here are some interesting tidbits.  He's a 27 year old rookie from Toledo.   He's hit 51 of 55 FT this season, which is eerily similar to C.J. Miles' 50-54.
Dion tries a hurry-up offense and draws a non-shooting foul.  Shoots after the whistle and drains it.  He is engulfed in flames right now.
Cavs playing really good D right now.  As usual, the starters are a little bit stagnant – iso-oriented on offense, but they are attacking the rim which is always good.  TT with a nice boxout draws free throws.
Dion pushing in transition off a steal, and Anthony Davis spikes it so hard into the ground they might have to replace some hardwood at halftime.
Kyrie with just a DEVASTATING pump fake dribble drive – Gee hits his 3rd triple.  Cavs end half up 2.  A very solid 2nd quarter, Cavs played that half like they have a good in-game coach.  Have I given you a clue?
1st Half Analysis:
The Cavs came out focused and determined in this game – which is commendable.  As a fan, it's really fun to watch a team compete on defense.  They were even mixing up their coverages.  During a recent podcast, you may have heard a 9-hour-long back and forth between Mallory and I about the offensive style/execution differences between the starters and the bench.  If you happened to remember my analysis, this half is very characteristic.  The starters like isolation.  TT likes to face up and take his man to the hole, Waiters likes to explode to the rack, Kyrie as we all know is one of the top 5 one-on-one players in the NBA right now (prediction, he will go down as a top 5 ALL-TIME one-on-one player alongside Michael Jordan, Allen Iverson, Kobe Bryant and an old timer that I'm overlooking because I've only seen grainy highlights of a few playoff games.)  At any rate, the starters are fairly good in transition – Kyrie is ridiculous in transition (he's always ridiculous), Waiters is learning how to finish in traffic, Alonzo Gee is certainly better suited to some chaos which may help him get open, and Thompson and Zeller run the floor very well.  The second unit, comparatively, is much better at executing half-court offense.  They showed that in this half.  Luke Walton is the half-courtiest of players, and Wayne Ellington and Shaun Livingston really understand how to use screens to create spacing.  Walton is an elite passer and Speights is really a dynamic half-court scorer for a big.  That high release allows him to score from a lot of different 'pops'.  C.J. Miles showed up in a HUGE way in that half.  [We interrupt this half-time analysis to point out the Pacers are up FORTY on the Knicks right now and it's only the 3rd quarter]  C.J. Miles is 3 of 3, has 2 boards, a NASTY swat, a steal, and is +7 in 9 minutes.  About all you can ask for.  The Cavs bigs have struggled so far against the length of the Hornets frontcourt.  Al-Farouq Aminu is listed as 6'9″ but he looked silly-long on a few blocks.  Just checked his measurable – he is not human.  He has a 7'4" wingspan?  Laaaawd have Mercy.  Between him, AD, and Caveman Lopez, this team can protect the rim.  Tristan was pressing a bit in the 1st half and wound up 1-5, as did Speights.  The good news is the Cavs interior D has been making life difficult for the Hornets bigs as well, and both teams are protecting the offensive glass.
I've been pretty agnostic about Byron Scott since he was hired, but he has earned some brownie points with me tonight.  Besides the Cavs coming out focused and competing hard on defense, there were a couple "good coaching/awareness!" plays in the first half.  The Cavs used their foul-to-give with a few ticks left in the 1st half and even though Ryan Anderson took exception and hit a circus buzzer-beater after the inbounds – it was nice to see the Cavs do a 'veteran' thing.  B Scott also called a super quick timeout after a sequence where Tyler Zeller got burned trying to close out on a pump fake, and then turned it over right away at the other end.  Not used to seeing that, a lot of times he lets his young guys hit rock bottom.  Good to regroup the troops and halt any momentum the visitors may have gathered.
3rd Quarter
Robin Lopez comes out with two nice post moves from the left block.  Monty Williams calls him "the most coach-able player he's ever had".  I'm sure Robin appreciates the atta-boy.
Waiters with a huge GTWSOH chase down on Austin Rivers.  Both teams starting the 3rd with intensity.
Kyrie with a filthy crossover and J and then one of those traffic layups that only he can pull off.  Fans getting into the game.
TT block-fouls Anthony Davis and I swear before the whistle he put his hand up like "I got him".  The Cavs are a bunch of gentlemen I tell ya.
Tyler Zeller quietly having a decent game.  Has bounced back from an early blown dunk and is switching like a madman on defense.  Fairly effectively too.
TT MEETS LOPEZ AT THE APEX!!  GET THAT WEAK STUFF OUTTA HERE!
Cavs continuing with some supreme defensive intensity.
LOPEZ MEETS TT AT THE APEX!!  (TT FOULED)  (…but having trouble at the line tonight)
Tristan showing how far he's coming, thrashing about among the long-johns for a man's rebound and draws another trip the line.  His FTs look flat but he finally hits one.
Cavs show a full court press.  Byron +1.
Waiters not too bad at the falling-8-feet-to-the-side jumpers when he's inside 17 feet.  He's still engulfed in flames tonight.  He cares not for the Cavalier jersey-burning stigma.  – and THERE'S the bad-Waiters shot.  NBA JAM rules trump logic – Freon is neutron star hot right now.  Monty Williams calls time.
[GASP] A LUKE HARANGODY D-LEAGUE COMMERCIAL! [re-inserts jaw]  And it's freaking AWESOME!
http://www.youtube.com/watch?v=8sF8Z9kehY0

Tristan with a great job attacking the PnR ball handler and then retreating.  Austin Rivers making some creative buckets.
Alonzo Gee finally misses an open 3.
Waiters is having such a great night.  Blows by transition defender and realizes he is way out of position – but finds Zeller following the action with a crazy twisting pass.  Alonzo Gee steals inbounds pass (this defense!?)
Cavs playing some really good D and Hornets just being patient and finding ways to make shots after the first few options break down.
Cavs with a couple defensive breakdowns – looking like the 3rd grade soccer defenders suddenly.
Alonzo Gee should probably come out of the game now.  Cavs 11 point lead evaporates in a hurry.
Tristan just wants it more.  3 towering bigs all over him and he just keeps on going strong.  Going back to the line after the timeout.
I remember when Chad Ford described Austin Rivers as [paraphrasing] a guy that thinks he's Kobe Bryant but has the game of Ricky Davis.  (BUCKETS!)  He's looked very good in this game.  NO caps off a 10-0 run with a steal and a vicious flush.  (The Rivers exchange between Simmons and Ford is biting.  http://www.grantland.com/story/_/id/8100861/ford-vs-simmons)  Refs still calling travels.  Cavs in a rut right now.  Hornets have all the momentum – they look bigger, faster, stronger and they are out- executing.  I'm starting to get a sinking feeling those free throws are going to haunt the Cavs when this one is all said and done.
Kyrie makes a tough blowby layup look easy and does it with enough time for a 2 for 1.  Then Kyrie gets a little too dribble happy, and NO smartly doubles him with about 2 seconds left – he's forced to give it up and the buzzer goes off before the eventual C.J. Miles shot.
4th Quarter
Roger Mason is ALIVE.
C.J. Miles makes a bad shot.  He's now 4-4.  Cavs need to start executing and getting some easy baskets again.
Cavs have done a good job making sure Ryan Anderson doesn't get good looks.  In general they've done a good job chasing 3-point shooters off the line.  C.J. Miles follows up a heat check 3 that he missed with a LeBron-esque power drive and finish.  Geez.  And Miles throws up another heat check!  He's not getting cheated out there.
Cavs have made 3 more shots than the Hornets but are only 6-15 from the line (Hornets are 14-16).
Cavs have on at least 3 occasions tonight had the big hedge on the PnR, stopping the penetration and then retreating quickly enough to recover.  Maybe digging into the Mike Brown archives in the underground bunker at the Q. (Same bunker where the aliens that took over LeBron's soul in the Celtics series are buried)
Cavs getting quite frustrated with the ball-possession calls in this half.  At least 4 times guys were genuinely convinced it should have been their ball.  Brian Roberts with a layup that makes contortionists cringe.  Kyrie back in.  UncleDrew time?  (7 minutes left Cavs down 2)
Brian Roberts bodies Kyrie – which seems like a smart thing to do since you can't back off him, and Kyrie spins around him and pops one in while getting fouled.  Tie game: 79 all.
Cavs playing super small right now, trying to spread the floor for Kyrie (seems to be working) but the Hornets are trying to create mismatches at the other end (also working).  Kyrie got caught in no-man's-land on the switch and eventually Tristan had to leave his man to stop an easy dunk.
TT with a nice job forcing Lopez into a tough hook shot and then immediately turns to box him out.
Kyrie just destroyed whatever member of Kingdom Animalia that just tried to check him.
Oh and Kyrie with a PUJIT from 27 feet.  BOTTOM.  Lot of time left but Cavs have taken over the momentum behind Irving's prodigy-enous scoring. (the fusion of prodigenous – a word that Uncle Drew's contemporaries probably used to describe him and prodigy – which is what Kyrie is.)
Kyrie grabs a rebound, goes coast to coast through 9 guys and lays it in softly despite going full speed.  Oh, and then he takes a charge.  MVP chants coming?  Caveman Lopez fouls out.
Kyrie defers to Dion who is on the weak side and has a flat-footed defender just staring at him.  But Freon freezes up before kicking it back out to Kyrie with 2 seconds left.  But after a shot with 0.6 that captures iron, the Cavs get the ball back.  This time Dion spins past a double team, kicks out beautifully to Kyrie who somehow misses an open 3.  Cavs get 2 more offensive rebounds and I can't even keep up – this game in frenetic.  But Kyrie just did a sick inside-outside dribble and up-and-under scoop for another layup.  After Anthony Davis' first basket, Kyrie draws a foul on a pull-up.  THERE'S THE MVP CHANTS.
Cavs up 9 after the free throws.  I think the Cavs have made the last 10 or so free throws.  Anthony Davis with a tip-in off an Austin Rivers drive.
Cavs not exactly looking like the Spurs right now but there is a spring in their step as the crowd is really taking them home.  They are getting all the rebounds and Kyrie is just securing the livelihoods of 'ankle doctors' everywhere.
After a NO 3, they foul TT, who's 3-10 tonight at the line.  Rubber rims the first one in.  Nails em both.  Earning the right to be on the court in crunch time.
(Beaver) DAM.  Ryan Anderson hits a 3.  Four point game with 40 seconds.  Ellington does a good job avoiding the foul before passing off to Waiters.  Rook's turn to hit some pressure free throws.
Calmly nails both.  Cavs are now 18-28 from the free throw line.
Brian Roberts drives unimpeded for a fingeroll.  Wayne Ellington again does a great job getting across the timeline and drawing the foul.  And swishes both free throws.  I see what's going on here.  Cavs purposely letting NO score instantly to pad their FT stats.  (Or maybe just going for Chalupas?)
Roberts hits a long 3 and this is the longest minute in NBA regular season history?  Ellington back to the line.  Drains em both.  Cavs were 6-15 from the line and have since gone 18-19.
Game finally ends.  Really strong all-around game for the Cavs, who beat a team playing better as of late.
Final Thoughts:
Everyone played well tonight.  Some fans on twitter were expressing boredom in the game or pointing out a lack of execution by the Cavs.  I disagree.  This game had a very different feel to it than most Cavs games.  The Cavs did the little things to stay in the game when the offense went stagnant.  They played hard for 48 minutes and were rewarded with a W.  Now, I'd like to gush about Kyrie Irving a bit.
I could probably write 10,000 words gushing about Kyrie Irving.  But I just want to point out a couple things.  The guy who, in my opinion, has the best handle in the entire NBA (yes, even better than CP3) just WON the THREE POINT CONTEST.  Steve Kerr made a comment after Kyrie drained back to back corner 3s in the actual all-star game that "3s aren't even his specialty".  And I totally get that sentiment!  Look at the rest of that field!  Other than Steph Curry, who can shoot off-the-dribble almost as seamlessly as spotting up, the rest of those guys are in the NBA [dramatic pause] BECAUSE spot-up 3s ARE their specialty.  Matt Bonner is in the NBA because he makes almost half of his spot-up 3-point shots.  As I anxiously waited for the 3-point contest to start I thought: "Kyrie is the best scorer of this bunch, but he's lethal when he uses his dribble to create rhythm for himself.  He's really not a spot-up 3-point shooter." [Incidentally Reggie Miller echoed this sentiment during Kyrie's first round]  And he went out and almost broke the record…on National TV.
People are running out of ways to describe Kyrie Irving.  He's not even 21 and the comparisons to other players are already becoming meaningless.  We've already established he has the best dribble in the NBA, and he just won the 3-point contest and is a legitimate threat to be a 50-40-90 guy.   I'm gonna add another accolade.  When Kobe Bryant started slowing down he was lauded for things like "footwork" and "precision" and "creativity".  Lots of subjective terms that indicated it was very difficult to keep Kobe Bryant from getting to the spots he wanted to get to and getting the shots off that he wanted to get off.  I'd like to submit, for your approval, that Kyrie Irving, is the most "creative" 20-year-old scorer the NBA has ever seen.  Many players have been more athletic, more explosive, more savvy, or whatever.  But what Kyrie is doing is unstoppable.  You back up?  He'll drain a 30 foot buzzer beater. Body him up?  He'll spin right around you (like in this game) and make you dizzy.  Get happy feet?  He'll break your ankles and unlike Iverson he'll drain the mid-range shot.  But it doesn't end there.  In Transition?  Devastating. PUJITs?  PU3ITs? He can split double teams.  He'll throw in soft floaters, layups from every angle with either hand, including those patented up-and-under layups with crazy english.  He's got inside-outside dribbles, euro-steps, and THIS.  And the ones that always make me shake my head are those leaning bank shots, when that's the only angle the defender gives him – he can kiss it softly off the glass.  There's like 5 guys in the entire NBA that even attempt that shot.
He's the most creative scorer I've ever seen play in the NBA.  Admittedly, I'm not a big Kobe Bryant fan, and I feel that many of the game's truly great players leveraged a few (effective) go-to moves.  Kyrie's like an all-star pitcher that has total command over 10 different pitches (if there ever was such a pitcher).  Every time you watch him it's like "how's he gonna figure this one out" and more often than not, he does.  And this is from a guy that has only played 105 NBA+College games combined.  It's been said, but it bears saying again.  "What's not to like?"