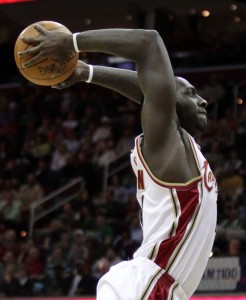 "We've got to figure out a way to be not as flat," Brown said. "Obviously you don't want that to happen, but this is a long season. For us to be able to get the win is good." [Brian Windhorst's Game Recap]
"We've got to start hanging some banners up there," James said. "Just got to." [Brian Windhorst's Beat Blog]
"Rudoy said Ilgauskas has been working out extensively 3-4 times per week in Manhattan's Chinatown area." [George M. Thomas on  Z's Return]
"The 7-footer had another great game Sunday, scoring 23 points with six rebounds in a Russian Superleague contest. He's averaging 12.9 points, 5.6 rebounds and shooting 72 percent in the Superleague games." [Brian Windhorst on Sasha Kaun]
"It's evident that all of the players have bought into Stan Van Gundy's grand design and accepted their roles. If this process continues and the specifics are perfected then, at the very least, the Magic will square off against Cleveland in the Eastern Conference finals — and could easily give the cocky Cavs a run for their money." [Charley Rosen on the Magic]
Cavs on top of the Fanhouse Power Rankings.
"And then there's LeBron James who, if you want to get technical about it, beat everyone to the punch on this one. James put his Cleveland on the map, raised its profile around globe; he's not just bigger than Cleveland, he's past markets themselves. Yet there's no reason to believe he'd be willing to do this for any city other than his hometown." [Bethlehem Shoals re-examining "small-market"]
You can't vote for Z to play alongside LeBron in the new NBA Jam. We need to start a petition…
Tom Haberstroh looks at the value of assists: "Interestingly, although most three-pointers are assisted (81 percent) according to 82games.com, the effect of a pass is smallest (+3.7 percent) compared to the others."  By this measure, LeBron's assists appear devalued since so many of his potential assists are 3 point attempts.
Tweak out your browser with a Cavs Theme!
Fun Tweets:
"Just saw Shaq. He's looking quite fit and aerodynamic, too…shaved off goatee." [Brian Windhorst]
"da only thing missin is shaqalicious. happy shaq break http://bit.ly/shaqbreak" [The Real Shaq]
"LeBron James is about to beat Kobe Bryant's record as youngest to score 15,000 points by a mere two years." [hoopshype]
"Better hands- Hickson or Braylon Edwards?" [Rick @ WFNY]