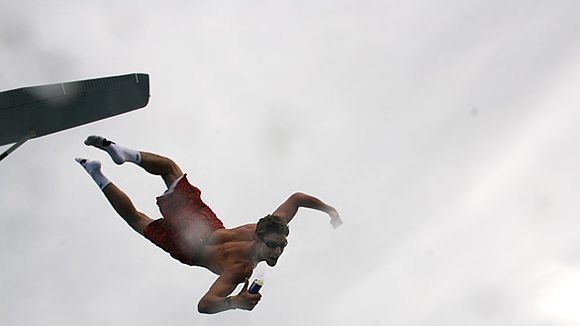 Overview: 
In an overtime game oddly devoid of suspense, the Cavs and Blazers engaged in an extremely ugly defensive struggle, with efforts from LeBron James and Zydrunas Ilgauskas eventually able to will the Cavs to an overtime win. 
Cavs-Related Bullets:
Well, at least we're used to this by now. And we got back to our defensive fundamentals, which was definitely a good thing, and kept us in this game the whole way.
But there's no denying this team came out and played extremely flat. If the guys with the ball in their hands don't feel like showing up, you're just going to have a tough time offensively. It doesn't take a rocket scientist to tell you that, and it certainly doesn't take a rocket scientist to tell you that Mo and Delonte combining to go 8-29 is not what you want out of them. 
Mo appears to have hit some sort of a wall, because every other game it seems like his shot's not there, which suggests tired legs more than it suggests something mental keeping him out of his rythym. Delonte, on the other hand, is in a major, major funk. He played gritty defense and got to the rim a few times, but his shot is off to the point he just can't buy one from outside the paint and he's not moving the ball right now. There's no option here-we just have to wait for him to snap out of it, because we don't win in the playoffs without him. He's our Lamar Odom-he's the difference between good and great for us. 
As for LeBron, he continued to wait for the rest of the team to galvanize itself in the first half and was passive offensively, which resulted in a 34-point half. Delonte's normally the guy turning the key in the first half, and that clearly wasn't there tonight. He also tried to go back to a jumper that just did not come with him, as he went 3-13 from outside of the paint tonight. Not even his free throw stroke was there, as he went 6-11 from the line. 
And yet he finished with a 26-point triple-double and took over the game. Why? Because of the things LeBron brings to every game; a relentless attack of the basket, the ability to find a teammate out of a double, and the ability to just make stuff up. He got himself to the line, made some beautiful passes to Z on the fast-break and when trapped, and, for whatever reason, flashed the midpost game that has been his achilles heel all year. 
By my rough count, LeBron had three teardrops when cut off in the lane tonight, which he never does at all, including one in crunch-time where Joel Pryzbilla was in perfect position, so LeBron just went over him and dropped the ball in. This was less a "teardrop" than "Rain from a vengeful God." Me and Doug Collins said "Are You Kidding Me?" in perfect harmony after that one.
Also, the 8-foot runners at full speed that LeBron NEVER makes? He drained one to put the Cavs up four in the fourth quarter. This was just after draining a 12-foot baby jumper I've never seen him attempt before. 
Oh, and there was a post game tonight! The lefty scoop shot over Outlaw was gorgeous, and the jump hook to seal the game was amazing. (Although I'm less bullish than many Cavs fans on those 8-foot post shots-there's a reason nobody really shoots from there anymore, and Al Jefferson, owner of easily the best jump hook in basketball, has a TS% 6 percent lower than LeBron currently does. I'd like to see him take that extra dribble and really get a layup, which LBJ never quite looks comfortable doing. Still, better than a 20-footer.)
The post-move that really got me going was the freaking McHale fake where James got Outlaw up, stepped through, stayed patient again on Oden coming over, and got Oden in the air and got free throws. Just a ridiculously savvy post possession. Forget an outside shot- if LeBron can play with patience and confidence under that basket, it's over. Oh, and where he caught it right block, realized Pryzbilla was on him, faced up, gave himself a live dribble, and blew past him for a layup? Beyond fantastic. 
Crunch-timeness: LeBron was great to take over a tie game and pour in two straight baskets to put the Cavs up 4 with 36 seconds to go, than gave up a quick bad foul on B-Roy, went for a dagger 21-footer instead of going back to the drive, and got pump-faked by Roy and almost gave up three shots. Fortunately, he played a great overtime to remain the hero, but just remember how fickle "clutch" can be.
Oh, and LeBron scored or assisted the Cavs' final 17 points before Mo's two free throws on an intentional foul to end the game. LeBron's pretty clutch.
WHAT IS MO DOING THROWING THE BALL AWAY COMPLETELY UNNECESSARILY TO KEEP THE CAVS FROM GETTING THE TURNOVERS IN A GAME RECORD? Nobody will ever remember that record, but tossing it away with 10 seconds left in overtime for absolutely no reason was kind of fun. Not a red-letter day for Mo, overall. 
Z saves the day, meanwhile. He hit some big jumpers in overtime, but the good thing is that he fell out of love with that shot, hitting 4 of his 9 mid-range jumpers but going 4-4 from the immediate basket area, finding gaps in the paint when LeBron got trapped and using transition to get directly under the basket for a post-up instead of trying to work his way in from the mid-post. 
Also worthy of commendation: Joe Smith, with 12 points on perfect shooting doing the dirty work. 
With Pavs playing 24 minutes and fouling out with one point, I will put a 5-game limit on my Tarence Kinsey begging before getting behind the party line for the playoffs. But until then, I will raise hell on this blog. HELL, I SAY. Also, I am less than pleased about bouncing JJ for Darnell. 5 games.
Bullets of Randomness:
Love B-Roy's game. Love it. I'd say we shut him down, but he got 24 points on 20 attempts. Great scorers can score quiet. 
Meanwhile, it seemed like Outlaw was feeling it all game, but finished with 17 points on 18 shots. The difference? 2 free throws vs. 11 for Roy. Some guys get scoring, some don't. Outlaw absolutely should've been moved at deadline. 
Steve Blake seems like Blazer Delonte.
Props to Doug Collins, who definitely did his homework on the Cavs. 
Thing of the Game:
"Jai Ho." I finally saw this movie today, and this doesn't feel festive enough for an overtime win. Enjoy yourselves. Gotta go, because STRINGER BELL IS ON THE OFFICE TONIGHT. With Jon Hamm on 30 Rock, that's guys from two of my top 5 favorite dramas on two of my top 5 favorite comedies.