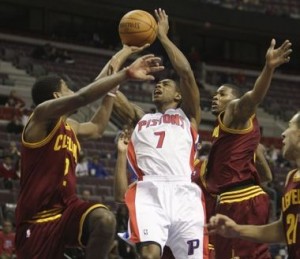 That 3 game win streak wasn't as long ago as it seems.  After losing by double digits to a well-coached Golden State team that played some guy named Kent Bazemore 30 minutes, the Cavaliers laid another egg against central division rival Detroit.  With the recent departure of veteran Tayshaun Prince, the last member of the '04 championship team, the Pistons showed that the young pups are ready to lead.  It wasn't too unsettling to describe the loss to the Jazz as "methodical".  Tonight, it is.  And it was methodical.  Eight different Pistons scored 9 or more points, and Detroit thoroughly outhustled/outexecuted the Cavs all night long.  If rebounds, steals, and blocks can roughly be quantified as "hustle stats" then watch this picture come into focus: Rebounds: Pistons +7, Steals: Pistons +3, Blocks: +5.  If assists can be roughly quantified as offensive execution: Pistons +8.  This beatdown was methodical.  It could have been worse, too.  Detroit left 20 points at the free throw line.  Now for the details.
Tristan Thompson was awesome, the Cavs bench was good, everybody else sucked.  Let's start with Tristan.  HOE LEE CANADIAN DYNAMITE.  This kid is WORKING.  It's really hard to capture how good Tristan was tonight.  When chaos is erupting all around you and your teammates are completely sabotaging you at the defensive end – it's hard to shine.  But Tristan did shine.  He finished 9 of 11 from the field, with 9 rebounds in under 30 minutes.
Crazy part: one of his misses was a 60 foot heave at the end of the 3rd quarter that caught the front of the back iron.  If that would have gone in I would have broken my self-imposed 'no swearing on twitter' rule.  With total seriousness, our young power forward was engulfed in NBA Jam flames all night.  As everybody knows, even when on "fire" the 3/4 court heaves sometimes miss in the video game.  (at least the SNES version)  So Tristan was about a half inch away from being better than an on-fire video game version of himself.  And he was not just throwing down NBA Hang-time alley-oops.  No sir/ma'am.  He was driving right at Andre Drummond and Jason Maxielle and finishing with layups, hooks, floaters, and a move that I am going to call the NateSmith Special.  After Drummond threw down his first PnR alleyoop smash of the night, Byron quickly subbed Tristan back in (early 2nd).  I watched as Tristan got his body into Drummond on every possession.  Never allowing the big man to get near the hoop.  He decided it was time for Andre Drummond to be ineffective – with excellent results.  Of course, the Cavs perimeter players couldn't stay in front of Eric Snow had he suited up tonight, so TT was forced to try to contest wide open layups and flip shots from all the non-Drummond Pistons.  He couldn't guard everyone.  His -19 reflects that fact.
But no, I'm exempting Tristan from +/- tonight.  He shut down Drummond at one end, and just voraciously attacked him at the other end – again, with excellent results.  After driving from the top of the key, blowing by Drummond, and finishing against one of the NBA's elite shotblockers, he did it AGAIN, only this time, he saw Drummond sagging and the help arriving, so he popped in a Tony Parker-esque 12-foot floater.  [Now imagine I wrote all that in caps because if I was describing it to you in person you'd hear screaming]  OK, those plays were incredible, and I could never have imagined even a whiff of them from Tristan in mid-December, but the best is what I'm calling the NateSmith Special.  He's been leading the charge for Tristan to develop a counter move in the paint since TT was drafted.  So check this play out:  Canadian D gets the ball in the post, tries to back down Maxielle but Jason pokes the ball away and TT has to recover from about the 3-point line.  He goes THROUGH THE LEGS, and drives right, but Maxielle stays right on his hip and starts to push him away from the basket.  TT fakes like he's going to try to pop one in from 10 feet.  Maxielle again gets his body into him and TT does a pivot and drop step and finishes a left-handed layup past the outstretched and probably shocked Maxielle.  If what I just described sounds like something LeBron or Kevin Durant might do – that's about right.  I've never seen TT do this before so he's got another addition to the repertoire.  (what's new)  Tristan appeared to get banged up during one of his many basket-attacking forays against the Pistons front line and he seemed to be in pain when the 3rd quarter ended.
The Cavs bench isn't a liability anymore, that's for sure.  Tonight they all played with a purpose and I found myself much less frustrated with the offensive cohesion from Livingston, Miles, Ellington, and Speights than the non-TT starters.
This might seem like a "if pigs could fly they wouldn't be pigs" comment but if Shaun Livingston could shoot he'd be a total stud.  He has a very nice handle, sees the floor extremely well, and can get into the teeth of the defense.  He's also got a ridiculous wingspan and competes on defense.  Tonight was a pretty "about right" game for him.  He seemed to lose his head a little after the refs missed a foul that should have sent him to the line, and he ended up fouling out but not before dishing out 6 dimes in under 30 minutes.  His +/- was even for the game, which is about all you should ask out of your bench.  He added 3 blocks for good measure.
Speights started off poorly but found a rhythm in the 2nd half.  He finished with 17 points and ended the half with a buzzer-beating 3 out of a Kyrie double-team.  He is a good shooter but the rumors were true, he can fall in love with the outside jumper.  I'd prefer he bang in the paint, where he had a nice dunk off a nifty interior dribble move.  Speights and Livingston were the two guys that seemed pretty hacked-off that the Cavs were getting lit up by a mediocre team.
Wayne Ellington has a super quick trigger.  His release reminded me a little bit of Eddie House tonight – just no hesitation.  He canned 3 triples and seemed to compete on defense – fighting through screens and trying to close out.
C.J. Miles had a nice night in a very non-typical C.J. Miles way.  He didn't get blistering hot from beyond the arc.  No, he actually did a lot of little things tonight.  He moved pretty well without the ball, hit some shots off curls, attacked the basket on the fast break, dished out 3 assists, and prevented a few fast-break buckets with quick hands.  He can be a frustrating player to watch because he just oozes talent and athleticism but he's not a very aggressive defender despite the quickness and wingspan, and he does settle for a lot of jumpers.  Actually that description fits a lot of Cavaliers.  He was solid tonight.
Kevin Jones is fun to watch.  He works really hard especially on the glass.  He played pretty heavy minutes tonight (effectively) and grabbed 9 boards.
Feel free to stop reading now – the rest isn't going to be pretty.  But for my own sake I'll make it short.
Kyrie Irving was -20.  Brandon Knight was +20.  The eye test was about that bad too.  Kyrie did have some nice bounce passes out of double teams in the 3rd but he was pretty ineffective on offense and poor on defense.  Brandon Knight could end up being Kyrie's "Mitch Richmond".  Michael Jordan would destroy just about everyone but for some reason borderline all-star Mitch Richmond always gave him trouble.  The obvious narrative would be that Knight just likes to go at Kyrie because of their draft selection and all that.  Maybe.  Whatever the case, Kyrie is the superior player, but not 2Knight. [See what I did there]
I know it's blasphemous to say anything negative about Dion Waiters so fortunately there is nothing bad to report.  On a completely unrelated note, Rodney Stuckey abused someone wearing a Dion Waiter's jersey on about 4 straight possessions in the 3rd quarter before Byron Scott benched the real Dion Waiters who of course was playing super awesomely.  If the real Dion Waiters had been getting torched I'd probably have people pointing out that he's young and is asked to do too much and that Rodney Stuckey is an MVP candidate.  Thankfully we can all just not talk about it.  Moving on…
Tyler Zeller: 2 points 2 rebounds minus 14, 16 minutes, 4 fouls.  Abused in the paint.  I'd be nice if he was a good shooter.  The low point for Tyler was a blown uncontested alley-oop.  Bounce pass next time, Kyrie.
Alonzo Gee had a really bad night.  1 of 7 from the field and he was blocked 3 times.  -16 in 20 minutes.  Non-Canadian starters in general?  SIX of TWENTY-NINE.
With the Cavs down almost 20 Byron Scott inserted Omri Casspi for the final minute of the game.  This was just long enough for Omri to miss a 3 so he can sit in his hotel tonight, bury his face in his hands, and scream "WHY HAVE YOU ABANDONED ME, SHOT, WHY?!  AM I NOT B.E.E.F.ING ENOUGH?  IS IT THE BALANCE OR THE ELBOW?"
Byron Scott is amazing and should be congratulated for releasing Tristan Thompson's inner Super-Saiyan. (as we all know).  Tonight I found his decision to not play Casspi puzzling (as usual) but I appreciated that he left the second unit in the entire 4th quarter.  I don't know if he was sending a message to the starters that they were not worthy (other than gimpy Tristan) to represent Cleveland in the 4th quarter, or if he did it because the benchers were playing pretty well until about 3 minutes left in the game.  At any rate, he's got to get a better effort out of his team.  There were times when I noticed entire possessions where nary a hand was raised on defense.  There were times when the shot clock was running down and the Cavs were content to give the Pistons space on set shots instead of closing hard.  There were segments of some of the ugliest basketball I've seen in weeks and no timeouts were called, to say, calm down Dion Waiters some Cav after he blew an open dunk and then dribbled it off his foot in back to back frenetic possessions.  The Cavs lost very methodically to a young division rival.  And it was surgical as the Cavs made no adjustments.  You didn't have to tip your cap to Klay Thompson tonight, check out the box score.
Before appending my in-game notes, I'd like to leave three thoughts.
1.) Tristan Thompson's improvement is marvelous and maybe it IS big Z that's working with him on footwork.  Campy Russell noted the fluidity of TT's game and it's been apparent.  The 600-thread count pillow soft touch around the hoop is one thing, but he's going between the legs, driving to the hoop from beyond the arc, and now he's even got the NateSmith Special.
2.) The block/charge stuff really needs to change in the NBA. The entire second half felt like a contest of which humongous pro athlete could collapse in a heap more effectively.  Everyone is tired of watching what should be the most athletic plays ending in either a block or a charge.  Come on NBA.  Allow the defenders to contest the shot in the air without it automatically being a foul.  And don't call charges when a guy is TRYING to avoid the contact but happens to graze the tip of someone's hip as he passes it to an open 3-point shooter.  It's just unbearable.  The officiating was bad tonight.  So many late whistles.
3.) The Cavs look lost when Kyrie Irving is double teamed and the league is taking notice. More and more I watch defenses either outright trap him shortly after he crosses the timeline, or shield a zone defender towards him.  When teams used to do this to LeBron it was 'pick your poison' because no one could pass out of a double team quite like LeBron James.  He'd rise up a foot over any outstretch hands and fire a bullet across the court right into the gut of any teammate spotted up for a corner 3.  As the Cavs progressed from Lucious Harris/Ira Newble to Donyell Marshall/Damon Jones to Boobie Gibson/Mo Williams it became less and less effective to double LeBron.  Right now Kyrie is pretty effective at splitting double teams with a bounce pass, but when he tries to pass over the top he sort of lobs a softball up there and it's not only a risky pass but it gives the defenses all kinds of time to recover.  They are not being punished for committing a double team.  I've been secretly hoping all year that Dion Waiters could be that slasher that punishes defenses for doubling Kyrie but their chemistry is poor and Dion someone dressing up as Dion isn't very effective without the ball.  Byron Scott is going to have to work out a better offensive framework when teams start trapping Kyrie.  The Warriors and Pistons did it and they didn't wait until the last 2 minutes of the 4th quarter.
In Game Notes:
1st Quarter
-Cavs playing well when they get out on the break, not so much in the half court.
-Brandon Knight looking to attack Kyrie Irving.
-Tristan being active early.  Saves a fast break by following the miss.
-Refs calling it tight early.
-Cavs with a 45 second stint of seriously ugly basketball.  Dion blows a dunk, then turns ball over on next possession.  Cavs down 22 – 11.
-Irving with a steal and layup.  Then a nice 2 man game with Speights to bury a 3.
-Pistons go to man and 1 man zone on Kyrie to end the 1st with great success.  Cavs practically abandoned the court.
2nd Quarter
-Livingston/Miles back to back assist/buckets to start 2nd.
-B Scott checks TT back in after Drummond gets oop.  TT does great job pushing AD away from hoop.  Cavs leave him out to dry by letting Charlie V penetrate.  TT penetrates from top of key and scores on AD.  Cavs perimeter D breaking down.
-Tristan goes back to the well and scores on Drummond from the perimeter.  Will Bynum does his best Tristan Thompson impression.  Cavs can't get stops.
-Wayne Ellington with a quick trigger.  Cavs can't stay in front of Will Bynum.
-Tyler Zeller blows uncontested alleyoop.  Ouch.
-Cavs looking a step slow but Detroit missing wide open shots everywhere.
-AC made mention of TT possibly banging his knee on the 2nd drive against Drummond.  Does look a step slow suddenly.  Hopefully just a stinger.
-Tristan drives from the top of the key – hits 10 foot floater are you KIDDING me??!?! (new addition)
-Cavs just not playing any defense at all.  At all.  Down 11.
-Tristan from top of key, goes through legs, drives right – gets pushed that way by Maxielle, pump fakes, does a pivot and lays up with the left hand.  (someone help me find my jaw)
-Kyrie doesn't pass out of double teams well
-Mo Speights hits his 6th NBA 3-pointer in his 5 year career with form that suggests he could be making 5 a week if he wanted.
Halftime  Tristan Thompson 6/7 rest of Cavs starters 4/20.
3rd Quarter
-Cavs starters continued lack of effective offense – taking lots of jumpers.  Detroit now making shots.  Up 17.
-Dion attacking a bit now, could use more of that.
-Rodney Stuckey just going right at Dion repeatedly.  Still repeatedly.
-Tristan Thompson looking a little gimpy – still engulfed in flames.
-Thompson misses 75 foot heave by inches.  Looks completely gassed maybe sore.
4th Quarter
-Livingston running the offense well.  Blocks/charges out of control.
-Speights throws down a pretty fierce dunk off nice interior dribble move.  Then buries jumper.  Instant timeout from Detroit.  Does Byron ever call instant timeouts to cool another team down?
-Sad the Tayshaun Prince era over in Detroit.  Always liked Tay.
-Cavs bench in for entire 4th.  They played well all night.  Trimmed lead down to 9 but couldn't break through as Pistons got into bonus early and shot a ton of FT.
-Wayne Ellington and Shaun Livingston nice pickups.
-Cavs couldn't ever get stops tonight.  Pretty bad showing.  Would be nice if the Cavs showed some more aggression/mean streak in these division games.
-Omri casspi checks in with 1:15 left.  Ok.  I'm sure he'll fire up 2 misses to lower his FG% and people can continue justifying him sitting.