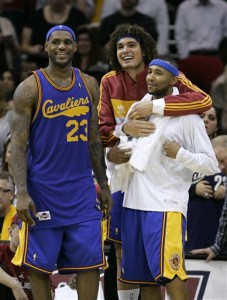 "He drew a swashbuckler and wrote an essay — about how the name "represents a group of daring, fearless men, whose life's pact was never surrender, no matter what the odds" — and submitted them." [Bill Lubinger on the creative mind behind "Cavaliers"]
"The question will be whether the team elects to keeps an extra big man or a spare guard." [Mary Schmitt Boyer]
"LeBron set to play tomorrow in Philly. Antawn Jamison likely to sit with sore knee." [Brian Windhorst Twitter]
Anyone else wonder what Delonte West's fancy table manners are like?  I just hope D Green remembered the doe-nutz.
"I've never mentioned a single player's name, publicly or privately," says Knicks president Donnie Walsh, who faces daily the most virulent strain of Get-Us-LeBron-or-Else fever. "I want to have financial flexibility because that's the only way you can build the foundation of a title-contending team." [Ric Bucher – ESPN]
Using the Four Factors, Neil Paine creates lists of past teams that relate to all the current teams.  The Cavs are similar in the Four Factors to the 2006 Miami Heat.  (Shaq+DWade + Shooters, sound familiar?)  From this list, the Orlando Magic have the most similarity to title winning teams.
Commenter BradleyH with an in-depth statistical look at the idea of being a 'pure' scorer:  "Maybe because giving LeBron everything is a little anti-climatic, or maybe because he seems like more of an athlete than a scorer, LeBron gets knocked out of this running of purity."
I'm surprised the LeBron PER watch isn't getting any publicity.  Seems we get a "Kobe = clutch" almost every day but LeBron has a VERY good chance of posting the single greatest regular season in the modern era.  If the season ended today he'd be at 31.97 which would be the best.
The Big Care Bear with a tweet for all of us: "Be happy. I love u 4 being you"