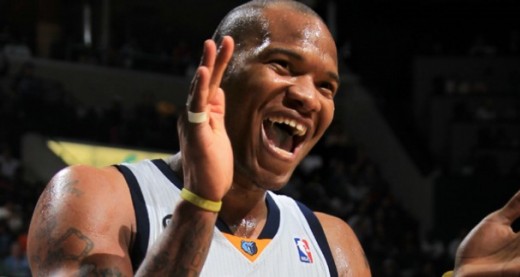 First, here's the rundown: the Cavs flipped Jon Leuer to the Grizzlies for Marreese Speights, Wayne Ellington, Josh Selby, and a future first-rounder. According to Brian Windhorst, the pick has protections on it that stipulate the Cavaliers will get the next Grizzlies draft pick that falls between sixth and fourteenth in either the 2013, 2014, 2015, or 2016 draft. So, while the Cavs likely won't see the Grizz pick this year, they have a decent shot at getting a lottery selection out of the deal in the long run. The deal is essentially a salary dump for Memphis, who wanted to get out from under the luxury tax threshold, and the draft pick a reward for taking on Speights's contract, which pays him $4.2 mil this year, and $4.5 mil next year if he picks up his player option.
While Speights was a cap burden in Memphis, the Cavs can use him right away. He's 6-foot-10, 245 pounds, and can play at either front court spot. In Cleveland, he will probably split minutes with Tyler Zeller (who will start and who will come off the bench is anybody's guess), which is good news for Tristan Thompson, who can go back to being a full-time power forward. Speights isn't the next coming of Tim Duncan, but he can shoot a little bit, and he's an excellent offensive rebounder. He has had a sub-par year-and-a-half in Memphis, where his true shooting percentage declined from about 53 percent in his three years in Philadelphia to 49.1 percent last year and 47.4 percent this year. But then, he's not a scorer, so it's not like he's shooting those percentages while taking 10 shots per game. With the Grizz, he was an eighth or ninth man, which is probably his ideal role, but he'll fit in quite nicely on a Cleveland team that has almost zero frontcourt depth.
It's up in the air whether or not Speights will pick up his player option next year. From a financial standpoint, it makes sense, but will he want to play in Cleveland after spending the past 18 months with a fringe title contender? The Cavs can deal with whatever decision Speights makes. It's not as if they are planning on signing Dwight Howard in the offseason; they can afford to pay Speights if he wants to stick around without injuring their cap flexibility in any meaningful way. (And if Chris Grant and company think Speights is leaving, perhaps they will flip him for another asset. The Grizz didn't hate Speights; they were just looking to get under the luxury tax threshold. He has some value, and would be a nice addition to a contender's bench.)
If you need a point of reference for Wayne Ellington, he's not dissimilar to Boobie Gibson, except that he's 6-foot-5 (per Draft Express's pre-draft measurements), which is a more respectable size for a spot-up shooter who's not an exceptional ball handler. Though he had a rough season in Minnesota a year ago, shooting 32.4 percent from beyond the arc, Ellington appears to have relocated his shooting stroke. He has made 42.3 percent of his three-pointers in 40 games for Memphis. On a team that doesn't have a lot of shooters, Ellington is a welcome addition. Like Speights, he's not going to extraordinarily alter the Cavs, but he will be a steady bench player on a team that doesn't have many viable bench options. Ellington is also a restricted free agent at the end of the season, so he and the Cavs will have an opportunity to feel each other out over the second half of this year. If the Cavs don't want to pay him next season, he can walk, and if they're intrigued, they can give him a $3.1 mil qualifying offer and see what sort of offer sheets roll in.
Josh Selby is a player I inexplicably like who will probably be out of the league in a few years. He's only 21, and hasn't played much for the Grizz since they drafted him in the second round of the 2011 draft, but he's been pretty dreadful in very limited minutes. He's a career 33 percent shooter, turns the ball over way too much, and has a career PER of 2.7. I was curious why no one took a flyer on Selby in the late first round or early second round of his draft, but then my college basketball knowledge is roughly equivalent to that of a dead man, so perhaps I was wrong about a player I had seen play maybe twice. At any rate, Selby's a young guy with some talent who probably won't work out. The Cavs can run him through some practices, throw him some garbage time minutes, and roll the dice on the two percent chance he becomes a rotation player. He probably has a better chance of making something of himself on a bad team like the Cavs than a good team like the Grizz who aren't going to risk losing games just to give him minutes.
* * * * *
In sum, this is a great trade, though it's important to keep scale in mind. The Cavs got something not-insignificant for Jon Leuer, who hardly saw the floor. Because they had cap space, they were able to absorb a couple of contracts another team needed to unload and picked up a draft pick in the process. And two of the three players they acquired, who were a cap burden to the Grizzlies, also upgrade the Cavalier bench. It's about as perfect a deal as any Cavs fan could have hoped for, even if, in the long run, it might not have a remarkable impact.
But I want to talk about a plausible scenario in which it does. With this deal and the Omri Casspi-J.J. Hickson swap from a couple of years ago, the Cavs own two future probable lottery picks that they're going to gain access to in an indeterminate number of years. These two trades aren't as exciting as the one that brought Baron Davis and a top-10 lottery pick (that eventually turned into the first overall selection) to Cleveland, but they might end up being crucial to the development of the team.
Let's say, over the next few years, Kyrie Irving, Dion Waiters, Tristan Thompson, Tyler Zeller, and their 2013 lottery pick all improve incrementally. Chris Grant hangs onto the guys he acquired in this trade and/or fleshes out the roster in free agency. He doesn't splurge, but he assembles a decent bench. The Cavs, in the 2014-15 season, grab a seven seed and push the Bulls to seven games. They're a team on the rise. Not great yet, but they're young and talented and look like they could have an outside shot at title contention if they continue to improve and add a couple more pieces. This is when those draft picks become valuable assets. The protection on the Sacreattle KingSonics' pick finally dwindles to the point that the Cavs can use it, and they're now a playoff team with a pick in the top-10 in the upcoming draft. The next year, Memphis falls off and the Cavs land the 13th pick in the draft. Once they're in possession of these picks, they can try to fill out their roster with young, cheap talent—say, bring a rookie off the bench for twelve minutes per game, and tell him all he has to do is play defense and make open threes—or they can flip the picks for more established players.
That's a plausible future, right? The deal the Cavs made this morning can help make the above scenario a reality. If and when their current core realizes its potential, they will be able to continue to reinforce their roster, not just through free agency, but through the draft and the trade market. Chris Grant, since the day he took over for Danny Ferry, has stressed that he was going to value flexibility. Today he capitalized on the cap flexibility he has maintained over the past three seasons while also making sure the Cavs will remain flexible in terms of their ability to acquire players and assets three-to-four years down the road when they're (hopefully) a markedly better team than they are now. Grant doesn't want future Cavaliers teams to be like the current-day Knicks, Celtics, and Lakers, who clearly need to get better but don't have any valuable assets with which to do so. This salary dump deal isn't the blockbuster Andy Varejao trade that some wanted, but it's a smart move that might pay significant dividends in the future.