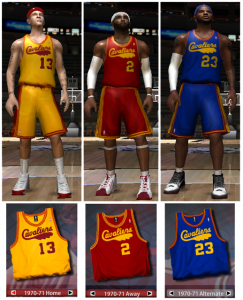 Brian Windhorst talks Mo Williams, Leon Powe, and the Cavs playoff matchups in his weekly podcast.
Lots of injuries for the Cavs – fortunately, only Shaq's is serious.
"The Clippers, according to another source within the organization, are hoping to persuade James to come if he also can pick his coach, and possibly his general manager." [Tim Povtak – Fanhouse]
"Hey LeBron, come out to L.A.  You can pick your GM, your coach, your teammates.  Anything you want to be a Clipper – you can do anything but rent from me." [Adrian Wojnarowski]
"Almost as good as when Clips were going to let Kobe pick his arena RT @benmaller: Source: Clippers will let LeBron pick his coach & GM." [Brian Windhorst – Twitter]
"I was watching the Larry Bird-Magic Johnson documentary the other day," Durant said. "I'm similar to Bird. I like being at home. I like staying at my mom's house and her cooking. That's the kind of person I am. I'm not into the big city lights and the paparazzi, that type of stuff. I just love playing basketball and chillin' out." [NewsOK]  "DOES. NOT. COMPUTE." [New York Media]
"As a result, the most likely scenario is a battle between Toronto and Chicago for the East's final playoff spot. It's not exactly a riveting race at the moment — the two sides have combined to lose 11 of 12 — but at least one of them should be at .500 by the time the music stops." [John Hollinger]
Check out the Cavs 3 point shooting at NBA Hot Spots.  Here's what I noticed:
1.) Z is 0-5 from the left corner and 10-16 from the right corner.
2.) Boobie shoots well above 50% on 3s from the wings.
3.) Jamison has been awful from the corners and money from the wings.
4.) AP loves both corners equally.
5.) D West is money from the wings and has not made a 3 from the top of the key yet.
6.) Mo is the only Cav comfortable hitting 3s from the top of the key.
7.) The Cavs as a team are dominant on corner 3s, wing 3s, and scoring in the paint.