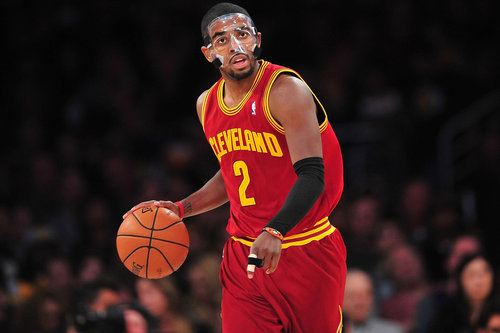 I get that reading this blog is sometimes like being bored into by the hum of fluorescent lights. It's not intentional—it's not our mission to drag this team through the dust; rather, it's dragging us through the dust, and we're trying to narrate as our mouths fill up with gravel—but the bleakness and mock-giddy fatalism that has permeated C:TB over the past few years is a product of accumulation and circumstance. We're not particularly invested in using the word "terrible, "and, in fact, would prefer to use it sparingly, but it's something that comes up a lot. This ball movement is terrible. C.J. Miles's shot selection is terrible. Luke Walton—friend of famed 16th Century painter Peter Bruegel—is terrible. We're all poking a dead body with sticks and trying to come up with novel things to say about the experience. I'm an advocate for using the mundane and the numbing as a window into talking about a multitude of interesting things—tedium is a garden for creativity and all that—but when you get down to it: we're corpse-pokers. Sometimes we're tried, and we don't use the mundane and the numbing as a window into interesting things. We poke the corpse and go "See, it's a corpse." We breathe the sort of dream-breath that doesn't feel like anything.
We also try to build with our imaginations a day when we won't be corpse-pokers. An imagined future is the preferred domain of the bereft fan, and so, sure, we entertain and linger in a world where Dion Waiters makes good on his Dwyane Wadeish flashes; Tyler Zeller puts on 20 pounds; Kyrie Irving competes for MVPs. And then we stand over a corpse and try to figure out how we get from here to the place in our heads. We assemble various talents into a team that makes sense like molecules do.
Last night offered a glimpse of a path forward. The team was unified and fun to watch and almost came apart but didn't. The various talents cleaved to one another through one of the very best Cavaliers' performances of the year. Let us recap:
–In the first half, the Cavs were excellent. On defense, they were characteristically opportunistic, swarming passing lanes and trying to knock the ball free—the Cavs nabbed three steals in the opening period, which led to six easy points on the other end—but they also put in the extra effort to scramble back into position off double-teams and steal attempts. The rotations were quick and decisive, and it seemed like every time the Blazers made a smart pass to relieve pressure, a man caught the ball and was covered within a half-second. We're used to seeing Cavaliers opponents shooting open jumpers as a defender half-heartedly runs at the them, but the Blazers really had to work hard to get a decent look at the basket. And, of course, good defense yields good offense: the Cavs were able to get a few buckets and trips to the free throw line in semi-transition off of missed shots and defensive rebounds.
–Offensively, the Cavs executed about as well as a basketball team can. Their off-the-ball movement was remarkable. One of the things I noticed was that, when a guard penetrated into the lane, the man who usually sits in the corner cut down toward the basket parallel to the baseline. They got some dunks and fouls off of that movement. The interior passing was also impressive. I joke about Luke Walton being old, but he sees the floor really well—in the second quarter, he gifted Tyler Zeller a couple of easy baskets. I would have to look at some tape of Tristan Thompson last year, earlier this year, and over the last couple of weeks to figure out if this is something he has recently started doing or if I just hadn't noticed: he seems to have a much better idea of where on the court he and his teammates are when he catches the ball. When he moves across the lane, in particular, he keeps his head up, and once or twice per game, it seems to result in an open jumper for a teammate. TT also just had a tremendous night in general aside from some missed free throws down the stretch. In the first quarter, he was flying all over the place and accumulating a bunch of garbage buckets. And that little floater/hook in the lane is getting softer and softer every day.
–Things fell apart after the first 24 minutes. The Cavs had their usual third quarter swoon. The ball stopped moving as well as it had in the first half (11 first half assists vs. 5 second half assists). Portland started hitting some shots and the lead dwindled. Then Kyrie Irving did that thing where he transforms into a basketball-playing pterodactyl in the fourth quarter. He was phenomenal in the final period, and about as under control as you can get when you're a giant flying death lizard playing a children's game. The most spectacular play he made was where he bobbled the ball, might have double-dribbled (did Dame Lillard get a finger on the ball?), and hit a turnaround fade from a tough angle. He did this about as leisurely as you or I reach down to pet a dog. He also did about eight other things that were remarkable in their own right. Go find the video. Words won't really suffice.
–Additional Kyrie note: his play was calm as ever, but between plays he was really demostrative as the Blazers threatened to wrest the lead from the Cavs. He was in Tristan Thompson's ear; he was talking to himself and/or Blazers players after nailing buckets; and he generally bounced around a lot more than he usually does. I don't know if he was upset with his poor performance against the Kings the other night or what, but this was a fiery iteration of Kyrie that one rarely sees. I liked it, at any rate.
–I also liked when Luke Walton hit Tyler Zeller with a nice pass, Zeller absorbed some contact and converted, and Walton gave T-Zell a little gleeful shove. I wonder if Tyler's just a nice dude who takes a little encouragement to get going because it seems like his teammates give him an "atta boy" whack or two every game as a reminder that—despite the fact that he's overmatched physically—if he really exerts himself, he can get the job done. Which he did, tonight: 11 points, 2 blocks, and 5-for-5 from the free throw line. J.J. Hickson, especially early in the game, got around him a few times for offensive rebounds, but Zeller played well.
–Dion Waiters had a comedown game after having one of his best games of the season against the Kings the other night. He went to the rim a few times in the first half, couldn't finish, and I think he got frustrated. He ended the night with five points on 1-for-9 shooting. Just graft Sacramento Dion onto tonight's performance, and you have the Best Case Scenario Cavs teams we're all dreaming about.
The Cavs head to Utah to take on the Jazz on Saturday. Until tomorrow, friends.