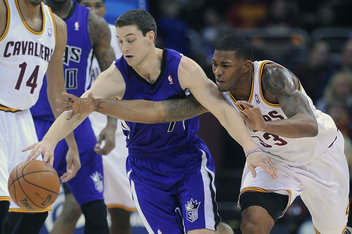 The Cavs lost narrowly in a game that featured no defense whatsoever. Let us recap:
–I'm not going to worry too much about the outcome of this one. Or any other Cavs game this year, for that matter. The Cavs struggled down the stretch after clawing their way back into the game in the third quarter and came up short. It's nothing to lose sleep over. But one troubling thing: we got a serious dose of Kyrie Irving isolations, and normally, I'm fine with Kyrie Irving isolations late in games because I like seeing him dart down the lane through a double team and around a looming big man, but in this particular game, Dion Waiters was playing terrifically, and I would have liked, if Byron Scott could have possibly been bothered to coach this team a little bit, if Waiters could have slid into the corner-three spot normally occupied by Alonzo Gee so that Irving would have a better option to pass to when he inevitably got double-teamed as he tried to dart into the lane. Instead nothing changed, Irving got stripped a couple of times driving to the bucket, easy lay-ins for the Kings, etc. Maybe Kyrie wouldn't have passed the ball to Waiters either, but, y'know, maybe at least get the guy who had flames shooting out of his butt into a position where he might possibly touch the ball so that the defense has to think about him.
–By the way, this might have been Dion Waiters's best game as a Cavalier. (With the time he rained flames from heavens against the Clippers being his other notably great game.) Saint Weirdo was really smart in taking it to the rim and drawing fouls in the first half, and then at some point in the fourth quarter, he did that Dion Waiters thing where he took some unconscionably bad shots and just kept hitting them. He finished the game with 33 points on 12-for-18 shooting. He also got to the line eight times (converting six of his attempts), and pitched in five assists. A really, really impressive performance, even against sub-par defense. It's these sorts of games that give us hope.
–Tristan Thompson had a nice game as well, putting up 17 points and 15 rebounds. He also was the only guy on the court who seemed to bother DeMarcus Cousins (who played very well: 26 points and 14 boards) when DMC caught the ball near the paint. Another coaching note: if TT was the only player on the Cavs' roster capable of keeping Cousins somewhat in check, why was Zeller allowed anywhere near him? I can perhaps see the wisdom in not sticking Zeller on Thomas Robinson because T-Rob's a little too athletic for him, but why wasn't Jason Thompson (a good player in his own right, but he's no DMC) Zeller's assignment whenever he was on the floor? I'm not criticizing Zeller at all for getting beat up by Cousins: he just can't handle him at this point in his career. He was put in a position to fail, and I don't really understand why. Besides, it seems like Thompson is beginning to relish his role as a defensive stopper. With Andy out, why not throw him on the other team's best big the whole game and see what he can do?
–I would analyze other players in this game, but it's difficult to parse the numbers in a contest that featured almost no defense. 12 players finished with double-digit scoring totals, and the teams combined to shoot 49% from the field. Under normal circumstances, I would be applauding #FREECASSPI for putting up 10 points or C.J. Miles for putting up a (I swear) very quiet 17 points, but, y'know, this one finished 124-to-118, so those numbers are a little inflated. It was a fun game to watch, though, especially if you like freneticism for freneticism's sake.
The Cavs travel to Portland Wednesday to take on the Trail Blazers. Dame Lillard v. Kyrie Irving should be fantastic. Until tomorrow, friends.