Five Cavs questions for the writers – all in one place.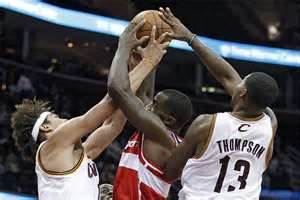 Question 1: Will Anderson Varejao's torn quad (out 6-8 weeks) affect the big picture rebuild much?
Dani: Sadly, it will. Andy's trade value has plummeted, and will remain low even when/if he returns. Fair or not, he already had a reputation as an oft-injured player, and this will make him very tough to trade. Now, there's another line of reasoning you could take here– if you were against trading him, then I guess you got your wish, and the prolonged absence will certainly get us a higher lottery pick. But it's hard for me to see the silver lining in losing our second-best player and (probably) losing a lot more games.
Mallory: Andy being out is great for Tristan, moderately bad for the rest of the team, and horrific for his trade value.  Tristan has thrived in Andy's absence.  I see no reason that won't continue.  Kyrie, though, loses  his most trusted scoring option off the PnR, which will likely lead to a continuation of that ISO offense we've all grown to hate.  That could potentially lead to some bad habits from this young team.  We may win fewer games now than we ever could have imagined, which I'm sure some people will applaud, but I for one think that's worrisome.  That's a different topic for another day, though.  Finally, Andy's trade value, in my mind, has probably fallen substantially.  For three straight years Andy has incurred major injuries.  I think it's time to officially call him injury prone.
Kevin: I will punt and say this question is impossible to answer. We have no idea what would have been on the table for a trade in February (or December). Maybe with the injury though, the Cavs draft Shabazz Muhammad, all the young guys blossom, and Andy hits a game-winning tip-in over Serge Ibaka in the 2017 NBA Finals. I do think that moving forward Cleveland needs to work on minute reduction for Andy during heavy parts of the schedule.
Nate: Andy's injury will be a blessing in disguise.  They won't trade him now for some mediocre assets, and I won't have to consider Dani Socher  a leper for pushing the Andy trade bandwagon.  When the season of ascension starts (2013-2014), Andy will be right in the thick of things.  Alternatively, they can try to trade him this off-season for a disgruntled Kevin Love.
Tom: Only if they were hell bent on dealing him this year to (presumably) a contender.  The Bill Simmons/Zach Lowe conversation about Andy to OKC for Toronto's (mildly) protected 1st, Jeremy Lamb, and Kendrick Perkins' albatross contract would have changed the dynamic of the rebuild.  But I doubt that would have happened.  So I think the "effects" will be less wins, more ping pong balls, more minutes for the youthful bigs, and less chances Andy suffers a serious basketball injury during unintended tankapalooza.  (Like that spin?)  Also, I mentioned in a comment that after the news, a rumor would surface about a failed Cavalier trade with the implication that it failed because the Cavs are stubborn.  Already happened – and I don't believe one bit of it.  Won't be surprised to see more.
Question 2: Describe a play the Cavs run effectively or that you enjoy watching.
Dani: I have to go with every time C.J. Miles pulls up from 28-30 feet. When he gets going, he has unlimited range. That jumper is silky smooth. Very few players in the NBA can run off picks and drain threes with barely a moment to set their feet. But when C.J. goes unconscious, watch out.
Mallory: In honor of our fallen vet, how much do we all miss the Kyrie to Andy PnR?  They had it basically perfected.  I'm also slowly becoming a fan of Tristan's bunny hop off-the-backboard shot.  Not really a play, per se, but it's fun to watch.
Kevin: Kyrie to Andy pick-and-roll?
Nate: My absolutely favorite play the Cavs run is on defense when they decide to hard trap the pick and roll on the wing.  More and more teams are putting shoot-first guards in this play, and against young teams that don't move the ball that well, hard traps can be a great tactic.  Kyrie's defense is getting better, as is Waiters'.  They seem pretty competent at trapping, as are Gee and Livingston.  Zeller and TT play the passing lanes pretty well, so when the Cavs blitz the pick and roll aggressively, they often get turnovers or make the other team burn a lot of the shot clock to get a good look.  It can lead to easy baskets when good team recognize it and make the appropriate adjustments, but springing it on an unaware team has been a nice wrinkle over the last several games.
Tom: In my opinion the Cavs don't run any play effectively – and that's why they revert to hero-ball.  And that's the last thing you want out of a young team.  This season is about growth – they need to keep people in motion, feed the high post, send in the weak-side cutters, and set more screens for the spot up specialists (C.J. and Boobie).  They aren't risking home court in the playoffs if they experiment and try to get some creative shot opportunities from real offensive sets.  They don't trust their spacing or their passing, however.  There is a reason the Cavaliers offense gets worse by quarter.  Defenses will allow a low-threat team to launch transition 3s and show off Mr. Buckets….in the first half.  It's the reason C.J. Miles goes back into the telephone booth and puts on his business casual after halftime.  In the most recent win against Atlanta, the Cavs had 25 assists on 37 made baskets, or 68% assist rate.  On the season?  55%.  Big difference.
Question 3: Why is C.J. Miles exceeding expectations and Omri Casspi cannot get in games?
Dani: Because he's playing within his limitations. There's a common theme that runs throughout all of Miles' best games- he doesn't attempt to dribble. He's at his best running off screens and  shooting only from downtown. When he spends games trying to penetrate and score in isolation, it gets ugly. Casspi I won't blame. I blame most of his disappointing play on Byron Scott's absurd treatment of him. He's barely allowed on the court.
Mallory: I'm almost certain that more than a few of us said this at the beginning of the season – guys like C.J. Miles and Omri Casspi – young players still trying to find their place on a team – thrive from consistency.  C.J. has been a revelation since starting simply because he now has some confidence.  Likewise, the lack of playing time has continued to sink Casspi.  For more of my thoughts on Casspi see my article from Monday.
Kevin: I could probably give him credit for only the last twenty-five games, but inconsistency is part of my understanding of the C.J. Miles experience.  His season-to-date PER, offensive rating, win shares, etc are in-line with his career marks. His shooting from deep looks great, but a lot of his strengths from prior seasons have declined this year; his assist rate and steal rates are down, with an increase in turnover rate. He needs to keep shooting, but hopefully by next season he can settle into a bench gunner role. Casspi got a bad rap due to his horrendous play early in 2012, but he's a 6' – 9" small forward with a higher defensive rebounding rate than Tyler Zeller.  He converts 36% of his career threes. Both opponent-PER and RAPM consider him a league-average defender.  That he cannot supplant Luke Walton, who has not posted a double-digit PER since 2008 – 2009, makes no sense.
Nate: C.J. Miles stats are baffling.  He might have the highest standard deviation per game PER of any player in the league.  He is all over the map: game to game, week to week, month to month, season to season, going all the way back to his Utah days.  He can have incredible stretches and then play an absolute stinker.  He's the Colin Farrell of NBA players.  When he's good, you can't take your eyes off him.  When he's bad, he is capable of destroying careers.  One game will be In Bruges, the next game will be the Miami Vice movie.  So my expectations for him early on this season and in preseason were high (Tigerland, Minority Report…) then the season started and he was abysmal (Alexander, Miami Vice), and then he redeems himself with some stratospheric performances (In Bruges, Seven Psychopaths).  Like Farrell, Miles seems better as part of an ensemble than when he has to carry the team by himself.  C.J. Miles has simultaneously exceeded expectations and disappointed this season.  (Also, if you haven't seen In Bruges, it's one of the best kept secrets of the 21st century).  Like Miles, Casspi needs minutes to shine.  These guys aren't low minute players.  They need a groove: regular minutes, a chance to figure out where their shots are coming from and confidence that they're not going to get pulled the second they screw up.  I don't want to conjecture why Casspi can't get off the pine.  He was a lone bright spot off the bench earlier this year, and then he got the flu, and then he lost his rotation spot to Luke Walton and Co.  He's an underrated defender, a decent spot up shooter, an aggressive rebounder, but don't think Scott likes him for whatever reason.  I'm thinking Casspi tossed his cookies on one of Byron's handmade suits when he had gastroenteritis in December.
Tom: Miles took offense to my first Trends, Ranks, and Outliers piece, obviously.  Here are his shooting stats before and after the date of that post.  30% FG, 25% 3PFG / 45% FG, 46% 3PFG.  In all seriousness, he may have had an injury or conditioning problem early in the season.  It looked like his mind and body were not in sync as he seemed as surprised as anyone that he couldn't shoot or dribble or give a high 5 without something terrible happening.  David Wesley promptly retired after that infamous layup.  Miles was doing that repeatedly and just keep on.  It might be hard to notice this now, because Miles is a very "soft" player, but he is extremely athletic.  He is very valuable to the Cavs (in the first half) when he's raining 3s all over opponents.  Casspi's benching has drawn my ire as he is 24, seems to play very hard, and in limited time, his advanced stats indicate he is effective.  For many old timers, Danny Ferry will forever be unfairly mentioned alongside Ron Harper.  For me, Casspi will forever be (also unfairly) mentioned alongside J.J. Hickson (really, whatever he becomes in his prime).  At least Ferry was a staple of the Cavs rotation.  I really don't understand why Casspi doesn't get minutes.  I laugh at all the fans saying "because it's OMRI CASSPI" or mentioning his underwhelming shooting percentages.  Have you watched this team?  Have you seen Dion Waiters shooting percentages?  What about Luke Walton's?  Alonzo Gee's? The aforementioned C.J. Miles before he played his way out of it? [deep breath] Casspi's TS% is 7th on the team.   Casspi's 24, not 30 – yet somehow the "well he's only xx" is reserved for Tristan Thompson round these parts.  Give the guy a chance.  According to 82games, Casspi is 4th on the team in PER vs Opponent PER differential, and 8th (6th if you don't count Livingston and Jones who have played 1/5th as many minutes) in net On Court / Off Court.  Why, then, is he the 12th guy off the bench?  The Cavs have killed his confidence and his trade value.  I'm sure they'll deal him for a chalupa (make up for the Atlanta game), he'll become a solid 7th or 8th man on a decent team, and I'll be arguing against this line in 2 years "well he WASN'T going to figure it out here".
Question 4: Is the "ready or not" nature of Tyler Zeller starting good for his long term growth?
Dani: Yes, I think it. Zeller is going to have to learn to play defense at some point, and watching tape can only get you so far. The in-game experience will help him tremendously, even if it won't help the team all that much. One cannot learn how to defend an Al Jefferson hook shot until one is forced to defend that shot over and over again. That may not be a fair example, actually– no one can defend Al Jefferson, and I really hope we sign him this summer.
Mallory: Realistically I think it's a push.  Zeller doesn't have any seriously bad habits beyond shooting from outside the paint poorly (although I think that'll change) – he's just not very strong or athletic.  Eventually I think he'll find his groove as a 6th or 7th man off the bench, but starting now probably won't do much to hurt or help him.
Kevin: A psychology question about Tyler Zeller? These are tough queries today. Has someone studied the career progression of player's that saw 500 – 1000 minutes of action during their rookie year versus those with over 1000 minutes? Without knowing his propensity for discouragement, my inclination is that the repetition will help.
Nate: To grow in the NBA, one needs minutes.  Tyler is in the incredibly fortunate situation (for him) of being able to play long minutes and learn on the job.  He is already impressing me with his ambidexterity, his post game, and his overall team defense.  I believe he is among the league leaders in charges taken, and he moves his feet well.  What will help him most by playing is learning to play at the speed of the NBA game, and how to play with Kyrie and Dion.  The other changes in his game will come in the weight room, as he will need to put on some weight to play on the block.  It's no secret he gets regularly abused there.  Muscle, experience, and film study will help ZPA.  He seems a step slow to recognize players moves and film work would help that a lot.  But no young player ever got worse in the NBA by playing regular minutes, except maybe Luke Harangody…  (too soon?)
Tom: I suspect so.  Zeller doesn't strike me as someone that might become mentally compromised by all the bullying he gets on a nightly basis.  (It's mentally "compromising" to watch)  He's not a "swagger" player so much as a hustle guy.  He'll continue to do that and he'll either get better, or the Cavs will have to devise schemes to hide his defensive shortcomings.  Either route requires lots of burn – so I'm glad he's getting it.  He has a Jamisonian touch around the hoop, and at 7 feet tall – that is going to pay off with in-game experience.
Question 5: To what do you attribute Tristan Thompson's more robust production recently?
Dani: The absence of Anderson Varejao, combined with a much improved touch around the rim. First: Andy's absence has given Tristan an opportunity to control the post for the Cavs on both ends of the floor. The two big men have very similar skill sets, as hustle players who specialize in offensive rebounding. To some extent, having the two of them on the floor at the same time is redundant. Tristan also has developed his offensive game quite a lot, mostly through improve touch. He takes the same shots as he did before, but there's more arc on everything he shoots now, and they go in much more often.
Mallory: A few things.  First, without Andy there are just way more rebounds to go around.  Also, the lack of play time for Casspi has basically removed the third or fourth best rebounder on the team, so Tristan is in an even GREATER position.  On offense, Tristan has started to ditch his gather-attempt-to-dunk-but-get-blocked shot in favor of that bunny hop sky hook backboard thing he's been doing, and it's working.  Finally, TT was always a decent defender and he's using his ample playing time to learn even more about positioning, etc.  All in all, he's starting to use his skills appropriately, which is all we can really ask right now.  Hopefully in the future he can develop additional skills to add some depth to his game.
Kevin: I think he was a young, hard working player that was bound to improve. His baby-hook has shown a significant improvement in consistency. That said; it's a small sample size. Just as responding negatively to a few games is a bad idea, I wouldn't recommend over-correcting based on ten games.  Prior the Bulls, the previous four opponents ranked 17th, 21st, 29th and 30th in defense. Are opposing team's game-planning around Tristan Thompson or spending much time studying tape of his moves & tendencies? This stretch has been hugely encouraging, but my opinion on TT is still fairly similar to two weeks ago; that of a solid, yet non-spectacular individual future.
Nate: Tristan has become much more productive for a few reasons.  First, according to Austin Carr, he's shed some of the weight he put on this offseason.  He looks leaner, and his bum doesn't look nearly as big.  I think he wasn't comfortable playing at the weight he was at, even if a lot of it was muscle.  Second, the man works.  No one can improve like he has at the free throw line without some serious work.  Every game his shot looks less mechanical, and more fluid.  Yes it would be nice for him to get more air under his shot, but if you watch him shoot free throws now as compared to last year, it's a sea change.  Additionally, the post game development must have required a ton of work too: most significantly the ability to shoot a hook shot with both hands out to 11 feet.  He also has learned to go to the right hand whenever he wants, as he's just as effective with it, if not more so.
Thompson's rebounding prowess has to do with Andy being out (more boards to go around), and general aggression.  Canadian Dynamite must have watched a lot of film of Andy, because he's learned to block out then bounce off his man for the D-Board, just like Wild Thing does.  But he's also no longer deferring to the Brazillian.  TT had a brilliant sequence the other night where he showed on the pick and roll, recovered, challenged the shot, and then skied for the rebound on the other side of the basket.  He has a chance to be something special on defense.
The thing that gets me most excited about TT is that he has a chance to be something special on offense too.  He's already gotten very effective at two very essential post moves: the hook with either hand.  He really has no other move on the block (the counter is to go the other hand).  If he can learn an up and under, a step through, and the faceup drive (he has this a little, but often goes just a bit too fast), he will be hard to stop.  Go watch some Kevin McHale and Al Jefferson film, TT.  If Tristan learns to start using the glass with those moves, and learns to dunk one-handed, he will be incredibly difficult to guard.  That doesn't mention a jump shot (wisely, TT now takes hook shots instead of jumpers).  If TT can develop a jumper out to 18 feet, watch out.  He could be a 20/15 player.  [Inserted by Editor] All these skills are learn-able.  There's a chance the Cavs got the two best players from the 2011 NBA draft.
Tom: Roids?  Psychiatry?  That one session with Zydrunas they keep showing on FoxSports?  I have no idea, honestly.  Or I should say, OFFENSIVELY I have no idea.  The early season +/- and RAPM showed him to be passable and the implication (an implication about as subtle as an air horn) was that he must be contributing well defensively since the only thing he did on offense was inflate the other team's block totals and put dents in the backboard.  He looks totally different now.  Not only is he more decisive and confident, he simultaneously added a European touch (is that YOU, Z?) AND a Dwight Howard-esque toughness on rebounds.  Seriously, did anyone see him treat Josh Smith like a rag-doll?  He just ripped the ball right out of his hands.  A little over a month ago we were watching a mason with the creativity of a celestial orbit and the dexterity of those ridiculous mountain giants from The Hobbitt. TT looks completely different.  He is no longer a liability at the FT line either.  If it seems as if I'm overreacting to his improved productivity – it's because I never cared about his productivity.  He's 21.  I just wanted to see little flashes here and there that he had some greatness in him – some potential to realize down the road.  I think crediting his recent play to the absence of Anderson Varejao is a bit lazy if we consider how different he's looked recently compared to all of last year as well – they only played 47 minutes together all last season.
Commentariat, how would you answer these?