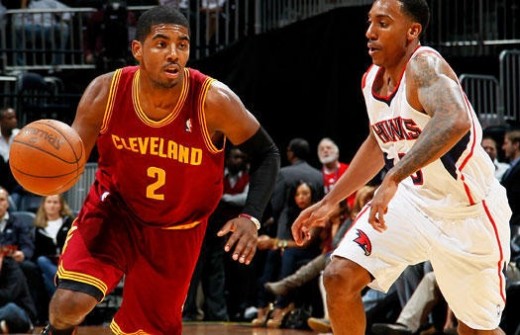 The Cavs turned in one of the best performances of the year to defeat a rather tired-looking Atlanta Hawks team. Let us recap:
–Your stat of the night: six Cavaliers recorded at least three assists, which is evidence that the ball was moving much better than it has during the majority of the Cavs' games this season. Because the Cavs don't have many players who can create their own shots, they have to work hard to manufacture decent looks and that means quick passes and movement off the ball.The Cleveland broadcast highlighted one such instance in the third quarter where the ball started with Irving on the right wing and moved from the corner, to the baseline, to the opposite corner, to the left wing, and all the way back to Kyrie on the right in a span of a few seconds. It didn't create a great look, but Irving caught the ball with the defender half a step off him, which is all he really needs to have a solid chance at converting a three-pointer, which he buried. At C:TB, we've been bemoaning the lack of ball movement on offense, and tonight demonstrated that the Cavs can be pretty effective on offense with a little extra effort and some luck.
–Of course, Kyrie Irving going all super saiyan helps, too. He took over the game in the third quarter, scoring 18 points, including a contested three from about 24 feet out at the end of the period, just to remind everyone watching that he's really, really good at basketball. Irving finished the game with 33 points on 11-for-15 shooting, four assists, and a pair of turnovers. His offensive performance negated what was a not-great defensive job on Jeff Teague, who had 15 points on 7-for-11 shooting and eight assists. Just another night for one of the league's best young guards: great offense, mediocre defense. Rinse, repeat.
–Tristan Thompson had a phenomenal first half. Full stop. No quibbles. He was a terror on the offensive boards, as he always is, but after corralling a miss, instead of resetting the offense by kicking the ball out to a guard, he finished around the basket with some nifty moves and even a powerful two-handed dunk at the end of the second quarter. TT was less phenomenal in the second half, when he sort of disappeared, but that's going to happen with a player that relies on garbage buckets. I thought he passed the ball out of the post pretty well. A couple of times, he came across the lane, and instead of taking a running hook (which he's hitting with greater frequency lately, but it's still not money in the bank by any stretch), he faked the hook and threw a jump-pass out to the perimeter. It's not like he's conjuring memories of Chris Webber, but I was happy he tried to draw the defense and find the open man rather than taking a tough shot.
–Tyler Zeller grabbed 12 boards but got pushed around a lot in the post. He's not strong enough to tussle with dudes like Pachulia and Horford and Smith. You know this. Moving on.
–Alonzo Gee had one of his better games, mostly due to a phenomenal first quarter in which he drained four three-pointers. In general, he just looked more confident when the ball came to him on offense. He was decisive, and we didn't see too many of those awkward moments where he tries to create off the dribble and fails miserably. (Though it still happened a couple of times. Baby steps, AG.)
–Dan Gilbert visited with Fred MacLeod and Austin Carr during the second quarter. I'm not Gilbert's biggest fan  because of the whining and apish bluster he sometimes exhibits when things don't go his way, but I was pleased with what he said in the interview. He admitted that the Cavs' record and their fourth quarter performances have been "embarrassing," but not in a "George Steinbrenner showing up his players in the media" kind of way. Rather, he admitted that the team is young and not very competitive yet. He stressed that fans have to be patient and allow a bunch of players who are in their early 20s to find their way in the best basketball league in the world. He understands that the rebuild is a Project (with a capital "p"). None of this is profound stuff, but I think it's easy for a man as rich and successful as Gilbert to insulate himself from reality as far as the quality and future of his basketball team (which is kind of a rich person plaything for a lot of NBA owners), and when your favorite team has one of those owners that lives in a fantasyland, it can spell disaster for your team. Gilbert seems to live in something approaching reality and has faith in the people to whom he has delegated very important tasks. He also said that when the time comes to splurge and outfit the team with additional help, money will be no object. All of this is very good news. High-five, Dan Gilbert.
The Cavs travel to Denver on Friday to take on the Nuggets. Until tomorrow, friends.