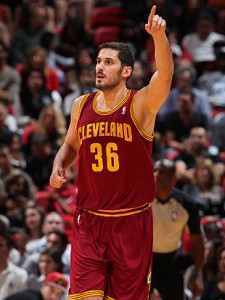 Bemoaning the bench has become a daily event for Cavs fans.  Luke Walton plays too much, there's no back up center on this team, and before Shaun Livingston appeared we didn't have a back up PG.  Of all the frustrations we've encountered this season, the lack of an NBA-ready  bench takes the cake.
So why, then, has Omri Casspi sat since December 21st (when he only played 1 minute)?
I'm not here to give answers, mostly because I don't have them.  We've all heard the rumors that he reportedly told Scott he couldn't wait to hit free agency and we've all speculated reasons, like that he doesn't work hard in practice, but to think that's enough to force one of our more talented role players deep into the bench is an oversight.
What I am here to say is that it's absurd that he's sitting.  For a few reasons:
First, while his raw shooting % is slightly down this year, his three point %, eFG %, and True Shooting % are all WAY up.  One of the biggest struggles the Cavs have had this year is consistent three-point shooting from people not named Kyrie Irving or CJ Miles.  Furthermore, taking out two of the final games he played on the 8th and 11th of December, where he shot 0-3 in both, he's actually shooting respectably in all aspects.  Given some more consistent play time, I have full confidence Omri's shot will begin falling again.
Second, Omri is one of the few players on this team that actually tries to rebound.  We know Tristan is a rebounding machine, and clearly more than enough has been written on the rebounding prowess of Andy, but Omri Casspi actually ranks third on the team in D Rebounding %, ahead of Luke Walton who has a paltry TS% of 34%.
Finally, Omri is one of the few Cavs that willingly plays tenacious D.  He's big, physical, and surprisingly strong for his lanky body.
I'd love to see some more Omri, particularly as a stretch four.  The Cavs have been throwing a CLEARLY overmatched Luke Walton regularly – it would make a lot more sense to give those minutes to someone who can actually hit his wide open jumpers.
What're your thoughts about Casspi?  Would you like to see him play more?
UPDATE:
Thanks to CtBer Tom Pestak for pointing this out.  We now know that Omri Casspi has requested a trade but that the Cavs seem unable to find one.  Looks like I picked the right day to cover this.
Oh boy.