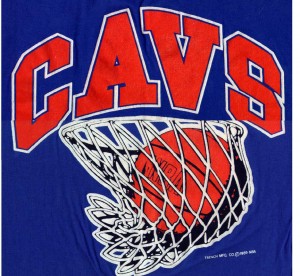 [Tom's Take]
There's a lot of strange similarities between the CAVS and the CATS.  They are both from cities that being with C.  They are both from cities whose basketball teams have been utterly desecrated by Michael Jordan.  They both sport a TT (Tristan Thompson, Tyrus Thomas) and I believe both teams TT's worked out with David Thorpe at one time or another.  They both drafted a scoring point guard last season as well as a big, defensive-minded project.  This year they both picked in the top 5 and selected an athletic wing.  Desagana Diop has played for both franchises.  Ramon Sessions spent the better part of the last 2 seasons on the CAVS, he will spend the better part of the next 2 on the CATS.  And now, both teams have 8 wins and have lost at home to a putrid team in the last 72 hours.  The Cavs to the Kings, and the CATS to the CAVS.  It will be interesting to see how these two franchises look in a year or two.  They both seem to be on the right track in terms of personnel, the Cavs having the advantage of a potential franchise cornerstone in Kyrie Irving.
The first half was possibly the Cavs' best of the season.  They dropped 62 points and everything seemed to be working.  They were up 14 and honestly it would have been much more if not for Gerald Henderson channeling his inner Ray Allen, draining all 3 of this triple tries.  CJ Miles' is TAKING ADVANTAGE of his starting role.  He came out launching yet again – his first 5 shots being 3s (he made 3 of them).  This has gone largely unnoticed since the Cavs only have 8 wins and there are so many other more compelling story lines at play, but if you filter just 7 utterly miserable games from CJ Miles this season he is easily having the best season of his career.  3J has been brilliant lately and I've noticed some themes with his play.  The guy is a PURE SHOOTER.  I imagine someone has a cell video of Miles draining 60 straight 3s while he's wearing headphones alone in a gym.  He's 2nd in the NBA in FT% and he's attempting a career high number of 3s and connecting on a VERY healthy (and also career high) 40%.  And seriously, if you just remove a few atrocities against mankind his numbers would be 6th-man-of-the-year worthy.  Anyway, Miles has been excelling on 3 pointers from the wings which is generally less efficient than the corners or from straight-away.  He's absolutely deadly on quick pull-ups when he is in rhythm.  Sometimes these come free of dribbling, other times he receives a pass, takes one dribble, and raises up quite high in the air, piercing the sky before leaving the net soaking wet.  He has a high jump, high release, and a high arc – so he really doesn't have trouble getting shots off.  The problem is when he tries to create space with the dribble.  That usually doesn't end well and he's not very good at finding open teammates either.  He's a vacuum, but he's quite an effective one when put in the right spots.  As these games invariably slow to a screeching halt in the 2nd half, Miles becomes somewhat invisible.  The Cavs don't run any consistent offense to give him good looks off screens and quick pulls up become less permissive in the 4th quarter of a tight game as opposed to say 10-7 with 8 minutes to go in the 1st.  You would think a player with his stroke could play a Ray Allen-like role and find himself open for 3 after some ball-handling stud gets into the teeth forcing a collapse before kicking out and swinging the ball around the perimeter.  Unfortunately, the Cavs are the worst passing team in the NBA and almost all passes that lead to outside shots originate from the top of the key to the wing, or into the loving arms of Alonzo Gee.  CJ is only 27, will be dirt cheap next year if the Cavs are so inclined, and might be worth keeping around for a while if he continues to provide such efficient and prolific offense.  My hope is that the Cavs could run some actual plays where he comes off screens and pulls up quickly while the screener rolls to the hoop.  With such a quick release it might causes defenses to hedge and retreat leaving the roller an open lane.  And Miles is definitely good enough to warrant respect.  Right now his offense mostly comes from draining wing-3s after a boring pass from the perimeter.
The Cavs built the lead to 18 before the usual 2nd half meltdown ensued.  Is it conditioning?  The rotations?  Other teams making adjustments?  Tightening up?  I suspect, it is NONE of the those.  It is the offense.  In the first half, everyone is getting involved.  Remember how quaint it was when LeBron would get Z or Gooden or Ben Wallace, or Shaq involved in the first 6 possessions of the 1st quarter?  Yeah, the Cavs have a version of that.  It's called – "Let's actually pass to multiple members of the same squad.  In addition, we'll set more than 1 pick and have people on the weak side moving."  Maybe most importantly, the flow of the game is looser.  Long rebounds lead to run outs, while heat checks and early looks are deemed appropriate (CJ MILES TIME, BABY).  All of this changes in the second half.  The Cavs run two offenses.  One features the subs, which is plagued by turnovers and poor shot clock management, and the other with Kyrie Irving – which looks an awful lot like tonight's 4th quarter.  You can win games with the Kyrie Irving offense – but not against great teams.  The Bobcats (bless their hearts) refused to double team Irving despite his prolific display.  My only guess is that they didn't want to give the Cavs any hints at how to stop Ramon Sessions (the Cavaliers former backup point guard of the future), who had 12 points in the 4th quarter.  If not for the relatively simple pull-up 15 footer from Magnum KI, this game might have a much different feel.  But he made it, because the Bobcats were content to leave rookie Jeff Taylor on an island and Kyrie is one of the most devastating one-on-one players this league has ever seen.  There's a lot of bravado in the post-game media sessions about that shot and the NBA in general has a fetish with "game-winners".  They're exciting, and I'm not knocking the shot or the play call or anything.  But Kyrie and Byron seem to think Kyrie's MO is Mr. 4th Quarter.  I'd just like them to know that the Cavs are getting exposed in 4th quarters.  Repeatedly.  Even tonight.  It's great that he can bail the team out.  He did it against the Wizards' D-League team and he did it against the Bobcats.  An actual offense with moving parts putting players in position for easy shots and even some offensive rebounds would be nice.  It should be happening with him at the helm.  Instead, he's on an island, and in my opinion, it is mostly by choice.  Gotta love the world we live in where you can drop 33 points on 21 shots, make 10 free throws without hitting the rim, round out the stat sheet with 5 boards, 6 dimes, 4 steals and 3 blocks and get criticized.  That should paint a pretty good picture of Kyrie Irving's potential.
Not to be outdone by the CJ Miles' 1st half of excellence (keeping with the narrative above Miles only scored 3 more the rest of the game) or the Uncle Drew Bucket Explosion – Tristan Thompson is rapidly winning over fans as well as his teammates and coaches (more on that later).  Thompson had one of the best games of his career.  It's remarkable how quickly TT's ceiling has gone from "God no…." to "could be a plus defender" to "could be a very good defender and a garbage man around the hoop".  Tonight, his touch was 800-thread-count, lotion-soft.  He made strong, decisive moves – sometimes facing up, sometimes back to the basket – and he was dropping in little one-handed floaters from everywhere.  He even (gasp) had multiple plays where he fought for and controlled a loose ball with 2-4 bodies surrounding him near the basket and (faint) FINISHED in TRAFFIC.  The most remarkable thing about this game was that when the Cavs offense began to stagnate in the 2nd half, there were multiple possessions where the offense actually ran through Tristan.  It's not optimal going forward, but it's a long way from being such a liability that the Cavs ball-handlers refuse to feed him when he's open off a pick and roll.  Even more remarkably, Byron Scott must have hacked our wordpress site and read the piece that I have in the works on player development as he FINALLY had Tristan on the floor in an crunch time situation.  With 0:38 left in the SACking of the Q on Wednesday, Tristan was benched with the Cavs down 2 and without the ball.  (Waiters was subbed in for his defense?) This was all the motivation Chris Rock Brooks needed to blow by Kyrie Irving and seal the game as no help defenders rotated.  Even if they had, none of them were going to be Anderson Varejao or (puzzlingly) Tristan Thompson.  This has been a theme, and it's understandable.  Teams like to go small for end of game situations, Tristan isn't a "floor spacer", and his FT shooting has oft been considered a liability.  I argued in the most recent podcast that the first 2 reasons don't apply to this Cavs team as being a "floor spacer" only matters when your team runs an offense other than [Kyrie Irving dribbles for 20 seconds 33 feet from the hoop, goes through legs 9 times, crosses over at 18 feet, spins, spins back, shoots 18 foot jumper].  Any warm body can be a "floor spacer" in that situation.  So why sacrifice Thompson's defense?  I thought that hurt them on the Aaron Brooks layup and tonight was Scott"s chance to try something different.  Thankfully he did.  TT checked back in with a little over 3 minutes to go.  He gobbled up 3 rebounds in that time frame, 2 of them being crucial and in traffic.  With 36 seconds left and the game tied he speared a rebound and was fouled by his alliterative counterpart.  I tweeted the following.  I was fearful that Tristan would miss at least 1 and the CATS would score again leaving fans to question the decision to have a poor foul shooter on the court in crunch time of a tied game.  But honestly, that's stupid.  TT was the Cavs most valuable player tonight and you want him on the court patrolling the paint, and winning possessions.  TT rewarded me by knocking down both free throws.  Most people will remember this game as the night Kyrie Irving "single-handedly" blah blah blah "buckets" etc.  I will remember it as the night TT calmly drained 2 free throws with 36 seconds left in a game the Cavs won by 2 points.  Even more so, I will remember this as the one where Tristan Thompson made it impossible to ignore his potential.  He finished the game with a punishing 19 and 13 on only 10 shots.  This from the guy whose offense we usually cringe at or ignore while touting his post defense.  Keep at it Tristan – you are a giving fans another reason to tune into the project.
[Enter Nate]
So somehow, Pestak conned me into helping him recap.  He drew Kyrie, TT, and Miles, and I got everything else.  I think I got jobbed.
Gee had a very solid game on offense though he started out inexplicably overplaying MKG on the wrong side, but soon got it corrected.  His 7 boards and 8 assists with only 1 turnover were good, though that 1 turnover helped fuel a Charlotte run that never should have happened.  That run happened because Gee and most every Cav were part of some awful transition defense that allowed wide open three pointers all night for the likes of Gerald Henderson.
Shaun Livingston was solid in his Cavaliers debut, including a great stretch where he had a jump shot, then stole the inbound and dunked like it was 2004.  He was chirpy on defense, talking about how to play the P/R and was playing small forward for a while with the interesting Kyrie, Waiters, Livingston lineup.  His focus and leadership were light years ahead of Jeremy Where'd he go.    But 26 minutes while Waiters got 18?  Livingston isn't nearly the offensive player Dion is, and Scott's decision to play a waiver wire player more minutes than a #4 draft pick is a little baffling.
Waiters, to his credit had some nice moments, including a monster and1 dunk in the 2nd.  But he also had 3 turnovers and seems to be feeling his way into his bench role, especially on defense.  The Bobcats are a weird team because their bench is possibly as good or better than their starters.  Still, Sessions and Gordon combined for 47 points off the bench, much of it do to the horrific defense played by the Cavs guards, Saint Weirdo included.
Zeller continues to grow, and his 3 blocks helped lead the way to a season high 10 for the Cavs.  They actually outblocked their opponent for possibly the first game all season, topping Charlotte 10-3 in that department.  ZPA needed to be better on the boards, but the Cavs general lack of rebounding prowess had one major culprit.
Luke "Oh my god, why is he playing?" Walton was comically ineffective.  In my favorite stretch of the game, he badly airballed 3 point jump shots twice in the same possession.  I was laughing so hard I had an asthma attack.  I've never seen two airballs in 13 seconds from the same player in an NBA game.  In the late third he had my second favorite play of the game when he went up for a rebound, and instead of grabbing it, he tip passed it directly to Brendan Haywood who was so surprised by the incompetence he stood there dumbfounded for two seconds.  Luke Walton's inability to box out, jump, or keep anyone else from getting a rebound, combined with the fact that he's a terrible shooter directly led to the run in the late 3rd, early 4th that got Charlotte back into this game..  Furthermore, now that Livingston is around to bring a little more passing and ball movement to the 2nd unit, he's no longer needed as a shrink 4 (my pet term for a stretch 4 who can't shoot).  Please for the love of all that is holy and good, bury Luke Walton, Byron Scott.  Trade him to a Yugoslavian team for a bowl of borscht to be named later.
The Bobcats bench was orders of magnitude better than the Cavs bench, outscoring the Cavs' bench 59 to 19.  Ramon Sessions and Ben Gordon are very tough bench guards, and Kyrie ought to watch the way Ramon is always pushing and always attacking.  The entire Cavs team was way too content to foul him, giving him 12 freethrows of which he missed zero.  As recently as November I commented, "Why didn't we draft Bismack Biyambo, who has more upside than Tristan Thompson."  Well, I think we know that Canadian Dynamite made me eat my words this game, as he was the best player on the floor, and Biyambo seemed fairly hapless.
Tom:  How does Miles absolutely light it up in the first half, and then barely touch the ball in the 2nd?  (And if you say because KI is a ball hog, I'm not gonna argue).  Were you secretly rooting for the Bobcats to hit the final 3, because the Cavs didn't deserve to win this game: pissing away a huge lead with stretches of stupid offensive decisions and lack of defensive effort?  If there's such a thing as an awful win, this game was it.
[Re-enter Tom]
After TT hit those free throws I thought he deserved a W – so I was glad when Kyrie's shot fell (and Henderson's didn't).  But I didn't get up out of my chair.  It was more of a "hah – of course he made it.  They didn't even double him and Taylor sagged a bit to keep Kyrie from getting past him.  You NEVER EVER EVER sag off Kyrie Irving.  Not even a little, he will bury you."  I get troubled watching the Kyrie Irving bailout attempts.  They aren't going to work as often as a well-oiled offensive machine and I don't want Waiters, Thompson, Zeller, and Miles being incapable and unwilling to get involved on offense at critical junctures.
Final Thoughts: It's amazing the difference a letter makes.  It can be the difference between the CAVS and the CATS or the difference between "Kyrie is a stud, Tristan is a beast, CJ Miles is on NBA Fire" and "Byron Scott should be fired".  Two points out of 210 total generates an entirely different script.  I'm not sure how the owner and front office are responding to the season so far, but for the fans, nights like tonight really help create some excitement that is necessary.  Really, we could be excited about Kyrie and Tristan even if Gerald Henderson's prayer was answered and they lost by 1.  But it's just harder to stay positive after crushing losses, despite the growth.