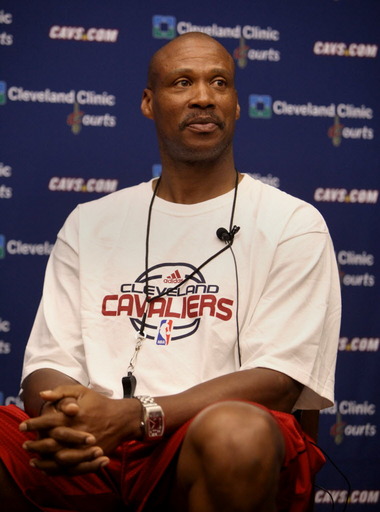 This is not an opinion piece, but instead a short history paper, probably something Dani could give to a teacher and receive a solid "B" for.  Byron Scott has coached the Cavaliers for nearly two-hundred games, but I never thought much about his pre-Cleveland days.  Hired at the time of "the decision", the move hardly registered compared to the earthquake surrounding it.  Overseeing a franchise deconstruction and rebuilding, his current record sits at a pitiful 47 wins and 134 losses.  As anticipated, it has been ugly, but concerns about the franchise's direction percolate as the team ventures through the season at 17-win pace…worse than even the initial, horrid, post-Lebron season.
Let's take a look at Coach Scott's past and see what can be learned.
New Jersey Nets – October 2000 through January 2004
Immediately following his playing career, Byron Scott began coaching as an assistant with the Webber / Divac / Stojakovic Sacramento Kings teams.  Two seasons as a deputy were parlayed into his first head coaching gig; an opportunity to play-call for a Stephon Marbury-lead New Jersey Nets team.  His first year, 2000 – 2001, featured a depressing roster and only 26 wins.  Brighter times were on the horizon though, as the following campaign saw a doubling of the win total, aided by: Keith Van Horn and Kerry Kittles combined to play 163 games after totaling 49 the prior season; reigning rookie-of-the-year Kenyon Martin improved to lead the team in points and blocks; first-year wing Richard Jefferson contributed immediately; and the Big Deal, the Nets traded Stephon Marbury for Jason Kidd.
At the time, Marbury represented an exciting, up-trending player; 23 years old and recently a third-team All-NBA member.  Jason Kidd was the NBA's best point-guard though, coming off back-to-back-to-back first-team All-NBA and All-Defense selections, and at age 28, working in his prime.  The 2001 – 2002 Nets rode the NBA's best defense and Kidd's MVP runner-up status to the East's #1 seed, before barreling into an NBA Finals matchup against the Los Angeles Lakers.  Kidd averaged a triple-double in the Eastern Conference Finals.  Unfortunately in those days, the NBA championship traveled through the Lakers / Spurs  / Kings western conference championship.  New Jersey led for 59 seconds combined in games one & two, before losing two heart-breakers at home, allowing LA to complete the sweep.  This series featured Shaq at his pinnacle, tallying a monstrous 36 & 12.  Along with their elite defense that season, the Nets played at the League's 8th fastest pace and posted the 17th-best offensive rating.
The 2002 – 2003 Nets, still fronted by Kidd, Martin, Jefferson, and Kittles, returned to the NBA Finals with a 10-game playoff win streak.  Kidd's seasonal per-game averages of 19 points, league-leading 9 assists, 6 rebounds, and 2 steals gained him all-NBA status again, albeit with a decline to the second-team.  The team again ran a fast-paced, but relatively inefficient offense (ranked 18th) that was buoyed by NBA-best defense.  In the Finals, the Nets appeared poised to force game-seven, holding a nine point lead with nine minutes remaining in game six.  Alas, like clockwork, San Antonio unleashed a furious 19 point run to close the series.  Tim Duncan received MVP honors, averaging over 24 points, 17 rebounds, 5 assists and 5 blocks.  The lesson, as always; when you play a top-ten all-time player in vintage form, it is hard to win.
Despite the back-to-back Finals runs, the next season served as Coach Scott's last in New Jersey.  Although their top-five minutes earners from the previous season remained intact and generally healthy, after 42 games, the Nets treaded near a five-hundred record.  The New York Post reported that Jason Kidd wanted Coach Scott gone, but all parties denied this. Somewhat amazingly, the Nets won their next thirteen games after switching coaches, providing Lawrence Frank with a spot in the record books.
Based on his two-year run of success in New Jersey, Coach Scott was immediately hired as the coach of the ambitious New Orleans Hornets.
New Orleans Hornets – October 2004 to November 2009
Actually, I have written about this team previously at Cavs:the Blog.  The 2003 – 2004 New Orleans Hornets were a middling team, built around a young All-Star duo of Jamaal Magloire and Baron Davis.  They aspired to loftier goals, fired Tim Floyd,  and hired Coach Scott as a "proven winner".  Of course, they then watched Jamal Mashburn retire, Jamaal Magloire battle injuries, and Davis basically undermine the whole team.  Coach Scott guided a shell of a roster through an 18-win season, as Davis and eventually Magloire were traded.  The playing time leaders were PJ Brown, Dan Dickau, Lee Nailon, and teenaged JR Smith; the team's offensive rating was NBA-worst and the defense was not much better.
Then, with the fourth pick in the 2005 draft, New Orleans chose Chris Paul, who exploded onto the NBA scene by winning all six rookie-of-the-month awards and posting the highest first-year PER of the 2000s.  David West saw his minutes increase almost five-fold, and his Win Shares rise from 0.2 to 7.4 from 2004 – 2005 to 2005 – 2006.  Armed with a dynamic young point guard, the team won twenty more games than the previous season.  In a trend for Scott-coached teams, their offensive rating ranked 26th in the NBA.
2006 – 2007 saw only marginal improvements, as West missed 30 games and Paul sat for nineteen.  Two important developments occurred though, as New Orleans turned JR Smith and PJ Brown into Tyson Chandler, and received Peja Stojakovic through a Pacers salary dump.  Peja missed the final 69 games of this season with a back injury, as the Hornet offense again struggled to a 23rd ranking.  The addition of Chandler helped bolster the defense into the league's top-half.
The next season featured both Coach Scott and Chris Paul's signature seasons with the Hornets.  Paul lead the league in assists, steals, and win shares, while finishing second in PER.  Voters placed him second in MVP voting, despite statistical dominance and team success.  As the squad improved to 56 wins, outlasting San Antonio for the Southwest Division crown, Coach Scott received NBA Coach-of-the-Year.  The seventeen win improvement, in the organization's first year returning to the Big Easy after Hurricane Katrina, warranted the honors.  He coached the Western All-Star team, featuring Paul and West, as the event was located in New Orleans.  The Hornets performed as the NBA's fifth-best offense and seventh-best defense that season, as Peja nailed 44% of his threes, West averaged 21 & 9, and Chandler flashed the first total assemblage of his potential.
The magical season eventually ended though.  Despite Chris Paul's spectacular efforts (PER of 30.7) and possessing home-court advantage, the Hornets lost a crushing seven-game series to San Antonio.  Game Seven, at New Orleans, saw the Hornets fall behind by fifteen at the end of the third quarter, before cutting the deficit to three with a minute to go.  Tony Parker and Manu Ginobli scored eight points during those sixty-seconds to close out the game.
2008 – 2009 witnessed a step backward for the team, as Stojakovic missed 20 games and Chandler nearly twice as many.  Chris Paul and David West played as All-Pro and All-Star again, respectively, and the team provided the League's 12th best offense and 9th best defense.  Trouble loomed though, as cumbersome contracts for overpaid thirty-somethings began to burden the team's flexibility.  They paid $24 million for 4700 minutes of an 11.5 PER from wings Stojakovic, Morris Peterson and James Posey.  In five playoff games, including losses by 15, 21, 29 and 58(!), this group offered up 300+ minutes of 10.3 PER.  Even worse, they still owed the trio $62 million.
As Paul's extension kicked in for 2009 – 2010, the luxury tax beckoned.  Due to his injuries, but also his $1.3 million higher salary, Tyson Chandler was packaged for Emeka Okafor, who despite the lower annual salary was owed 5 years and $60 million.  This transition dealt a serious blow to Paul, whose best friend on the team vanished.   Nine games into the next season, Coach Scott received the axe from the Hornets, due to a start including five double-digit losses.  Chris Paul was again notably upset, and rumors existed that Scott's $5 million salary served as a reason for his departure.  David West followed the company line, saying "Amongst the team I think there was a sense [that] a few guys weren't trusting what we had in terms of our system and our ability to know what we were going to get every single night from our system."  Following the 2010 campaign, the Hornets traded a top-ten draft pick to Oklahoma City so that the Thunder would take Morris Peterson off their hands.  Next to go, after the 2010 – 2011 season, was Chris Paul.
Summary
In 13 seasons of NBA coaching, Scott has lead two squads to 50+ wins, and five to winning records.  His time with New Jersey ascended and declined as rapidly as possible, spurred by the acquisition of the game's best point guard, and possibly undone by the dissatisfaction of that same player.  His tenure in New Orleans, like Chris Paul's, never stood a chance, flumoxed by tragic Hurricane Katrina and also poor drafting & salary cap management.
Scott's resume gnaws at me.  Basketball-reference.com includes a "Coach Register" of 298 NBA generals.  Somewhat surprisingly, Byron ranks 31st for most games coached.  Of the thirty coaches above him, only two possess lower career winning percentages.  Looking through the entire list, it is apparent that very few coaches last 180 games during a stretch when their team succeeds at the 47-win rate of the current Cavs.  Here is a comprehensive(-ish) list of the coaches that lasted 180 games with one team, with 55 wins or less.
Tim Floyd was the first Bulls coach after Jordan, who won only 36 of Floyd's first 180 games.  He was fired 59 games later.
Ron Rothstein lead the expansion Miami Heat to 38 wins in their first 180 games.  He was fired 66 games later.
Bill Fitch guided the expansion Cleveland Cavaliers to 42 wins in their first 180 games.  He coached nine seasons with the team, including a 49-win season that culminated in an Eastern Conference Finals exit.
Mike Woodson prodded the Atlanta Hawks to 46 wins in his first 180 games.  He went on to coach six seasons with the team, reaching the second round of the playoffs twice.  The Hawks were swept both times.
Bernie Bickerstaff kicked off the expansion Charlotte Bobcats existence with 48 wins in 180 games.  He was fired 66 games later.
Flip Saunders managed the Washington Wizards to 51 wins in 180 games.  He was fired following game 181.
Don Chaney piloted the Los Angeles Clippers to 53 wins in 180 games.  He lasted through game 185.
Matt Guokas kick-started the expansion Orlando Magic to 55 wins in 180 games.  He was fired 148 games later, following a 41 – 41 season.
So, Cleveland has ventured into territory where eight franchises have gone before.  Most were either expansion squads, teams that recently parted ways with an all-time great, or dysfunctional units riddled by locker-room gun play.  The best any of the previous coaches reversed course was into a 49 win season.
Coach Scott's accomplishments include:
Two NBA Finals appearances
Constructed two #1 ranked NBA defenses.
The 16th best playoff winning percentage in NBA history
One NBA Coach-of-the Year award
Coached the 41st most regular-season and 39th most playoff wins in NBA history.  His next win will be number 400.
His black-marks include:
In thirteen seasons, orchestrated one top-ten NBA offense, and seven bottom-seven offenses.
Immediately after being dismissed from his first job, the team won thirteen straight games.
Coached the largest defeat in NBA playoff history
Coached the longest losing streak in NBA history
Of 195 NBA coaches with 100 or more games, posted the 112th best regular-season winning percentage.
Coach Scott's primary successes are associated with dominance from one of the NBA's top-ten all-time point guards in a signature season.  As quickly as the good times rose, the teams descended.  How much of the credit is Scott's and how much belongs to these transcendent talents?  Why have over half of his teams been miserable on offense?  What precipitated his involvement in those epic fails?
I don't know the answers; this is just a small research project.