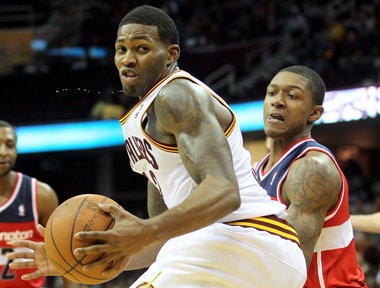 As one might expect between these two teams, the game got pretty sloppy toward the end, but the Cavs pulled out a rare victory over what might be the worst team in the league. Let us recap:
–The Cavs got pounded inside tonight by Nene and Emeka Okafor, who combined for 33 points and 17 rebounds, which is to be expected when Tyler Zeller is forced to play 36 minutes in Andy Varejao's stead, but Tristan Thompson was the Cavaliers' port in the storm with 15 points on 5-for-9 shooting and 12 rebounds, including an and-one quasi-dunk with under a minute to play that ostensibly iced the game. (That is, before a missed Kyrie Irving free throws and a strange foul by Alonzo Gee put the game in doubt for a few moments.) He also hit all of five of his free throws, so I'm sure Byron Scott will reward him with a sugar cube or something. For the month of December, TT's averaging nearly 50% from the field, which is way up from his dreadful 44% mark in November. He now has a four-game run of double-doubles. Thompson's still an ugly player to watch—though he did convert a nice running hook in the first quarter—but perhaps he's turning a corner.
–Kyrie Irving didn't have quite as spectacular a game as his statline—26 points, eight assists, and six rebounds—might suggest. He was pretty inefficient tonight, shooting just 8-for-23, but then he's the primary offensive option and everyone has a bad shooting night from time-to-time. What Irving did do was keep the Cavs in the game during a first half in which the Wizards were as dominant as the Wizards get (which is to say: sorta), putting up 20 points in the first 24 minutes. Irving struggled down the stretch; took a lot of contested jumpers; and, as noted, his touch at the free throw line was curiously absent. But he did most of the work on Thompson's crucial and-one lay-in, and only turned the ball over twice so all is forgiven.
–Dion Waiters stays Dion Wiatersing. He went 3-for-11 from the field (2-for-5 from three-point land) and put up nine points and one assist. I didn't think Saint Weirdo's shot selection was particularly egregious in this game, but he took a lot of shots with a wobbly sort of balance. He gets lazy with his footwork sometimes and that leads to complete bricks. When he has his shoulders square and jumps straight up, his rainbow jumper is quite beautiful, but too often he shoots moving to his right or left, which I think is why he puts up so many shots that don't even come close, including his customary once-per-game airball three-pointer. Waiters also didn't attack the rim much in this one. I know he's struggling to finish there, and he feels he's not getting calls, but the coaches need to stay in his ear about getting into the paint because he's not a pure jump shooter. I have confidence he'll figure out how to score around NBA big men if he sticks with it.
–The lowlights: C.J. Miles and Jeremy Pargo were ineffective off the bench, combining for 5 points on 1-for-6 shooting. And I think we all know this but Tyler Zeller is overmatched starting at center. Against a pretty good PF/C combo, he got pushed around and only finished with six points on 3-for-10 shooting and seven rebounds.
–For any interested parties, Brad Beal is still struggling to adapt to the NBA. He went 0-for-5 tonight and was generally a non-factor. I was pretty enamored with Beal when he was coming out college—mostly because of his jumper—but he seems stuck in the same shooting funk he experienced during the first half of his freshman year at Florida. He's shooting just 36% on the year. For comparison's sake, Waiters is shooting 37%. (And both are prone to having nightmarish 2-for-11 nights.) Here's to Beal relocating his shooting stroke and Waiters assuming his identity as Wade-lite. It would be really fun if Irving-Waiters vs. Wall-Beal was a marquee matchup in a couple of years.
The Cavs host the Hawks on Friday. Until tomorrow, friends.