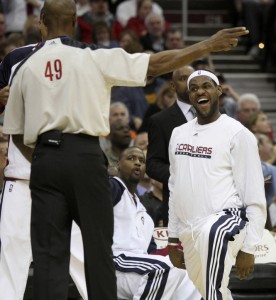 Almost anybody can be a center in Cavaliers coach Mike Brown's offense. Well, anybody over about 6-foot-8, that is. -Mary Schmitt Boyer of the Plain Dealer evaluating the Cavs front-court rotation.
Brian Windhorst of the PD reporting on Shaq's surgery:  "The doctors were very pleased with the surgery this morning," Cavs General Manager Danny Ferry said in statement. "He will be in a splint for the next two weeks. From there he starts the process of physical therapy so that he can be at full strength and back on the court during the playoffs."
Can Cavs cope without Shaq? -John Hollinger examines the ramifications of The Big  Splint (requires Insider)
For all the doubts about the trade for Shaq, give him this: He has gone out of his way to fit seamlessly into the Cavs. He came to camp in shape and never wavered. He never has grumbled about shots, never challenged the power structure that begins and ends with LeBron. -Adrian Wojnarowski on the Cavs needing Shaq this post-season.
And I'm not saying these Cavaliers are a knockoff of the Lakers' "Showtime" teams. But smaller and faster suits the Cavs well enough against all but a select few teams. If O'Neal returns in time to face Orlando, the Cavs should be all right… -Bud Shaw of the PD on the Cavs playing more "Barkley Ball"
Matt Moore of FanHouse with his own version of Fear Factor: (Fear Factor on a scale of 1 to 5, 1 being Summer School, 5 being The Shining.)
Plenty of quotes about LeBron in this NY Post article: "I like it better," the former Wizard said of being on LeBron's side. "He's one of the most dominating, unselfish players I've been around. He draws so much attention, but loves getting his teammates involved. I knew he knew the game, but he's rolling things on the coaches. He eats and sleeps basketball. You see why he's where he's at."
"Nobody knows what LeBron James is going to do but LeBron James," said McGrady, who expects to play tonight after sitting out the second half of Saturday's 120-109 loss to Memphis with stiffness and soreness in his surgically repaired left knee. "We can't control that. We have no control over that. …" –From NorthJersey.com
Mirror, mirror, on the wall, what's the most ridiculous rumor of them all?
Zydrunas Ilgauskas cleared waivers at 2 p.m., today and is officially now a free agent. –Adrian Wojnarowski on Twitter