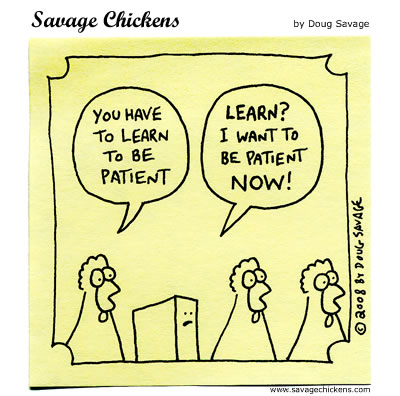 I want to expand slightly on this theme of the last twenty-four hours.  Clearly hope remains that the root causes of the discussion (long losing streaks, runaway home losses, horrid offense & defense) disappear.  Like tonight, or Wednesday…just sometime near term.  If not though, it is a valid time to start asking hard questions about the State of the Team, lest anything sneak up on us.
PATIENCE is definitely a virtue, and it is warranted during this early season.  Many REASONS exist for Cleveland's 5 wins.  Their schedule has been grueling; after tonight, 29 games exceed all but one team, and also 17 roadies are only outpaced by one squad.  They are young; weighted by minutes played, their average age is 24.8 years.  Their experience together is ridiculously limited; new arrivals have played 31% of the team's minutes.  On the entire team, entering this season, only the pairs of Gibson & Varejao and Tristan & Gee have logged more than 1000 on-court minutes together.  Isn't that crazy?  Those are the only combos with more than twenty full games worth of experience together.  Somewhat schedule related, the injury bug has hit; Kyrie missed eleven games and Dion sat for eight.  The team practices PATIENCE, with C.J. Miles serving as the most flashy free agent signing of the past three years.  The PATIENCE is prudent, as the team possesses the best cap flexibility in the league; there is not one guaranteed contract for 2014 – 2015.  Their current payroll sits at $47.8 million, the second lowest in the NBA, and certainly another REASON for their struggles.
Recently though, I have contemplated the fine line between patience & reasons, and EXCUSES.  With all the REASONS outlined above, it is easy to rationalize the team's struggles.  I have done it all season and consider it completely appropriate.  But, when do we expect the switch-to-flip?  When is it no longer acceptable to rationalize the Cavs, with all their starters healthy, at home, losing by fourteen to the 6-and-19 Raptors who are missing two starters?  At what point in the re-build are six game losing streaks, including four double-digit losses, not acceptable?  When do the answers become EXCUSES and not REASONS?
For me, the answer is now, or more precisely, December 26th.  Granted, it's not time to expect the team to win three-quarters of their games, but putting 25 wins on my Christmas list doesn't seem like much.  For me, a 19-win season certainly crosses a line.  This team has talent.  The point guard is an offensive wunderkind.  The other guards are the #4 pick in this year's draft and a veteran 41% three point shooter.  The front-court features: the league leader in rebounds per game and rebound rate; the #4 pick from 2011; and a polished rookie, a four-year college player serving as the reigning ACC POY.  Available wings include an eight-year veteran with a career PER over 12; a 6' – 9" guy with 36% success shooting from deep; and an athletic dunk machine, also with career PER of 12.  Not spectacular, but all definitely NBA players.
Add it all up, and while playoffs aren't in the cards, that is not a 19 win team.  The schedule is about to become a lot more forgiving.  If the team does not start producing more wins, it will result from one of a few things.  Maybe injuries ravage the team in 2013*. That will be easy to see and understand.  The other options essentially amount to the team not making the most of what it has.  Either the youngsters are not developing as individuals, the team is not buying into / learning the system, or the system just isn't very good.  Any of these outcomes is a problem.
Obviously, I hope to see this turnaround.  I really, really like this team and this sport.  Certainly ping-pong balls are important, but even with an up-tick in wins, decent lottery odds remain.  Over the last five full NBA seasons, twenty-five wins typically nets about the fifth-worst record in the league.  Based on current standings, 25 wins projects to still leave Cleveland with a top-five pick.
It's time to expect more from the franchise, before REASONS morph into EXCUSES.
*While there have been injuries in 2012, I do not consider the team to have been 'ravaged' by injuries.  Combined, the starters played in 84% of the possible games.  Zeller, Miles, Gibson and Casspi have been available at a similar frequency.