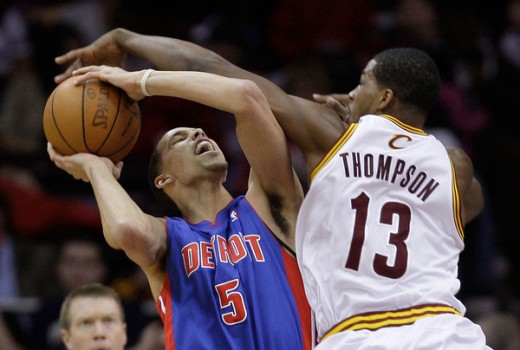 It appears the Cleveland Cavaliers will have to aim for 65 wins following yet another loss, this time to Detroit. This one was pretty entertaining, surprisingly, although the "Cavs lost a close one despite a spirited comeback" storyline seems a little more forced against the Pistons. Anyways, I'll be writing this recap much like I watched the game: one eye on the real game, one eye on the alternate reality in which we have our starting backcourt running the pick 'n roll with Andy.
First Half:
It was nice to see the Cavs have a decent first quarter, for once, ending it down 25-22. Andy started out hot, dominating the boards and scoring as usual. Tyler Zeller didn't look so bad either, though his interior defense is still pretty awful. Zeller's career is going to look less promising each time he gets shoved around under the hoop, then victimized for a layup or free throws. The second quarter went well also, surprisingly. C.J. Miles balled out, and Jeremy Pargo was on. It's hard to pinpoint exactly what the Cavs did wrong on defense to let the Pistons score 49 in the half. The Pistons aren't all that good, and Corey Maggette shouldn't really ever be effective. But the post defense was pretty awful all in all. While Anderson Varejao has been producing at an All-Star level, he's clearly lost a step on D. He simply doesn't have the foot speed and coordination these days to keep Brandon Knight and Andre Drummond in line.
Second Half:
First of all, Alonzo Gee EVISCERATED Kyle Singler right at the start of the 3rd. Boobie fed him on a baseline cut, and he simply posterized the hell out of Singler. Alonzo's made this into a nightly occurrence, and it's beautiful to see. The NBA probably won't put a Cavalier in the Dunk Contest, but given the travesty it is now, that may not be the worst thing ever. As for the rest of the half, well…Jeremy Pargo ain't half bad, but Brandon Knight is more than half good. When he's hitting threes, he can be nearly as good as Kyrie. Regarding Rodney Stuckey: a lot of people have compared Dion Waiters to him. I sincerely hope that's not a very good comparison. Stuckey is fairly limited offensively despite his size and shooting ability, and is a bit of a ball-dominator. Well, back to the game. The game was back-and-forth until the middle of the fourth, when the Pistons started to pull away. The Cavs and Pargo made a final run, but it seemed doomed to failure. Maybe it's just me, but I have no faith in the Cavs pulling out close wins without Kyrie. It's hard for me to visualize. And, unsurprisingly, this one ended up like all the others. We lost 101-97.
Highlights:
The Alonzo hammer over Kyle Singler was pretty sweet. Pargo played well. I can't wait to see what he can do with 25 minutes off the bench behind Uncle Drew. He's definitely our new backup point guard. Andy started another double-double streak. The man's a machine. Why do all the Cavs fans want to trade him? Jokes! That's just me. C.J. Miles and Tyler Zeller both played well. Zeller put up 13 and 8. I would be more inclined to call it a breakout game if he hadn't been abused on the block all game on defense.
Negatives:
Daniel Gibson sucked. 2-11 from the field, 2-9 from three point land. Unexciting, ineffective. Also, Cavs point guards had trouble closing out on Brandon all Knight. 5-6 from three? Come on.
Completely Neutral:
Tristan Thompson.
Tags: Pistons