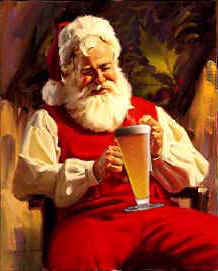 In the series Brews and Bruises: Life as a Drinking Cavs Fan, I'll playfully explore the mixture of pain associated with Cavalier fandom and the glory associated with drinking.  As always, drink responsibly (and legally, ya kids!)
I keep hearing this jingling.  It started faint, but it's getting louder by the day.  It's coming, I can feel it in my bones.  Ladies and gentleman….
SANTA. IS. COMING.
Hopefully bringing good tidings, Christmas cheer, and some more Cavalier wins.  But no matter what, the inevitable approach of Christmas Day means one of my favorite things.  Christmas Beer!
All the Cleveland drinkers on here know where this is column is eventually going, but as they say, it's the journey not the destination.
For this edition of Brews and Bruises I'm was going to try to come up with some clever rhyming to go along with the 12 days of Christmas.  Screw that!  For one thing, I'm way too lazy to start rhyming things (after all, this IS a column about beer) and for another Christmas is in 7 days!
So I got to thinking – Christmas is the time of celebration and, while this hasn't exactly been the easiest season to palate so far, there are certainly some positives one could take from the pile of dung we've seen.  And so, I bring you….
The 7 Best Christmas Beers/The 7 Best Cavs Moments Of This (Young) Season:
Brouwerij St. Bernardus Christmas Ale – The Dark Knight: What a moment this was.  With the weight of the world (or, at least the team) on his shoulders, Kyrie played through a broken jaw (wearing a dark protective mask), showing the country why he's already considered one of the best.  St. Bernardus can appreciate those sentiments – often forgotten but never overlooked, it's one of the great breweries of the world, producing fantastic beer and one of the best Christmas ales there is.  While extremely drinkable, this beer is also extraordinarily strong (10%!) and packs a serious punch.  Still, what's most amazing about the beer is how a fruity consistent beginning and middle can quickly turn to a subtle spicy hop bitterness on the finish.  It's no wonder such a dark beer can be compared to the Dark Knight himself.  Consistently great against the Knicks, Kyrie upped his game to another level when it counted, showing the killer instinct necessary to be great.  Kyrie scored 17 of his 41 points in the fourth quarter, displaying fearlessness in taking huge step back three pointers with just minutes left.  Alas, his heroics were for naught.  But one sip of this boozy, delicious libation will remind you how great Kyrie already is, from start to finish.
Anchor Christmas Ale – Dion Waiters Goes Off:  If Dion Waiters has proven one thing, it's that we can't know what to expect from him on a game to game basis.  At least not yet.  He's never terrible – not at all.  In fact, he's already quite good.  But some games he's clearly much, much better than others.  And no game stands out quite like his fourth as a pro.  Stepping into the bright glow of LA, Dion was lights out.   Really, he couldn't miss.  Anchor Christmas can understand.  Using a different formula every year, Anchor releases its spicy, sweet, enjoyable brew nation wide.  But this years stands out above the rest.  The 2012 edition is extremely sweet, perfect for savoring every minute of it, much like the Waiters game.  With notes of toffee, caramel, and brown sugar, the anchor Christmas Ale's sweet stroke stands above all others.  Anchor knows it doesn't need to have the strongest beer with the biggest hop profile – sometimes it's best to just make something that tastes good.  And yet, as great as the beer is right now, it'll get even better – Anchor bottle conditions their annual year-ender so that the flavor can grow and expand into an even more complicated brew.  I can't wait to see how it turns out.
Troeg's Mad Elf – Anderson Varejao's MASSIVE Dunk:  Probably the best single moment of the season, at least in my book.  Seeing Andy fake out Dwight Howard, considered by many to be the best defender in the NBA, and then throw it down over a jumping Jordan Hill was incredibly satisfying.  Similarly, Troeg's Mad Elf uses the taste of sweet cherry from the start to lull the drinker into thinking it's all light and fun.  But, beware.  By the time you finish the bottle you realize, like Jordan Hill, what just hit you.  A big, heavy, 11% ABV bomb.  Dangerously delicious.
Bell's Winter White – Andy Takes It To A New Level: Bell's Winter White – Most people don't usually don't expect great things from a wheat beer – they're pretty consistent in flavor, with a little lemon, a touch of spice and not much else.  But Bell's took the usual formula for a standard Witbier and kicked it into overdrive for their Winter White.  Heavy on spices like clovers, coriander, citrus zest and lots of orange, this brew is an unusually refreshing and enjoyable way to drink during the cold months.  Andy isn't much different.  While he was always great at doing the little things that made good, albeit underrated players, Andy has, this year, kicked those little things into overdrive.  Not only does he rebound well, he's become a vacuum around the glass.  Not only can he score off the pick and roll, he might be the best in the NBA at moving to the basket.  Not only does he disturb on the defensive end, he can now face nearly any player, at any position, and disrupt their game.  Andy has taken what looked like a quietly good career and shot it full of spice.  I never thought I'd enjoy a wheat beer in the winter, and I sure as heck never imagined we'd one day call Andy an all-star. (DON'T FORGET TO VOTE)
Sierra Nevada Celebration Ale – Alzono Gee's Game Winner: In a season where pretty much every game has felt the same (disappointing) this game stood out, and for one reason alone: Alonzo Gee.  With about four seconds left, Dion Waiters took an ill-advised three which he promptly missed.  But, thankfully, Gee was there, with a tip in, to save the day and win the game.  Not unlike Gee's game winner among the consistently disappointing endings to games this season, the Celebration Ale stands out next the monotonous spiced winter warmers of other Christmas Ales.  Excitingly unique and refreshing, Gee's game winner proved that there's more to this season than just getting through the grind.  Sierra Nevada, never one to conform to trends, proves, with this great, well-balanced IPA, that all it takes is a veteran brewery to break free from the norm.
Penn Nut Roll Ale – CJ Miles Emerges: We thought we knew what to expect from Miles – a good shooter who was passable at every other facet of the game; a high upside guy who would at least perform with some consistency.  But that wasn't what we got.  For his first bunch of games as a Cavalier, Miles was awful – jacking up jumpers, playing iffy defense – it was bad.  Just when things looked like they couldn't get any worse…he woke up!  Starting with a decent 15 point game against Detroit, CJ Miles heated up.  And quickly.  He exploded for 28 points against both the Lakers and the Pacers.  Now, a couple games later, he's still playing at a much higher level.  Penn has garnered similar expectations, producing some of the most consistently good (and cheap) beers around.  They're not particularly flashy, and certainly not held on the same level as beers like Pliny the Elder or Heady Topper (which, by the way, deserves all the hype it gets), but trust me, they're good.  And yet, when hearing about their new winter seasonal, the Nut Roll, I became nervous.  Why would they make such a stupid concept beer?  My first taste left me wanting – it was too sweet, too thick, too this and too that.  But I finally sat down with a pint (an imperial pint, actually) and boy was I wrong.  This beer really delivers, like Penn's other brews, consistently great flavor.  It's nothing crazy, but their nut roll is a delicious vanilla tinged nut brown ale – medium to full bodied, malty, and sweet.  I could see myself drinking a bunch of these in one sitting, enjoying every sip of the beer.  Will I always feel this way?  Who knows.  Will Penn be able to keep producing such unexpectedly delicious beers?  Yet to be seen.  But am I enjoying my current ride with a silly-named Nut Roll?  Heck yes.  All I can say is I hope the honeymoon never ends.
Great Lakes Christmas Ale – Kyrie Returns:  Everyone (or most everyone) reading this knows how beloved Great Lakes Christmas Ale is in the state of Ohio.  In college people would lose their minds the moment it was on tap at the Winking Lizard.  When I visit my family for Christmas, it's long gone from the shelves.  This beer is adored.  Like Kyrie returning from an injury, year after year, we all eagerly await its return.  Every season, when I get my hands on a fresh bottle, I pause before sipping, wondering if my memory will have served me correctly.  Is this beer anywhere near what I've convinced myself it is?  But then Kyrie steps on the floor and reminds me why I thought he was so great.  This beer does everything – it has the soft, sweet, honey tinged touch of a three pointer, the shifty, ever changing hop bite of Kyrie's drive to the rim, and the satisfyingly balanced finish that accompanies every Kyrie to Andy pick and roll.  I'd put the Christmas Ale up against any classic, MVP winning beer on the market and wager that it's about as good as it gets.  Like Kyrie, this beer's got everything – and, thankfully, we're lucky enough to call it our own.
I sadly had to omit three excellent beers – Captain Lawrence's Winter Ale, Southern Tier's 2XMAS, and Anderson Valley's Winter Solstice.  All fantastic and ones you should absolutely seek out (particularly the Anderson Valley.  YUM!)
Epilogue – Hanukkah Is Over (But the beer isn't!)
He'Brew Funky Jewbelation – Omri Casspi: So far in Casspi's short Cavalier career, things have been very up and down.  One day he looks like a starter, the next he looks like he belongs on my high school's JV team (OK maybe that's a little harsh.)  The point is, things have been sweet and sour.  He'Brew's Funky Jewbelation is no different.  Notes of vanilla and sweet fruit fight the sourness of tart fruit to create a wonderfully complex, interesting beer, sure to cause any Cavs fan to simultaneously smile and pull their hair out.  But the beer is delicious and Casspi shows promise, so enjoy the sour and the sweet – sometimes you need one to appreciate the other.  (If you've never had a sour, this would be a great place to start!)
As always, I crave your recommendations.  Hit me @malfii or email me at Malloryfactorii@gmail.com with your recs and I'll do my best to write about the best.