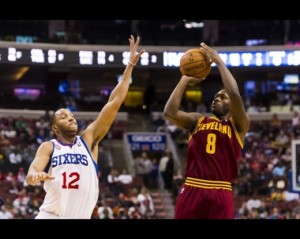 David Thorpe has assessed the rookies after one month and Dion didn't make his top 10.  Here's what he had to say about Waiters:
"Dion Waiters, Cavaliers — Nov. 23: Waiters still looks like a more dribble-happy version of Marcus Thornton with a bigger upside. His raw numbers looked good against the Magic — he scored 25 points and dished out 5 assists with no turnovers. But I counted him shooting 3-for-10 on bad shots, meaning he missed seven times when he had far better options than what he chose: step-back 3s with time on the clock, a one-on-three transition drive and "hope" shot, and forced long jumpers.
During Cleveland's recent five-game stretch, he made five shots per game and missed 12 per game, which is tough to swallow when Cleveland lost four of those games by close margins. If Waiters learns the value of good shot selection, he'll see his shooting percentages go up while his team wins more games."
Thoughts?