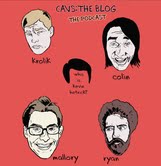 Tonight we lost to Memphis in the waning minutes.  Tom, Colin, and I all were a little ticked off, so we jumped on a podcast and recorded our thoughts.  Basically…We discussed Tristan Thompson, Dion Waiters, the Cavs' D, and the value of Anderson Varejao.  Among a bunch of other things.
SoundCloud: http://soundcloud.com/cavstheblog/0017-a-dark-not-so-stormy
iTunes: https://itunes.apple.com/us/podcast/cavs-the-podcast/id528149843?mt=2
Enjoy!